And Now, Your 2014 RESET Challenge Winners!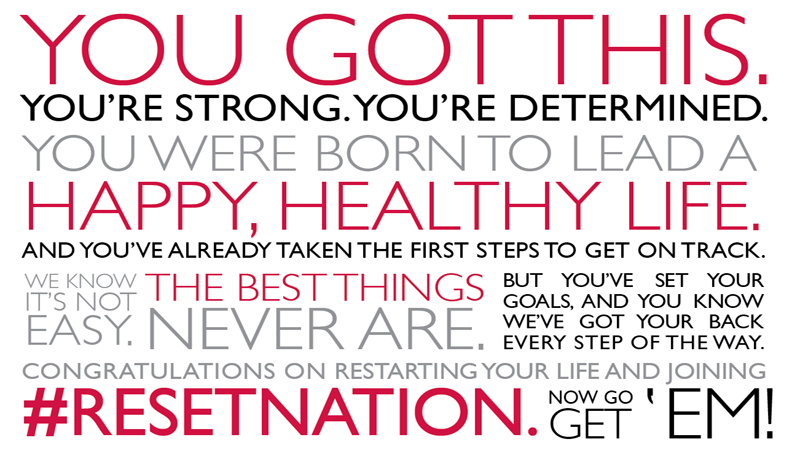 First off, I have to say congratulations to all our dedicated, hard-working USANA RESET Challenge: Destination Transformation participants.
Nearly 3,000 people competed and together we lost more than 15,000 pounds! Another successful, life-changing experience for many!
Ashleigh Travers, a winner in the Partners category, explained:
"With my husband Derek's support … I stand here proud and strong. I have not met my goal yet, but I will. I can feel it. I can feel it not just by what the scale tells me, but also by the comments I get from friends and family on how great I look. I can feel it each time I go to the gym and can run longer, faster and harder than ever before! I can feel it each time I play with my amazing children and my knees don't ache and I'm not winded. The RESET Challenge has been so much more than a weight-loss competition, it has RESET my entire outlook on life!"
Losing weight is never easy and I've been in touch with many of you throughout this competition. I know your struggles and understand the accomplishments each of you have made. I hope you have felt the support with USANA and know we are all in this together.
We are all part of #RESETNATION.
So without further ado, here are our winners:
Top Total Weight Loss
Diana Beller
Vicente Gutierrez
Jason Connelly
Top Female Weight Loss (percentage)
Tong Zomber
Tammy Blank
Nani Lofstrom
Top Male Weight Loss (percentage)
Thomas Jewell
John Stricker
Marc Bibeau
Top Partners Weight Loss (percentage)
Matthew Kennedy & Megan Jeffrey
Darrin & Michelle Hopkins
Derek & Ashleigh Travers
Top Essay
Marylou Nostrom
Carin Johnson
Blair Stone
Australia/New Zealand Winners
Ann Perera
Maria Guerrero
Pasindu Sunilchandra
Europe Winners
Naomi Howell
Justin Morris
RESET Archives
Check out the blog posts relating to the RESET Challenge, and learn more about RESET by watching this video:
[youtube]https://www.youtube.com/watch?v=jnA9a8cGQyo[/youtube]
RESET Winners Receive a Trip to Sanoviv
Congratulations to our winners! Each has won a trip to Sanoviv Medical Institute where they'll enjoy the beautiful scenery of Rosarito, Mexico, and customized treatments from the incredible Sanoviv staff.
They'll also receive a $150 shopping spree, a makeover, and a professional photography session — not to mention special health and wellness trainings during their stay at Sanoviv.
RESET Nation, you amaze me! For a second year in a row you have pulled together and supported one another to change lives!
While the contest is officially over, let's continue to spread the message of healthy living. I encourage you to host your own RESET Challenge in your city and involve your family and friends.
It's a great time of year to kick your exercise up a notch and get ready for vacation season. Use all our RESET tools and consider offering prizes as an added incentive.
I am still not quite at my weight goal, but with the help of USANA's delicious shakes, bars, and vitamins, along with the support of USANA family of Associates and customers, I'll be able to lose that additional 20 pounds.
Huge thank you to all our participants! And to the grand prize winners … I'll see you in Mexico!
*Individual results may vary. RESET weight-management system lowers your daily caloric intake and recommends moderate exercise for best results. Average results are 4.5 lbs. in five days.
We're proud to bring you the freshest content on the web! Follow USANA on Twitter, like our USANA Facebook page and enjoy the latest videos on the official USANA YouTube channel.

Learn what USANA is doing to make the world a better place.
The future of personalized health and nutrition is now available with USANA's True Health Assessment.
https://whatsupusana.com/wp-content/uploads/2014/04/RESET-Banner1.png
450
800
Jessica Reimer
http://whatsupusana.com/wp-content/uploads/2019/11/USANA_Logo_Black.png
Jessica Reimer
2014-04-08 08:15:05
2017-02-23 06:52:20
And Now, Your 2014 RESET Challenge Winners!