Scientifically Speaking: A 'Vision' of Good Nutrition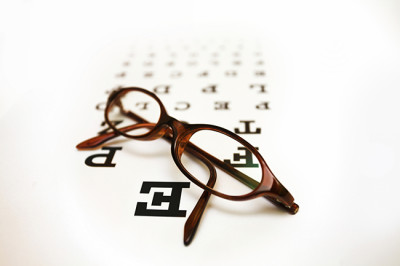 Think about the value of your eyesight and how much you depend on your vision each and every day.
It's hard to understand the importance of supporting your eye health if you're younger or have never experienced any issues with vision loss, but trust me: caring about this now will make a world of difference as you begin to age.
To address the correlation between nutrition and eye health for this month's Scientifically Speaking, I went to our scientists in the home office who directed me toward an extremely helpful Essentials of Health newsletter. You should definitely check out the series, which breaks down the results of scientific health and wellness studies in simple, understandable terms.
The Studies
The two studies that were covered, examined the effects that nutrition can play in the development of age-related macular degeneration (AMD). AMD is a disease associated with aging that affects the macula, the most light-sensitive part of the retina. The disease gradually destroys sharp, central vision.
AREDS is a study that was sponsored by the National Eye Institute. Research had previously linked eye health to nutrition, but they wanted to take a more in-depth look at the potential connection.
According to the research group, their purpose was to "learn more about the natural history and risk factors of AMD and cataract" and to "evaluate the effect of high doses of antioxidants and zinc on the progression of AMD and cataract."
The study involved 3640 subjects, age 55–80. The subjects in the test group were administered daily amounts of 500 mg vitamin C, 400 IU vitamin E, 15 mg beta-carotene (25,000 IU vitamin A), and 80 mg zinc. The results showed that supplementation slowed AMD by 25 percent and visual acuity loss by 19 percent in high risk individuals. These results have since been confirmed in several smaller studies.
In the years since the original AREDS study, new research has also shown beneficial results from lutein, zeaxanthin, docosahexaenoic acid (DHA), and eicosapentaenoic acid (EPA).
Another landmark study was the L.A.S.T. (Lutein Antioxidant Supplement Study) study published in the journal, Optometry. The results of this study showed that AMD symptoms may be reversed through purified lutein supplementation or a supplement mix of lutein and other antioxidants such as vitamin A, vitamin C, vitamin E, and beta carotene. The dosage of lutein and zeaxanthin used in the study were 10 mg and 2 mg, respectively.
The Nutrients
Instead of going through each and every nutrient or food source that can support eye health, I'll direct you to the handy chart below that easily breaks it down.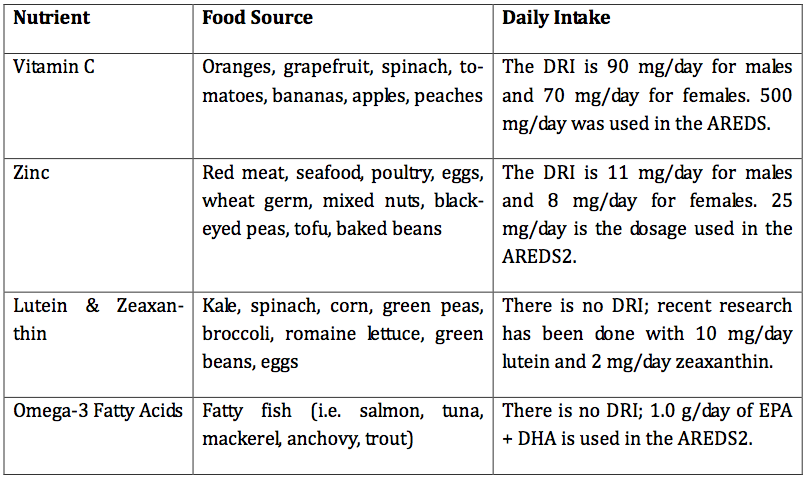 While the high levels recommended by research and those used in the AREDS formulation can be difficult to obtain from diet alone, eating a carefully planned diet can make acquiring the desired amount easier. Additional vitamin supplementation can also be used to get closer to the desired levels in order to maintain optimal eye health.
Ensure that you're supporting your vision in the best ways possible by talking to your doctor about the best nutrients for eye health. Because, like I said, you may not be concerned now, but it's always better to be safe than sorry—especially with something as valuable as your eyesight.
*These statements have not been evaluated by the Food and Drug Administration. This product is not intended to diagnose, treat, cure, or prevent any disease.

We're proud to bring you the freshest content on the web! Follow USANA on Twitter, like our USANA Facebook page and enjoy the latest videos on the official USANA YouTube channel.

Learn what USANA is doing to make the world a better place.
The future of personalized health and nutrition is now available with USANA's True Health Assessment.
https://whatsupusana.com/wp-content/uploads/2014/09/eyes.jpg
365
650
Nick Peterson
http://whatsupusana.com/wp-content/uploads/2019/11/USANA_Logo_Black.png
Nick Peterson
2014-09-16 08:00:14
2014-09-15 10:17:34
Scientifically Speaking: A 'Vision' of Good Nutrition