A Week in the Life of USANA's Top Business Owners
People who own USANA businesses come from all walks of life.
That's so cliché, you're thinking. I hear you. But it's true.
Especially when it comes to the most successful, top 25 business owners. I know, because I just spent a week with them on USANA's Fortune 25 incentive trip—a cruise in the Mediterranean on a luxurious ship. There were doctors, pharmacists, aeronautical engineers, and individuals with master's degrees. There were also people who didn't go to college at all. So chances are, there's someone just like you who's building a massively successful USANA business right this minute.
So, what is it like, living like these top business owners?
Well, let's start with the obvious perks.
USANA treated these all-stars with first-class seats on the long, international flights they took from all over the world; accommodations at hotels that are usually reserved for royalty and pop stars; and lavish dining experiences with three-course meals and authentic, perfectly prepared cuisine.
Then there was the cruise itself.
Beginning in Athens, Greece, the business owners and their guests sailed the Seabourn Odyssey to Monemvasia, Olympia, and Parga, Greece; Dubrovnik and Hvar, Croatia; and Ravenna and Venice, Italy.
Each stop had its own sights, sounds, and tastes to experience. In Athens, they toured the famous Acropolis and dined at its feet. During the cruise's stop in Parga, the Associates spent the day on their own, swimming in the clear-blue seas, visiting local shops, and climbing to the top of the small island to enjoy the extraordinary views.
In Ravenna, Italy, the group was whisked away to a vineyard in the country where they learned how to make their own pasta and enjoyed Italian cuisine while taking in the breathtaking scenery.
With all the day-to-day activities planned for the Fortune 25, it would be easy to forget that this luxurious lifestyle actually isn't their everyday life. But in fact, they're much like you. And me. And every other USANA business owner.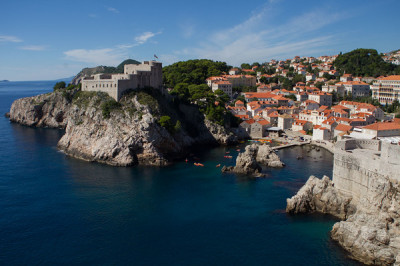 They work (really hard) to support their team. I could hardly believe my ears when one business owner spoke of a busy year ahead, working with team members all over the world and helping them achieve the success they're striving for. But you're already so successful! I was thinking. Why do you need to help anyone? You've already made it! But I realized that successful business owners never stop building, growing, learning, and helping their team reach their goals, too. That's how they got to where they are.
They're passionate. They're passionate about health, USANA's products, their business, and life! Just being around them left me energized, excited, hopeful, optimistic, and empowered to pursue my own personal and professional goals in life. They exude a life force unlike anything I've ever felt. When you're passionate about your life, it shows—and that's an important part of living the #USANAlifestyle.
They've been dedicated to USANA for a long time—longer than you think. These individuals have spent years of their lives with USANA, sharing, building, overcoming, and ultimately, succeeding.
Looking at their achievements is intimidating. But many have been with USANA for 15+ years! It didn't happen overnight! And you know what else? I was literally (and I don't use that word often) flabbergasted to learn the ages of some of these business owners—they were 10 to 20 years older than they looked! And they all said it was because of USANA's supplements and the healthy lifestyle choices they've made since starting their businesses.
So, how can you live like USANA's Fortune 25? Help others, stay passionate about life, and commit yourself to your goals.
Oh, and I almost forgot: enjoy your hard work by taking a great vacation every once in a while.
*These statements have not been evaluated by the Food and Drug Administration. This product is not intended to diagnose, treat, cure, or prevent any disease.

We're proud to bring you the freshest content on the web! Follow USANA on Twitter, like our USANA Facebook page and enjoy the latest videos on the official USANA YouTube channel.

Learn what USANA is doing to make the world a better place.
The future of personalized health and nutrition is now available with USANA's True Health Assessment.
https://whatsupusana.com/wp-content/uploads/2014/10/fortune-25-featured.jpg
337
600
Teresa Elias
http://whatsupusana.com/wp-content/uploads/2019/11/USANA_Logo_Black.png
Teresa Elias
2014-10-01 08:00:15
2017-02-22 12:55:51
A Week in the Life of USANA's Top Business Owners