Walking: A Fitness Resolution You Can Keep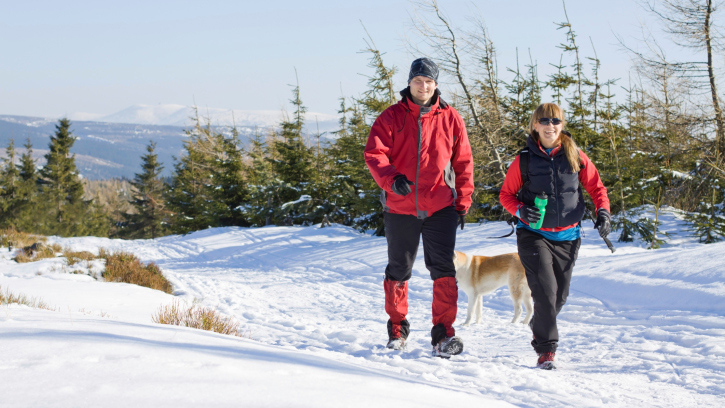 It is that time of year again: New Year's Resolutions! Did you make one? Should you make one? How many resolutions have you made in previous years that ended before the year even got started?
Let's make 2015 different.
Understanding what the purpose of a New Year's Resolution is a good place to start. A New Year's Resolution is a secular tradition, most common in the Western Hemisphere, in which a person makes a promise to an act of self-improvement. Aha…now that is more clear.
New Year's resolutions are like diets. They start and then they stop. Or how my friend, Richard Simmons likes to put it, "diets die…just look at the first three letters of the word!"
A promise is much more likable and doable. Just repeat after me, "I promise to walk more everyday." Doesn't that sound easier and more pleasant than a year-long commitment to a New Year's resolution? Make a very specific promise with a plan. Then create a series of steps to meet and keep your promise. For example, my promise is to walk one mile every day. And below are the steps to help keep that promise:
Step One – Get committed.  Look at your life and determine how and where you will walk.  The great thing about a one-mile walk is that over time, you will be able to walk it in less than fifteen minutes.  Those who already have walking mastered can make it more difficult by adding hills, hand weights, faster times, or incorporating a few minutes of running.  Going for your daily walk is not only important for the physical benefits but the "above the neck" benefits. Concentrations of norepinephrine, a chemical that can moderate the brain's response to stress, is released when we get our bodies in motion. Helloooo!!!! So, let's get walking.
Step Two – Map it out.  Block off days and times you will devote to your promise walk at the top of the week. Check your calendar, write the walk down, and attach a time and location, depending on your schedule. This may mean driving half a mile from your home and marking the spot so you know exactly how far a mile is from your house.  Using the local high school is also a great option; four times around the track is one mile.  One mile on a treadmill is easy to monitor, or take a buddy to the park where mile loops are typically marked.  Another great benefit to walking is that the equipment is rather simple. All you need are comfortable clothes, but even jeans or a suit should not stop you from your walk. However, I'd recommend purchasing some really good walking/cross trainer shoes, since your body is top priority. Also, a stop watch on your phone works great and USANA has a fabulous pedometer so you can track your steps.
Step Three – Determine your level. If you have never walked before, a simple way to start is incorporating five minutes of warm-up, five minutes of brisk walking, and five minutes of cool-down.  Add a few minutes of brisk walking each week until you reach your mile, then you can begin subtracting those minutes. For all the walking pros out there, use the promise walk as an opportunity to see just how fast you can walk a mile. Continue building upon the promise by adding more distance onto your walk within the fifteen minutes.
Step Four – Meet the needs of your body. Key elements to making your promise walk a success is meeting the needs of your body. Taking your vitamins, staying hydrated, and properly fueling is essential to keeping the walking promise alive. USANA has made it so easy for us to get our daily vitamin intake with MyHealthPak. To stay hydrated, drink a glass of water one hour before and again right after your
walk, and also be sure to get in a few gulps during your exercise to stay energized. Be sure to properly fuel your body for daily living and also physical activity with a balanced nutrition of lean proteins, fats, and carbs.
Step Five – Grab a buddy. This is one of my favorite tips because having someone else to lean on to help you stay on track when you don't feel like walking or just having someone ask you how your walk was is important. Find someone with a similar promise or make the promise to walk together. Choose someone you enjoy spending time with. Plus, it's always safer when you have someone to walk with you. Your buddy can even help track your progress or do it yourself with awesome apps available for your phone, tablet and computer.
The promise to walk a mile every day is doable, fun, specific and definitely has a plan.  Remember, when creating any promise this year, think of it like a muscle; the more you use it, the stronger it gets.
Happy Walking!
Kathy Kaehler
We're proud to bring you the freshest content on the web! Follow USANA on Twitter, like our USANA Facebook page and enjoy the latest videos on the official USANA YouTube channel.

Learn what USANA is doing to make the world a better place.
The future of personalized health and nutrition is now available with USANA's True Health Assessment.
https://whatsupusana.com/wp-content/uploads/2015/01/152942152.jpg
408
725
Kathy Kaehler
http://whatsupusana.com/wp-content/uploads/2019/11/USANA_Logo_Black.png
Kathy Kaehler
2015-01-01 08:00:02
2017-02-22 16:52:19
Walking: A Fitness Resolution You Can Keep