Insider's Insight: Creative Ways to Meet New Friends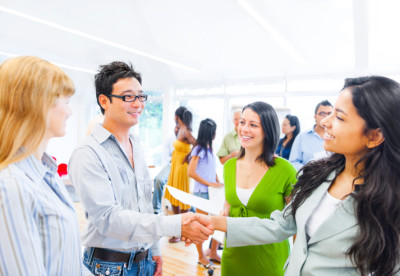 Can we talk about social anxiety for just a second? I'm sure it'd be super easy to Google the term and find a real definition, but I'm talking about my own unique experiences with meeting new people. It's not good, my friends.
Now don't get me wrong—I have a solid group of close friends. The problem is I never make an effort to seek out new ones. If I'm at a party, I stick with my people. When I'm at work, I only associate with my department. And it's like this everywhere I go.
What a stupid way to live, right? There's a world full of people with unique stories and backgrounds who could potentially become awesome friends. I'm missing out on so much.
Of course the only solution to my newly discovered problem was turning to good ol' Facebook for help—the kind of help you only get from the #USANAfamily.
Check out the advice below, and share your own tips in the comments below.

Insight from the Insiders
What are your most creative ways to meet new friends?
"I think joining a committee helps introduce you to a lot of people, be it professional, social, or nonprofit. It's also best to join groups with shared interests." —Misty Dangel
"You can lose your passport while traveling, resulting in some unexpected—and very enlightening—conversations with strangers. They just might end up becoming so close they feel like your own family. I know, because this really happened to me!" —Lisa Whittall
"You should always do what you love to do. There are literally events and conventions for everything. Ever heard of balloon animal conventions? Because they're a thing. If you love drawing, there are figure-drawing groups. If you love travel, you can always meet new people when you're away from home. And you can also check out local classes for hobbies like cooking, crafting, or sports activities. I always meet my best friends while I'm doing the things I love. And in doing so, I have friends who automatically relate to me on those levels. Oh, and don't forget to connect with these people on Facebook to instantly become lifelong friends." —Chris Shehan
"Simply get out of the house and join any kind of social circle: volunteer groups, hobby groups, sports teams, or gym classes. These are all great ways to meet new people and build relationships" —Derek Lee
"Developing people skills is very important. I go to the mall, supermarket, restaurant, gym and park. When I'm at these places, I can ask for help, directions or advice and then tell others I appreciate their help. From that point, I can always start up a little conversation and, eventually, they will start talking about what they love, what they need, and what their goals are. That's when it's time to get their contact information and develop a friendship on Facebook.
Just remember, in the end, it's about them and trying to connect to their life and their experiences. If you care more for someone than you do for yourself, you'll almost always build a successful connection." —Israel T. Murillo
"I took my yearbooks from middle school and high school and started sending friend requests to almost every person. Because we share a common connection, it's easy to reach out and say, 'Hey, long time, no see. What have you been up to since high school?' So many conversations can stem from one attempt to reconnect. In fact, I did that to Monet Ellison, who is now my wife! I went through my yearbook and added her on Facebook. Some years after this, I saw her status asking for advice about a phone. I replied and started a conversation from that. Fast forward only a few months, and we were married!" —Ronald Vernon Ellison Jr.
We're proud to bring you the freshest content on the web! Follow USANA on Twitter, like our USANA Facebook page and enjoy the latest videos on the official USANA YouTube channel.

Learn what USANA is doing to make the world a better place.
The future of personalized health and nutrition is now available with USANA's True Health Assessment.
https://whatsupusana.com/wp-content/uploads/2015/06/ThinkstockPhotos-4888936871.jpg
401
713
Nick Peterson
http://whatsupusana.com/wp-content/uploads/2019/11/USANA_Logo_Black.png
Nick Peterson
2015-06-18 04:00:46
2017-02-22 13:03:32
Insider's Insight: Creative Ways to Meet New Friends