Kathy Kaehler's Tips for Being "Road Trip Ready"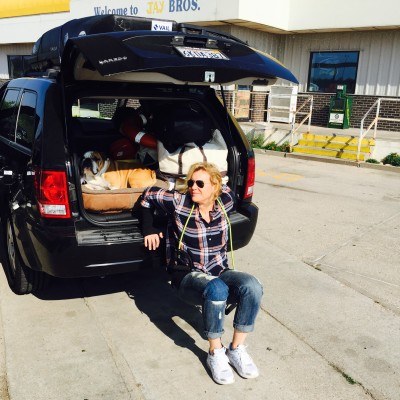 "On the road again…just can't wait to get on the road again." That's the tune I constantly hum this time of year.
Every summer for the past 18 years, I have driven from Los Angeles to Detroit with many different casts of characters. There have been dogs, kids, in-laws and once even a rabbit in the passenger seat!  Yes, I drove cross-country with a rabbit!
The key to staying healthy is always having my fitness and food planned so I can make the best choices while I am away from home.
Whether it's for business, vacation or the epic bucket list adventure, at some point we all leave the comfort of our homes and schedule a trip to visit another location.  This changes our normal routine of just about everything, such as working out, eating, and sleeping.
It is pretty easy to stick to the plan while at home, but when we're traveling, nothing is familiar and this type of bump in the road can screw up your healthy lifestyle if you aren't prepared.
Don't Fool Yourself
The first suggestion I have for you while you are traveling is: be realistic. You aren't going to have your regular workout plan. That's fine. Have a list of exercises that you can do anywhere that aid in getting a good range of motion, increasing your heart rate and feeling your muscles at work.
Here are some of my favorite things you can easily throw in your car:
An exercise band with handles
A jump rope
A deck of playing cards
I use all three of these things when the car gets tedious and my muscles get stiff from gripping the steering wheel. It's a great way to get energized and ready for the next four hour stretch. At the gas station, I pull them out and do some curls, jump rope for one minute and squat as I deal a few cards on the ground while I wait.
Pack Your Fuel
I love having my Nutrimeal™ Shakes on board as they are an easy and nutritious travel-friendly meal. Bring individual packets or pre-measure 3 scoops and store in baggies inside your shaker bottle. Pretty much every place you stop will have ice and water so you're all set for a great meal. It's a way better option than pulling through the nearest drive-through.
In addition to your Nutrimeal, pack a few low-glycemic snacks that are easy to eat as you're cruising down the freeway.
Fruit – a bag of apples go a long way
Almonds – so easy and delicious
Fudge Delite – my personal favorite
Water – sip all the way to your destination
Plan Ahead
Another key to healthy travel is to plan your restaurant stops. If you don't plan them out, you're likely to drive until you're already hungry (or hangry) and end up pulling in wherever's closest.
A new trick that I have added this year to my road trip warrior plan is packing a case of Rev3.
Armed with some knowledge, your next trip can be filled with adventure while keeping healthy, fit and fabulous.
We're proud to bring you the freshest content on the web! Follow USANA on Twitter, like our USANA Facebook page and enjoy the latest videos on the official USANA YouTube channel.

Learn what USANA is doing to make the world a better place.
The future of personalized health and nutrition is now available with USANA's True Health Assessment.
https://whatsupusana.com/wp-content/uploads/2015/07/FullSizeRender41.jpg
1836
3264
Kathy Kaehler
http://whatsupusana.com/wp-content/uploads/2019/11/USANA_Logo_Black.png
Kathy Kaehler
2015-07-17 04:00:10
2017-02-22 16:52:16
Kathy Kaehler's Tips for Being "Road Trip Ready"