It's as Easy as Riding a Bike (to Work)
When I first moved to Germany, I got off the train at the Hauptbahnhof, walked outside and saw bike rack upon bike rack overflowing with bicycles of all different ages and styles.
My first thought was, "this must be a used bike shop."
Coming from Utah, I couldn't believe that these were all the bikes of people that headed out of town for the weekend and parked them at the train station. They were coming back for them. And no, I could not buy one.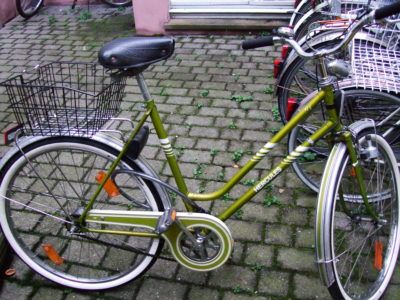 A couple weeks later, I did find an actual used bike shop and bought my own commuter with a basket over the rear tire. For the next 6 months, I walked or biked everywhere around town. I took the trains on the weekends when I travelled to other cities, but for the entire time that I lived in Germany, I didn't sit in a car a single time.
And I didn't miss it at all.
In fact, I felt much happier riding my bike to the grocery store, class, and dinner. Road rage was a thing of the past. The panicked, white-knuckled experiences of my current morning commute were nonexistent.
I didn't have an option to drive, but it didn't matter because I really loved riding my bike. So why did I immediately opt for the car commute the second I moved back to the United States?
The answer is that I never really thought about it. It's such a big part of our culture here that I just went along with it. But after watching a movie about bike commuting last week and anticipating Bike to Work Day this Friday, it's gotten me thinking about my choices (and my excuses) again.
Here are my (and many others') objections to biking to work:
It's too far.
I don't want to (or can't) shower when I get to work.
I'm scared to ride on the roads with all the cars.
I don't have time.
It's raining/windy/snowing/hot/cold.
It's too far.
Sure, some people live really far from where they work. Personally, I thought I lived too far from work, but when I looked at the Google map and scoped out the bike routes, I found out that it's actually only 9 miles.
That means that in under an hour, at a leisurely pace, I can make it to my desk. That's about double my commute time now, but I get to spend it outside, smelling the flowers rather than in my car, hating everyone around me.
I don't want to be sweaty and smelly when I get to work.
Of course, if you're lucky enough to have a locker room with a shower at work, you don't have to worry about this, but I realize that not everyone has this luxury.
But remember, you can control the intensity of your ride to cut down on sweating. Also, consider leaving early in the morning before it gets too hot.
It's dangerous.
This is where some planning comes in. Find the best bike routes in your city. Your city may have bike paths and some of the roads might have designated bike lanes. In the places where you have to share the road with cars, pick streets with lower speed limits and less traffic.
Always wear a helmet, put lights and reflectors on your bike so cars can see you coming, and leave your headphones in your bag so you can hear the traffic around you.
There's no time.
Everyone has different schedules and requirements and I definitely understand that. So maybe riding your bike to work every day isn't feasible, but consider riding even just 1 day a month.
For that day, you could make time by skipping your workout (you're already getting in a nice cardio session) or taking a shorter lunch break.
The weather doesn't cooperate.
Not every day of the year is going to have perfect conditions. So I'd recommend starting your bicycle commuting habits on the days that are perfect.
The more days you're out there, enjoying your trip to and from work, the more likely you are to experiment with a little more "extreme" conditions down the line. There are tons of different clothing and gear options you can research if you decide to ride in the rain and snow, but for now, try a nice, not-too-hot, not-too-cold, sunny day.
We all have excuses about why something won't work for our lifestyle even if we really believe in the benefits our actions can have on the environment, the community, and our own health.
I'm not saying that you need to sell your car today and commit exclusively to your bike forever, but what I am saying is that you might be able to overcome your excuses from time to time.
If you do, you might find that you actually enjoy your time getting to and from the office. You might have more energy. You might see health benefits. You might feel less guilt about your environmental footprint. You might explore areas of your city that you didn't know about before. You might meet new people. You might even have fun!
Are you going to join in on #BikeToWorkDay tomorrow? Let us know your experiences with bike commuting in the comments.
We're proud to bring you the freshest content on the web! Follow USANA on Twitter, like our USANA Facebook page and enjoy the latest videos on the official USANA YouTube channel.

Learn what USANA is doing to make the world a better place.
The future of personalized health and nutrition is now available with USANA's True Health Assessment.
https://whatsupusana.com/wp-content/uploads/2016/05/ThinkstockPhotos-477294299-1.jpg
889
1581
Sarah Flinn
http://whatsupusana.com/wp-content/uploads/2019/11/USANA_Logo_Black.png
Sarah Flinn
2016-05-19 04:00:00
2016-05-16 15:33:44
It's as Easy as Riding a Bike (to Work)