Talk Positively to Yourself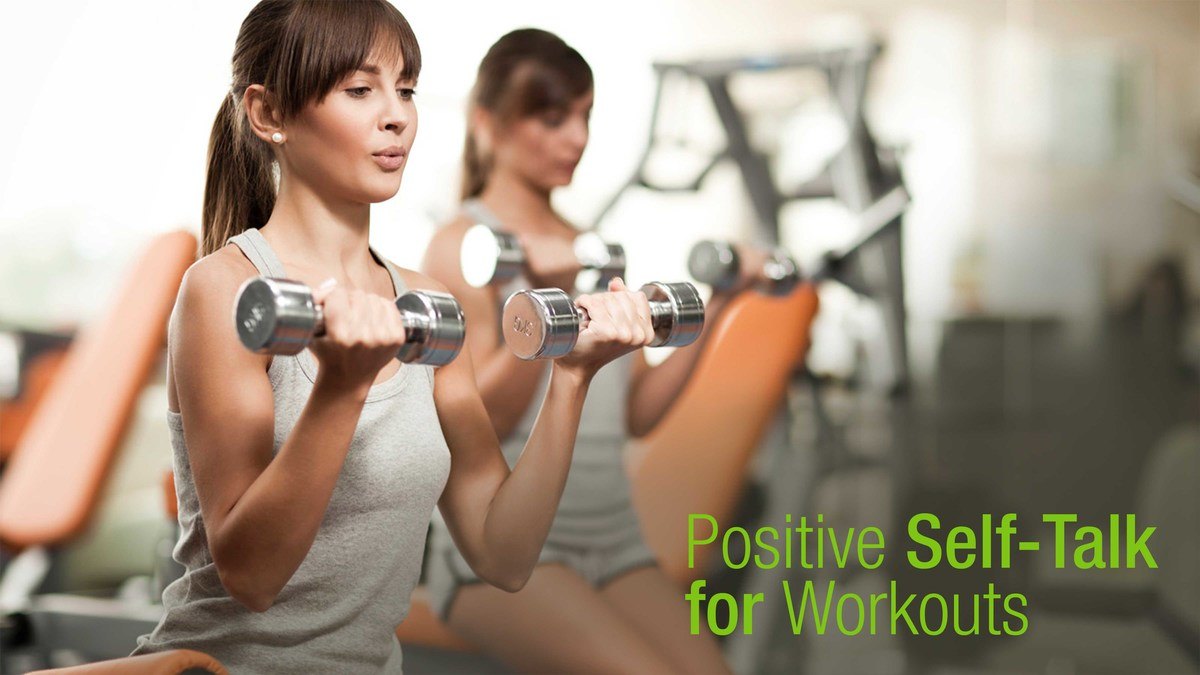 Self-Talk Can Help You Get Through Your Workouts
Workout mantras—inspirational quotes positioned over images—have been flooding the Internet for years. There may be something more to them than trying to increase your number of Instagram followers. Research shows positive self-talk can improve exercise performance.
Self-talk is "the endless stream of unspoken thoughts that run through your head." (Stress Management, 2014) Self-talk can be both positive or negative. However, positive thinking or self-talk can offer some health benefits including increased life-span and increased immunity, on top of improved moods and self-efficacy.
Using Positive Self-Talk to Improve Exercise Performance
In one study, positive self-talk improved motor skill performance by 11 percent when compared to neutral and negative self-talk (Araki, et al., 2006).
There are four different categories of performance-based self-talk:
Calming- "Take a deep breath."
Instructional- "Follow through with your shot."
Motivational- "You've got this! Keep going!"
Focus- "Don't worry about everyone else, focus on you."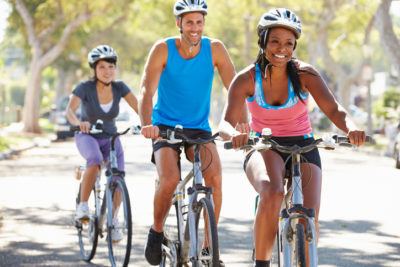 Depending on the situation, you use different methods of self-talk to help improve your exercise performance. A researcher from the University of Thessaly said in regards to the different methods of self-talk, "It is a matter of personal preference or what works for each person; but generally, it is advised that self-talk is positively rather than negatively phrased and focuses on what you should do rather than on what you should avoid." (Kross, et al., 2014)
Another way to improve positive self-talk is how you talk to yourself. An article published in the Journal of Personality and Social Psychology experimented with phrasing of self-talk. They found that compared to using first person, those who addressed themselves in third person (using one's own name when referring to one's self) were more effective at using positive self-talk (Kross, 2014).
How to Improve Positive Self-Talk

Improve positive self-talk by first paying attention to your thoughts. Are there any patterns or subjects that you are unknowingly sending yourself? By paying attention to your negative thought patterns, you can consciously begin to change them to positive ones. It may be a good idea to set a timer at certain intervals and check in with your self-talk throughout the day.
When you feel more comfortable with checking in and having a constant stream of positive thoughts, you can start some positive thinking exercises.
Before your next workout, select two mantras. You can choose one below or find one (Google works) that fits you. Set your watch, or some other notification alarm, for a set interval of time. Each time your alarm sounds, think to yourself one of the positive self-talk phrases. You may want to customize your mantra based on the length or type of your workout.
Endurance
 "You've got an extra 10 minutes in your legs today!"
"Earned not given."
"Be your best today, and you'll win tomorrow."
"With every minute, you are becoming a better athlete."
Sprints or 20–30-minute exercise routines
 "You are beating everyone who is on the couch."
"You are strong and powerful, and you can conquer this workout."
"You are your best athletic self today."
"Pain is only temporary; the benefits of this workout will last forever!"
Cool Down
"You are a better athlete for having worked out today."
"You can feel good about this accomplishment."
"You earned this cool down because you rocked your workout."
"Just think of where you'll be tomorrow!"
The simple rule of self-talk is to not say anything to yourself that you wouldn't say to someone else.
You can also get motivational bracelets, necklaces, or footnotes made with motivational sayings. Some of my favorite brands are here, here, and here.
Sources
Araki, K., Mintah, J. K., Mack, M. G., Huddleston, S., Larson, L., & Jacobs, K. (2006). Athletic Insight – Belief in Self-Talk and Dynamic Balance Performance. The Online Journal of Sport Psychology. Retrieved August 30, 2016, from http://www.athleticinsight.com/Vol8Iss4/SelfTalkandPerformance.htm
Goodhart, D. E. (1986). The effects of positive and negative thinking on performance in an achievement situation. Journal of Personality and Social Psychology, 51, 117-124.
Girodo, M., & Wood, D. (1979). Talking yourself out of pain: The importance of believing that you can. Cognitive Therapy and Research, 3, 23-33.
Kross, E., Bruehlman-Senecal, E., Park, J., Burson, A., Dougherty, A., Shablack, H., . . . Ayduk, O. (2014). Self-talk as a regulatory mechanism: How you do it matters. Journal of Personality and Social Psychology, 106(2), 304-324. doi:10.1037/a0035173
Mahoney, M. J., & Avener, M. (1977). Psychology of the elite athlete: An exploratory study. Cognitive Therapy and Research, 1, 135-141. Stress management. (2014). Retrieved August 30, 2016, from http://www.mayoclinic.org/healthy-lifestyle/stress-management/in-depth/positive-thinking/art-20043950?pg=2
Van Raalte, J. L., Brewer, B. W., Rivera, P. M., & Petitpas, A. J. (1994). The relationship between observable self-talk and competitive junior tennis players' match performances. Journal of Sport and Exercise Psychology, 16, 400-415.
Weinberg, R. (1985). Relationship between self-efficacy and cognitive strategies in enhancing performance. International Journal of Sport Psychology, 17, 280-292.
We're proud to bring you the freshest content on the web! Follow USANA on Twitter, like our USANA Facebook page and enjoy the latest videos on the official USANA YouTube channel.

Learn what USANA is doing to make the world a better place.
The future of personalized health and nutrition is now available with USANA's True Health Assessment.
https://whatsupusana.com/wp-content/uploads/2016/09/Positive_Self_Talks_Blog_16x9_72ppi.jpeg
675
1200
Aubrie Haymore
http://whatsupusana.com/wp-content/uploads/2019/11/USANA_Logo_Black.png
Aubrie Haymore
2016-09-20 04:00:20
2016-09-20 11:42:45
Talk Positively to Yourself