Supplement Spotlight: MagneCal D Supports Your Active Life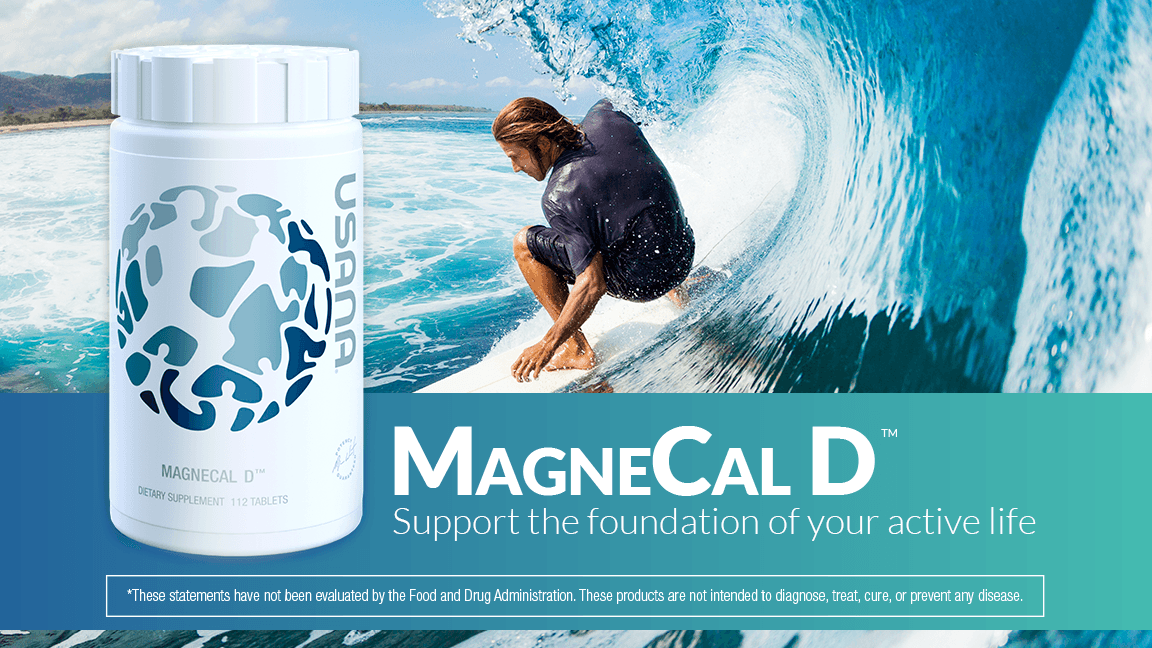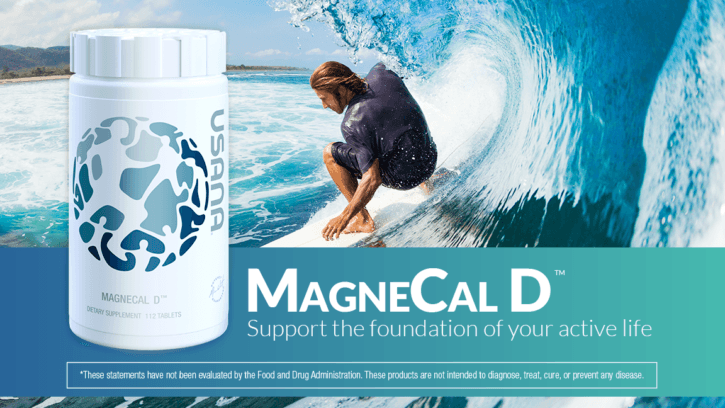 You have places to go, miles to run, mountains to climb, and yes, waves to surf.
You'll go as far as your bones will take you. That's why it's so important to support the foundation for your active life.
As you age, your bones continually change, becoming weaker and thinner. Bone loss is a normal result of aging, but too much bone loss can lead to osteoporosis. This can cause your bones to become brittle and more prone to breaks.
Fortunately, there are a few things you can do to support your bone health and maintain your on-the-go lifestyle.
Stay Active
People who are inactive are at higher risk for osteoporosis, which is why it's so important to keep moving. Take up weight-bearing and resistance training, increase your strength through yoga, and add in a walk every day.
Get the Right Nutrients
No matter your age, nutrition plays a huge role in supporting bone health. Here are a few key nutrients to look for:
Calcium
You know calcium is important for maintaining bone health—adequate calcium throughout life, as part of a well-balanced diet, may reduce the risk of osteoporosis—that's why you've upped your intake of yogurt, milk, spinach, and kale. But unless you've also upped your intake of magnesium, you're not getting the full impact.*
Magnesium
Magnesium helps your body absorb calcium, which is critical in supporting bone health. Without it, your body can't absorb all the calcium you take in. That's why it's important to maintain an ideal ratio of calcium to magnesium in the body, but most people simply do not consume enough magnesium.*
Magnesium also supports more than 300 processes in the body, including muscle strength and function, energy production, and cardiovascular and metabolic health.*
Vitamin D
Don't forget about the sunshine vitamin. Vitamin D helps nourish stronger, healthier bones. It's also important in maintaining immunity and cardiovascular health.*
MagneCal D™ Nutrients Working Together
These three nutrients work in perfect harmony to support healthy bone mineralization, neuromuscular function, and cardiovascular health for a strong, healthy body.*
But even with a healthy diet, getting all of these nutrients (in the right proportion) can be difficult. That's why we created MagneCal D™. Just as the name implies, it's full of magnesium, calcium, and vitamin D. In fact, our formula contains equally balanced amounts of calcium and magnesium to help you get the most out of the nutrients.*
"We found people were consuming plenty of calcium, but were getting less than the recommended amounts of magnesium and vitamin D. This gave us the unique opportunity to formulate a supplement to help balance out the body's levels," says USANA's chief scientific officer, Dr. Robert Sinnott. "Through the direction of USANA's founder Dr. Myron Wentz, we calculated the perfect ratio of calcium to magnesium that you'll find in the new MagneCal D supplement."
In other words, MagneCal D is an easy way to support a solid foundation for your healthy, active life and keep you on the move.*
Give your bones the balanced nutrition they deserve. Give them MagneCal D.*
[x_button type="transparent"style="color:blue" button shape="square" size="large" float="none" href="http://www.usanahealth.net/en_US/optimizers/magnecal-d.html?utm_source=WhatsUpUSANA&utm_medium=WhatsUpUSANA&utm_campaign=WUUBoneHealth&utm_content=ShopMagnecalD" title="Buy USANA's MagneCal D™" target="blank" info="none" info_place="top" info_trigger="hover"]Purchase your MagneCal D™ today![/x_button]

This article refers to the U.S. version of the product. For information regarding products in other markets, please visit USANA.com.
*These statements have not been evaluated by the Food and Drug Administration. This product is not intended to diagnose, treat, cure, or prevent any disease.
https://whatsupusana.com/wp-content/uploads/2017/03/MagneCal_Feature_16x9.png
648
1152
Katie Roundy
http://whatsupusana.com/wp-content/uploads/2019/11/USANA_Logo_Black.png
Katie Roundy
2017-03-25 09:00:47
2017-05-17 11:25:29
Supplement Spotlight: MagneCal D Supports Your Active Life