Ryan Wachendorfer: For the Love of Snowboarding
Snowboarding is still relatively new in the long history of winter sports. Boarders have been grinding the slopes since the 1960s, though they were banned at many resorts until the early 1990s. The sport's popularity was cemented with its inclusion in the Winter Games in 1998.
What began as a subculture is now one of the most popular winter activities, making way for new generations of athletes pushing harder, faster, and higher in a number of events.
And now, U.S. Ski & Snowboard snowboarder Ryan Wachendorfer is striving to make his mark in the halfpipe.
Pushing for More
Growing up in Colorado, Ryan was surrounded by some of the best youth snowboarders in America, and he had access to high-quality facilities and coaching. He knew the advantage this gave him over other snowboarders around the country, and he made the most of it.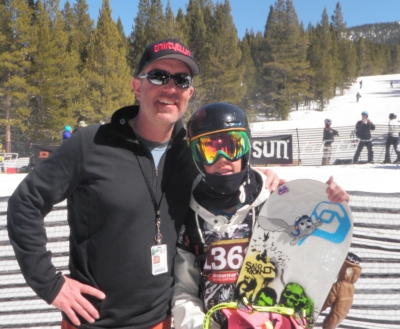 Ryan's love of snowboarding began with family ski trips, was propelled by riding in both a local club and ski academy, and has excelled in becoming a member of the national team.  His progression has parleyed into impressive results at national events, World Championships, and World Cup events alike. And, despite missing the qualification period for PyeongChang due to injury, he's confident in his staying power.
"I got my first World Cup podium two years ago," says Ryan. "That was probably one of the biggest moments for me, proving to myself that I could compete with those guys and I deserved to be there— that I was on the right track to have a successful career and this is something I can take seriously and do for a while."
He knows he has his work cut out for him to stick around and stay competitive. But that's part of the joy of it for Ryan and what will drive his success. His philosophy is to do what it takes to always position himself to get better, while embracing the inherent risk of the sport and not allowing his nervous energy to take over. Especially when learning new tricks and putting together runs.
"It's a really scary moment," says Ryan, "the feeling of standing at the top of the pipe and having a trick in your head you've been thinking about for so long. You know what you want it to look like, but you don't really know how it's going to go. But dropping in and turning that nervous energy into what you want to get done is freeing. I've learned to love that feeling—you kind of get addicted to the adrenaline—because you know however it goes, it's going to be something you need for your run. And once you land it, you're so stoked! It's such a good feeling."
Live in the Moment and Adapt
Snowboarding is a physically demanding sport, one where a slight miss of a trick can be disastrous for your score. Putting yourself in the right mental state can be the difference between reaching the podium and missing out.
"There's definitely a strategy to snowboarding, but it's a sport with a ton of variables," says Ryan. "If it's dumping snow or the pipe's not good, we have to be flexible and be able to change our runs. It's a skill that's really important to have and separates the field. A lot of people kind of shut down if the weather is bad, so just trying to adapt to challenges and being able to change your run around is huge. "
Ryan's ability to focus on what he can control—and not what he can't—not only helps him stay centered, it puts him in a calm state at the beginning of a run.
"You can't control the weather, you can't control someone else having a bad day and being negative," Ryan continues. "But you can control what you focus on. You can choose to listen to that person, or you can choose to walk away and not let them get in your head."
Looking at the Big Picture
When it comes to snowboarding, balance is key. And, thanks to a seemingly innate positive perspective, Ryan is able to see what he has gained from the sport matters far more than conventional wins and losses.
"Success can take a bunch of different forms. You need to measure yourself in a competitive sport with results and how you do in events, but I think—while that's important—it's also important to focus on other things throughout my snowboarding career and being on the U.S. team for five years. I've learned so much about myself. I've gotten to travel the world, I've had experiences I never would have had. That's already a huge success in my eyes. I've built this awesome network of friends and family.
"So, if you look at it that way, even if I stopped snowboarding tomorrow, I wouldn't trade anything I've done over the past 15 years. I always have goals. I want to make the next Olympic team. I want to be on the podium next year and have those quantitative results. But I also have to measure my success and make sure I'm happy and still having fun. I think the most progressive snowboarders are the ones who are having the most fun. They're out there riding because they want to and not because they have to."
And if you talk to Ryan about snowboarding for even a few minutes, it's apparent he's having a great time. He plans on staying around for the foreseeable future, working on his craft, and we're lucky enough to be along for the ride.
7 Facts About Ryan
Why he trusts USANA: I trust USANA because I know how thorough they are with their products. When you are an elite athlete and get drug tested randomly, you have to trust what you put in your body.
His favorite USANA product: I would say Nutrimeal™ and HealthPak™—those are the two I use most. With HealthPak, you just take it every morning and it covers such a good base of supplements you need every day. Nutrimeal is good for traveling. It's easy to throw in your bag and then get some water on the plane.
Pre-competition ritual: I have a routine. How I get up and have breakfast, stretch, and do some visualization stuff—go over my run in my head. Usually, we get between 40 minutes and an hour for practice before the event. It ends up being four runs, typically. I have a routine for all of those runs. I'll do a straight air run to feel out the pipe to see how the conditions are. One run I'll do some warm-up tricks, and then I usually have two runs to put my contest run together. And then it's game time.
His favorite place in the world to snowboard: It's hard to pick one place. I've been so fortunate to go all over the world. But if I had to pick one place, I'd say it has to be Switzerland, just because it's so beautiful. It's like, every day you're there it's like a dream. But New Zealand is amazing. Switzerland and New Zealand are probably my top two.
His go-to trick: My favorite trick in the half pipe is the Michalchuk. It's pretty basic, but it's something that feels really good. It's super smooth and gives you that floating sensation, which is one of the best feelings on a snowboard.
When he's not on the mountain: I've been working on building my Jeep for the past three years over the summer. I love to go camping, skateboard, and do a bunch of active stuff—mountain biking. I just try to keep myself busy. I get stressed out when I'm not doing stuff, so I'm not really one to just sit at home.
Follow him on Instagram: I try to post on there every day, so I'd say that's the most relevant and up-to-date. Follow me @ryanwach.
*The featured athlete is a dedicated product user who has received USANA products and/or compensation for his partnership.
https://whatsupusana.com/wp-content/uploads/2019/05/Day9_0009-2.jpg
3648
5472
Scott Pack
http://whatsupusana.com/wp-content/uploads/2019/11/USANA_Logo_Black.png
Scott Pack
2019-05-08 12:06:29
2019-05-08 12:12:32
Ryan Wachendorfer: For the Love of Snowboarding