Mandy Bujold: Fighting for What Matters
Surrounding yourself with the right people is one of the best ways to set yourself up for success. And world-renowned boxer Mandy Bujold understands what it takes to create her dream team. What started out as an exciting, new sport to try in her teens has transformed into a high-caliber, athletic profession. All in thanks to Mandy's passionate, dedicated fire and the insightful coaches, trainers, and support system who champion her and continue to teach her after years in the ring.
Mandy's fighting mindset has changed over time. Early in her training, she survived the ring with natural fight-or-flight instincts. Her mind narrowed in on aggression and winning the fight unscathed. Now a seasoned fighter, boxing has become a mix of dance and strategic skill. Her experience helps her to dodge moves, deliver knock-out jabs, and stay light on her feet.
"After 160 fights, my responses are automatic. Fighting is like a chess game of moves; you set the choreography and can react to what plays out," Mandy says.
In an Olympic fight, there's not much that separates winning and losing. It can be as little as one combination that pushes one fighter above the other.
"I'm an orthodox boxer. I use fast footwork and explosive punches to fight at my technical best. It's all about building muscle memory when you're in the gym focusing on certain skills, so your body reacts when you see what's coming at you in the ring."
Although not an athlete until she found boxing in high school, Mandy's now ranked as the best woman boxer in all of Canada—a status earned through every sacrifice, drop of sweat, and dedicated hour spent both in and out of the ring. Reaching this level of success has shown her just how capable she truly is. From training her body to react quickly and stay mentally razor sharp to fueling her body with whole foods and balanced nutrition, Mandy understands what she needs to compete at her very best. She works with a sports psychologist to ensure her mental health is in top shape as well.
Oh Baby, She's Back
Mandy just competed in her first international tournament since the birth of her little girl, Kate Olympia ("KO"). Her bounce back into the ring is a testament to her drive and resilience, both mentally and physically. A lot changes during and after pregnancy, and it can be difficult to struggle through your performance not matching up right away. To help combat self-doubt and defeat, Mandy started slow.
Her first goal was to get back to her pre-pregnancy weight class. During the majority of her pregnancy, she stayed active in the gym doing strength training exercises (talk about mama beast mode). Pregnancy training was a balance between keeping up her strength and being conscious of when her body needed rest. And she was back in the gym as soon as she was cleared by her doctor.
"When I initially got back into the gym, I was breastfeeding, so that came with its own challenges. The biggest differences were in my hips and my core muscles. I've worked really hard at strengthening them with the help of a pelvic floor specialist. The female body's ability to adapt is so impressive," says Mandy.
With a goal to get back to the Olympic Games, along with her supportive husband and all-star team around her, she's focused on another Olympic appearance.
Rooted on the Road to the 2020 Olympics
As an integral part of Boxing Canada for quite some time now, Mandy's road to the 2020 Olympic Games looks a little different. As explained in an interview with The Record, she is fundraising her own way to Tokyo. Typically, Boxing Canada would fund her travel to the Olympics, but when a regulation required all fighters relocate to Montreal, Mandy had a tough decision to make. Ultimately, she chose to stay in Kitchener to do what's best for her family. She surrounds herself with top coaches, brings in international sparring partners, travels to compete, and attends trainings in Montreal. She's staying rooted in familiar soil while branching out her training across the globe.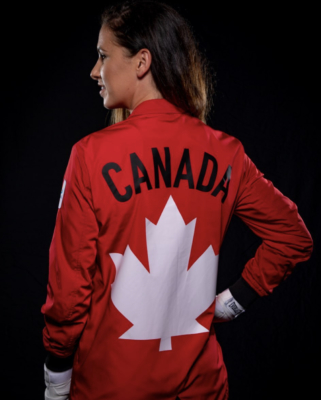 "Over the years, I've been able to prove to Boxing Canada that I surround myself with the right people and fight at the highest caliber," says Mandy. "I've found the right support I need here in Kitchener, and staying is the only thing that makes sense for me right now."
Mandy appreciates the support she's gotten from Boxing Canada despite the location differences. Her decision to support her family and stay dedicated to her career is an admirable one. Mandy's commitment to the two most important aspects of her life is both inspiring and empowering to professional female athletes around the globe. 
7 Interesting Facts about Mandy
Her best tips for rest and recovery in a high-impact sport: Sleep is a big factor. I also work a lot with a massage therapist and osteopath. It's important to your handle your soreness the right way. If you wait too long, small things can turn into something more serious.
Why she trusts USANA: I was introduced to USANA by a strength trainer early on in my boxing career. These products are clean and guaranteed by the NFS, and that's why I've stuck with them. Good quality ingredients are so important in my sport.
Her favorite USANA product: I take the athlete HealthPak™ and Ginko-PS™ (CopaPrime+™ in the US) to help me stay sharp and give me that extra edge. The USANA® WholeBio™ Bar is a staple in my house. I also use Celavive® skincare all the time.*
Her pre-fight routine: I listen to classical music to get my breathing under control. I also do progressive muscle activation to warm up each body part. I recite and think of any key words or strategies I need to focus on for each specific fight.
Her favorite place to travel to: St. Petersburg or Portugal are top on my list. I've been to over 35 countries. Everywhere is different and has its own unique elements. I like experiencing the culture, eating the food, and learning how people live.
Her go-to exercise outside of the ring: I love strength training and Olympic lifting.
Follow her journey: On Instagram at @mandybujold.
*These statements have not been evaluated by the Food and Drug Administration. These products are not intended to diagnose, treat, cure, or prevent any disease.

**Mentioned athletes are distributors or dedicated users who receive compensation for their partnership and/or complimentary @USANAinc products.
https://whatsupusana.com/wp-content/uploads/2019/10/IMG_7530.jpg
807
1125
Shauntel Peterson
http://whatsupusana.com/wp-content/uploads/2019/11/USANA_Logo_Black.png
Shauntel Peterson
2019-10-15 05:54:34
2019-10-15 09:47:51
Mandy Bujold: Fighting for What Matters