The Main Event: USANA Fight Weekend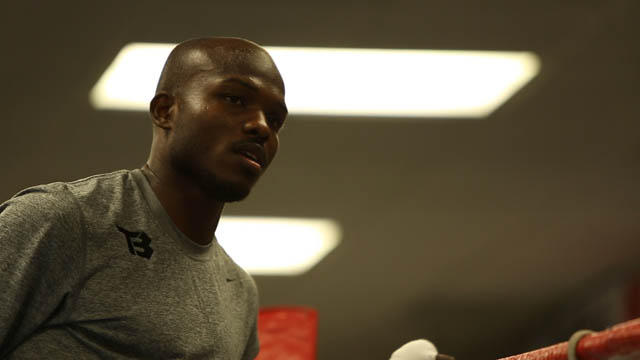 A week from now, the hands will have been raised. The ring will have been torn down. Wounds will begin to heal. Moments will already be memories.
A week from now, the champion will still be smiling. Timothy "Desert Storm" Bradley thinks he'll be the one beaming. Probably because the three-time champion also expects to be the one wearing Manny Pacquiao's welterweight title belt come Sunday, June 10.
"I'm very confident every time I get in the ring I'm going to win — period," Bradley said back in early May in Indio, California. "It don't matter who I'm fightin' — it could be King Kong in the ring — I'm gonna beat 'em. And that's the bottom line."
Pacquiao fights in a different weight class than Kong, but he's no less daunting a figure. The "Pac Man" is an eight-division world champion, and — depending on who you ask — the best pound-for-pound fighter in the world. Probably one of the best to ever live.
Bradley, a USANA-sponsored boxer, knows this. From the interviews he's done, you can tell he has a lot of respect for Pacquiao — admires the man, even. But on June 9th at the MGM Grand in Las Vegas, Nevada, Bradley is going to stand toe to toe with the pound-for-pound king and try to hit Pacquiao more times than he gets hit. That's boxing. And Bradley is very good at it.
The 28 year old punched his way out of the rough streets of Cathedral City, California — near Palm Springs — and into big bouts for title belts. At 28-0, Desert Storm hasn't been quelled as professional. He's a top 10 pound-for-pound fighter, as well. And he's hungry for the moment, hungry for the win.
"I'm going to give it 110 percent," Bradley said in a recent interview on TopRank.com. "I'm putting it all on the line, so you are going to see a great fight. If you miss this fight you are going to miss some greatness. At the end of the day I'm putting it all on the line. I'm not in there to survive. I'm not in there for a paycheck. I am in there to win. This is the beginning of a new career. This is like my first fight all over again."
A Friday Night Fight
On the eve of Pacquiao-Bradley, another USANA-sponsored fighter will take the ring under the bright lights of Las Vegas. Undefeated light heavyweight Mike Lee (8-0, 5 KOs) will go six rounds with Isiah Barela (4-2, 3 KOs) at the Hard Rock Hotel and Casino.
You've probably heard about the hard punching Lee on this blog. If not, you've seen him on some recent national commercials selling sandwiches alongside some of the biggest names in sports.
Lee is a Chicago native and Notre Dame graduate in finance. He chose the ring over a job on Wall Street, and since turning pro in 2010 Lee hasn't looked back. This 24-year-old rising star is trained by Ronnie Shields — one of the best in the business — and looks to put on a good show for all the Team Lee supporters in attendance on June 8.
Where to Watch
Timothy Bradley tries to dethrone Manny Pacquiao live on Saturday, June 9 from the MGM Grand Garden Arena in Las Vegas at 7 p.m. MDT on HBO Pay-Per-View.
Mike Lee's bout against Isiah Barela can be seen on ESPN2 at 7 p.m. MDT on Friday, June 8.
You can also follow USANA Fight Weekend on What's Up USANA?, USANA Athletes on Facebook, and @TeamUSANA on Twitter.
USANA will be on the scene in Las Vegas giving you a look at all the pre-fight excitement, as well as recapping the amazing action in the ring on June 12.
Also get an in-depth look at Timothy Bradley over on USANAtoday.com.
*The mentioned athletes are either distributors or dedicated users who have received compensation for their partnership and/or complimentary USANA products.
We're proud to bring you the freshest content on the web! Follow USANA on Twitter, like our USANA Facebook page and enjoy the latest videos on the official USANA YouTube channel.

Learn what USANA is doing to make the world a better place.
https://whatsupusana.com/wp-content/uploads/2012/06/Preview-2.jpg
360
640
David Baker
http://whatsupusana.com/wp-content/uploads/2019/11/USANA_Logo_Black.png
David Baker
2012-06-03 07:19:32
2012-06-01 16:32:41
The Main Event: USANA Fight Weekend