Mt. Everest 2012: 'LASERFocus' Reaching New Heights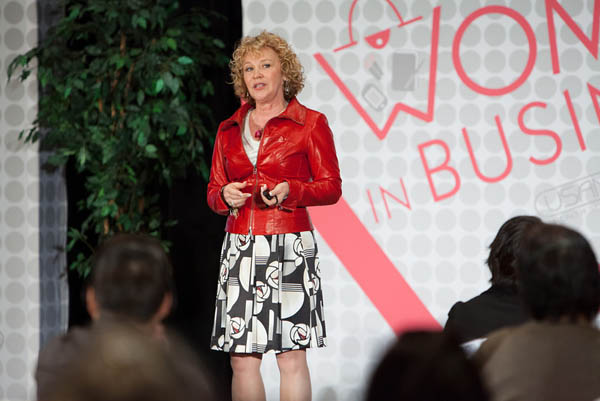 Susanne Cunningham jokes that she expects to wake up in Nepal during the course of her 16-day Mount Everest Base Camp Trek and wonder why she didn't opt for a relaxing beach vacation instead of a grueling climb to 17,500 feet.
"If Edna can do this, I can do this. She inspires me!" says Susanne, referring to octogenarian and USANA Gold Director Edna Northrup's famous climb in 2010.
All joking aside, the USANA 2-Star Diamond Director and Fortune 25 member from Winnipeg is about to embark on an adventure of a lifetime.
The 15-person trip is scheduled to begin on May 3 and continue through the 18th. What makes the adventure even more special for Susanne is that her three grown sons will join her on the trek. The four of them will celebrate Mother's Day together along the way.
"I think Susanne and the boys are going to have a trip of a lifetime," says husband John Cunningham. "It's a great way for her to stay connected with them with something that will be special forever. It will cement their mother-son bond."
Why Climb?
When people ask Susanne why she's embarking on what's sure to be a challenging — yet extremely rewarding — adventure, she explains three things she knows will happen:
The physical challenge will give her gratitude for her health and appreciation for what the body is capable of accomplishing.
The social challenge of climbing Everest with a largely unfamiliar group will accentuate the value of teamwork and togetherness.
The realization that she and all the climbers will be standing in awe of nature and understanding the majesty of something much grander than her or any individual.
And if she had to throw in one additional source of motivation, it would be this:
"I've taken a mother-son trip each year with each one of my boys, individually since they were in elementary school," says Susanne, whose three sons are now 20, 22, and 24. "This year the boys and I will be all together on the trek."
It truly could be the trip of a lifetime.
"My guys don't even realize how great this is going to be," John says. "This is a culminating experience of all the mother-son trips over the years."
Such mother-son trips in the past have included mini-putt tours of Manitoba or roller coaster rides at Six Flags in San Diego. Needless to say: Conquering Everest would take the prize.
Reaching New Heights
Living in decidedly non-mountainous Winnipeg isn't exactly conducive for training to climb to the base camp of the world's tallest mountain. Ever resourceful, Susanne has taken to finding the tallest buildings in the city and climbing the stairs from bottom to top — over and over again.
While the physical journey will be memorable in and of itself, Susanne understands such a trip embodies much, much more.
Throughout her 17 years in USANA Susanne's always looked for ways to share knowledge with others. Before, during, and after this significant life event she expects to share lessons learned not only with her LASERFocus team (follow on Twitter @LaserFocusBook and Facebook (book, group), but also with additional teams and individuals throughout the company.
"The things you're doing now, the work, the consistency, the commitment," she tells other USANA Associates, "are giving you the freedom to choose what you want in their future life. It may be an adventure like this or it might be something else but you get to choose what it will be."
Susanne has graciously offered to share updates from the trek with USANA's social media readers. Please keep an eye on What's Up, USANA?, Facebook, and Twitter.
But don't expect to read a play-by-play of each day or even details specific to the technical aspects of the climb.
"I'm more of an in-the-moment, big picture kind of person," says Susanne, who will celebrate another milestone — her 52nd birthday — the day after the trek ends. "I'm more apt to describe what I'm feeling, what my emotions are."
It's sure to be an emotion-filled adventure and we can't wait to read all about it.
We're proud to bring you the freshest content on the web! Follow USANA on Twitter, like our USANA Facebook page and enjoy the latest videos on the official USANA YouTube channel.
https://whatsupusana.com/wp-content/uploads/2012/05/WomenInBusiness_Blog1.jpg
401
600
Tim Haran
http://whatsupusana.com/wp-content/uploads/2019/11/USANA_Logo_Black.png
Tim Haran
2012-05-03 07:52:36
2017-09-11 08:56:11
Mt. Everest 2012: 'LASERFocus' Reaching New Heights