Mt. Everest '12: Goals Achieved, Lessons Learned, Memories Made
For those following along at home… You'll remember that yesterday USANA's Susanne Cunningham provided a recap of her recent Mt. Everest Base Camp Trek for What's Up, USANA? blog readers and other social media followers.

Today, the 2-Star Diamond Director and author of the Being LASERFocused book (order in Canada and the United States) is back with some thoughts from others on the trek.
She also offers additional reflections on her own experience as part of a 15-person team that took part in this life-changing event.
Before we head off to our next goal — home — here are what a few of our teammate adventurers had to say …
"This is life changing, my personal achievement reaching Mt. Everest Base Camp with my daughter Irina."

— Maryana Roman
——————————
"The Secret to having it all … is Believing you already do…

— Mikel Ann Hall
——————————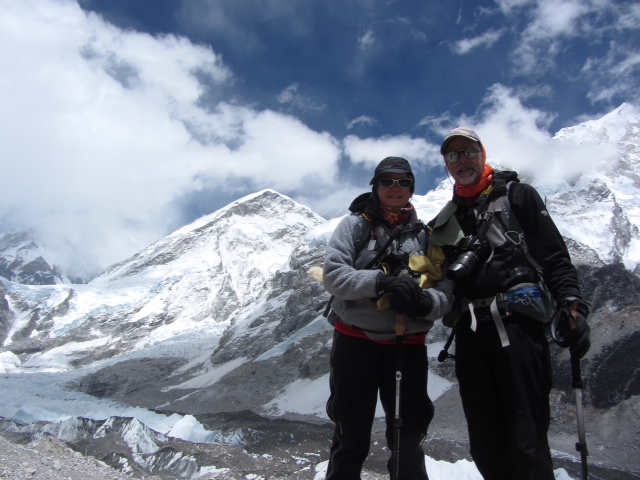 "One step at a time and success is there."

— Diane Vaillancourt & Daniel Lemieux
——————————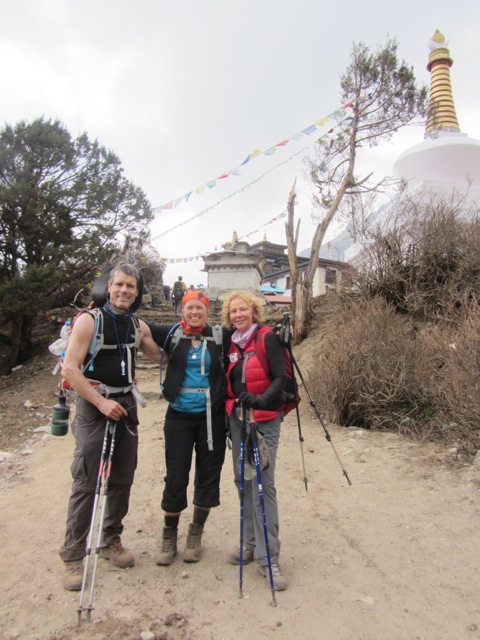 "Live in the Moment and Stay Open to the Possibilities — ya just never know what's coming around the bend."

— Drummond MacDougall
——————————
Speaking of the next goal… now it's time to get back to Lukla. We're anticipating a clear morning to fly to Kathmandu. Even though the main goal has been achieved, there is always more. That's what keeps life exciting.
We are homeward bound and even though we will be coming down in altitude I learn there will still be some climbs and of course switchbacks across the mountains.
The scenery is beautiful and we have the success of Base Camp behind us. We can do this. I love nature. This part of the trek continues to share the beauty of the mountains, along with rivers, birds, butterflies, lady bugs, flowers and forests. Step by step we climb, cross bridges, go downhill till we reach our destination over the days ahead.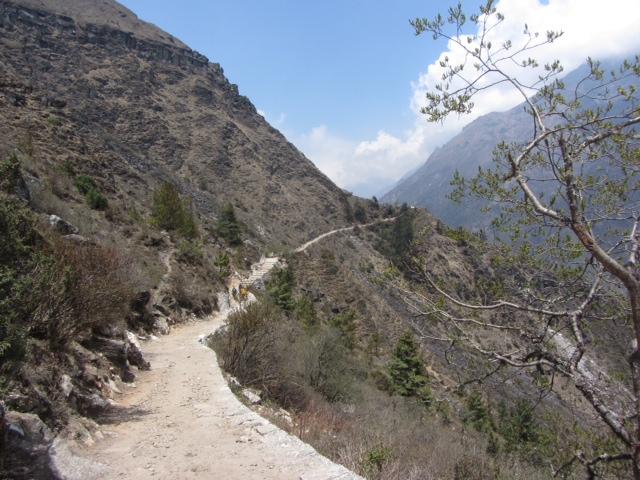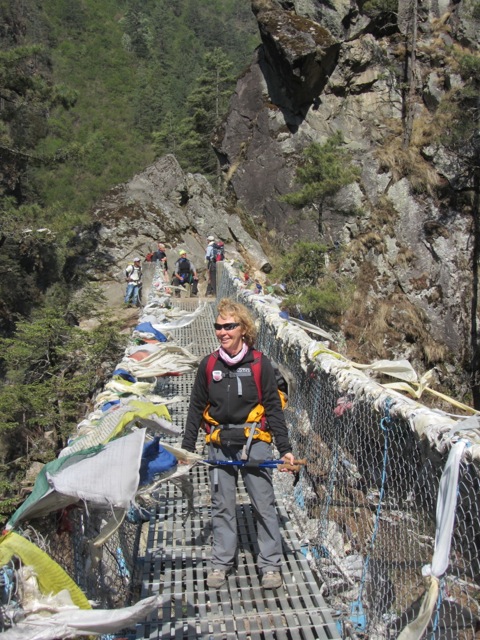 There are many hours for contemplation of where we have been and where we are going next. I appreciate this time to unwind. Even though we still have work ahead of us, there are still many beautiful moments to experience.
Gratitude is an important part of every experience. None of us did this alone. We had experienced and trained individuals to help make this happen, not to mention strong, committed porters who carried our stuff ( probably too much stuff) and never once complained.
A tip and a thank you are important. I appreciated them and so did everyone else. They taught me a lot about hard work and gave me a new perspective of what is possible.
Zachary is sharing an envelope of tip money from the group for one of our assistant guides Dorje (there was an envelope delivered by one of us to each porter, assistant guide and head guide to show our gratitude). They took fabulous care of us.
The Flight from Lukla is known by many. It has the shortest runway and the pilots are responsible for making many manual decisions and handling of the plane manually.
Thankfully we had a bright clear morning. The view around us was spectacular. We were leaving what had a been our peaceful friend for the last 12 days and heading to another interesting and magical place — Kathmandu.
As we heard the revving engine we said our farewell for now and we were off….
Here's a video of the take off:
[youtube]atSUpj0R_JQ[/youtube]
If you're unable to view the video, please click here.
Hello Kathmandu and all of your uniqueness. Not so peaceful, maybe, but definitely magical.
We have come to the end and it is time to say goodbye to this trip to Nepal. The moments will be with me forever.
What did Ms. LASERFocus learn? I learned many things, but let me name a few.
There are many metaphors between this trek and life and our business. Metaphors I am still sorting and in the future look forward to sharing like I did in Montreal at the Women in Business event. I closed a glorious day of inspiration and motivation from USANA women this past Saturday (if you get to attend such an event, be there and bring guests. You'll be glad you did).
A Few Thoughts…
For now, here are some thoughts I want to share (in no particular order):
There is honor in hard work. The people I met in Nepal work hard, look after one another and their homes. They have a smile and kindness about them. I enjoyed being a part of their lives, if only for a short time. Namaste
——
I was reminded of the value of goals, commitment and action. They go together like bread, jelly and peanut butter in a PB&J sandwich. One is not complete without the other.
——
Teamwork makes everything more fun. Whether it is in the easy moments or the tough moments, working together makes the load easier and the win brighter.
——
Health is number one. Without it we will miss wonderful experiences. It is worth the effort to stay healthy, fit and proactive.
——
Focus is a disciplined way to get from point A to point B. There are many steps to completing a goal, but focus at all stages will keep you on track and help to eliminate distractions.
——
Partnering with people who are trained, knowledgeable and have your best interest at heart. People who have done the challenge personally are the best partners to have.
——
I was honored to share this experience with other adventurers, teammates and especially to celebrate family, traveling with my 3 sons culminating years of Mom and Son trips. What an extraordinary way to celebrate Mothers' Day.
——
In closing. I believe a goal achieved never leaves you. It is an example of what is possible. It reminds you of the joy of getting through the challenges, leaves you in gratitude for the support, and leaves you ready to set new goals.
Believe in yourself. You deserve anything you can dream of. Step boldly toward your goals….
Peacefully, reminiscing in the Dream Garden in Kathmandu.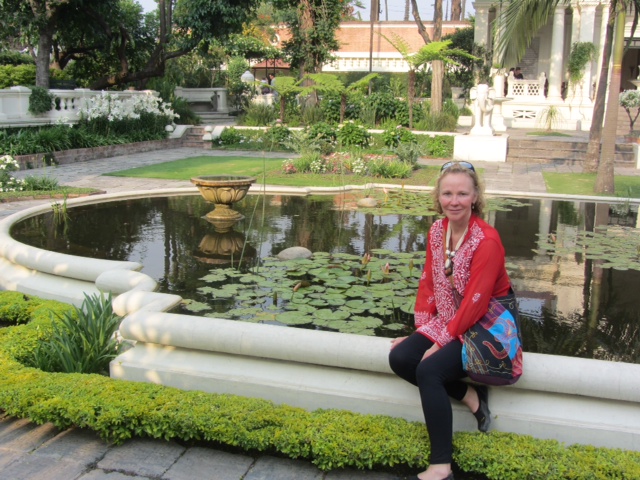 To read additional posts from Susanne about her adventure, please visit the Mt. Everest Trek 2012 page.
We're proud to bring you the freshest content on the web! Follow USANA on Twitter, like our USANA Facebook page and enjoy the latest videos on the official USANA YouTube channel.

Learn what USANA is doing to make the world a better place.
https://whatsupusana.com/wp-content/uploads/2012/06/23.-Family-Featured.jpg
365
640
Tim Haran
http://whatsupusana.com/wp-content/uploads/2019/11/USANA_Logo_Black.png
Tim Haran
2012-06-01 07:18:42
2017-09-11 08:52:17
Mt. Everest '12: Goals Achieved, Lessons Learned, Memories Made