USANA Green: Saving Water Never Looked So Beautiful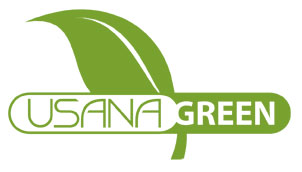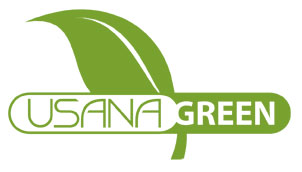 Spring comes in stages, replacing the yellow of winter with an optimistic new green one piece at a time. It starts with the grass, blade by blade accepting the new season. Then there's the trumpet of leaves budding on trees, which, in their fullness, sound the coming arrival of flowers.
Such is springtime outside USANA's Home Office. The award-winning landscape that surrounds the building comes to life with the longer days and occasional spring showers.
But spring also signals the approaching end of the wet season. Utah is the second driest state in the United States, and in a few months the green promise of spring will be washed away by the waves of the unrelenting summer sun. To preserve the bloom of April and May, many turn the sprinklers on, opening the floodgates to a season of high water usage.
At USANA, there's no need to choose between beauty and water conservation.
"If you want to save water, there's a lot of different options," said USANA Green Coordinator Jeff Robertson. "We went with xeriscaping because we wanted to provide a space that was not only water-efficient, but was beautiful and functional as well."
Water-Wise Xeriscaping
Xeriscaping is a technique designed to maximize water savings by using native plants that thrive in dry climates. USANA's xeriscaping — done by the facilities team — uses Utah's indigenous wildflowers, native grasses, shrubs, and swaths of rock to save a million gallons of water a year and provide added aesthetic benefits. The one million gallons saved accounts for about 10 percent of USANA's total usage.
Even with the growth the company has experienced, the xeriscaping — one of the first projects to come to life through the green efforts — is still allowing USANA to stay water-wise. More employees mean more toilets flushing, more hands being washed, and more water bottles being filled up. The addition of a new manufacturing line has also added demand for water. But USANA has been able to keep usage to 800,000 gallons a year — still under the baseline level established in 2007.
Interior Water-Saving Measures
Water-saving improvements inside the building haven't made the same visual splash as the xeriscaping, but USANA has rolled out various projects to keep interior usage down.
Sinks operated by motion sensors have been installed in the restrooms. And a small, but impactful, step was taken when USANA changed out old 2.2-gallon-per-minute aerators in favor of more efficient 1.6-gallon-per-minute versions. Aerators attach to the bottom of a faucet and add air so there isn't a steady stream of water, which saves in the long run.
Robertson said USANA has also looked at other measures, including water-free urinals, but hasn't pulled the trigger yet.
Minimizing Environmental Impact
Not only is USANA saving water, it's minimizing the impact its manufacturing has on ground water. The wastewater created by the production of USANA's products has no significant contamination in it. Robertson said the local organization that tests wastewater had to come back and test again because they couldn't believe USANA didn't have anything significant going into wastewater.
In the arid Western U.S., water is a precious commodity — one to be cherished, not wasted. That's why USANA is making the most of its water usage, and, in the process, showing that conservation and beauty aren't mutually exclusive.
Editor's Note: This is the fifth in a regular series of articles about USANA Green. It originally appeared on USANAToday.com. For more information, go to the USANA Green page. To read others in the series, visit USANA Green on What's Up, USANA?
We're proud to bring you the freshest content on the web! Follow USANA on Twitter, like our USANA Facebook page and enjoy the latest videos on the official USANA YouTube channel.
https://whatsupusana.com/wp-content/uploads/2012/03/USANAGreen.jpg
172
302
David Baker
http://whatsupusana.com/wp-content/uploads/2019/11/USANA_Logo_Black.png
David Baker
2012-05-13 07:53:51
2012-05-21 10:55:13
USANA Green: Saving Water Never Looked So Beautiful