USANA Green: Steps to Securing a Healthier Future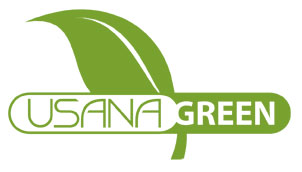 The cold winter sunrise is draped in pink, orange, and yellow — the morning costume of another hazy day in Salt Lake City. By 9 a.m., the pinks and oranges will have receded, leaving a crude yellow-gray shawl to shield the valley from an otherwise clear sky.
In this setting it's hard to be blind to the buildup of smudgy fingerprints humans are leaving on the environment. And it's hard to ignore what that means for our health — and the health of future generations.
USANA noticed, and in early 2007 — at the behest of CEO Dave Wentz — took action. With Executive Vice President of Research and Development Tim Wood, Ph.D. at the helm, USANA Green was established with a mission in mind.
"We believe, as a corporate entity, in health — the health of people and the health of the environment," said Jeff Robertson, USANA Green coordinator. "And we believe they are symbiotic. When the environment is healthy, people will generally be healthy, too. When people seek to be healthy on their own, they will also seek to make the environment healthy."
The First Steps
Working with members of the community and the Utah Department of Environmental Quality, Wood created an environmental management system (EMS) — a comprehensive document outlining who would be involved in green efforts, what those efforts would be, how they would be controlled, and how success would be measured.
Initially, Robertson said, there was a lot of "low-hanging fruit." The first crop of green programs included a paper-recycling program, plans for solar panels, and a water-wise landscape makeover.
Another early win came from rethinking how USANA powered its operations. The company quickly found a partner in Rocky Mountain Power, whose Blue Sky program allowed USANA to purchase wind-generated energy. Today, USANA offsets the impact of its energy usage by purchasing 7 million kilowatts of certified wind energy each year — accounting for 100 percent of their North American energy consumption.
There was also a groundswell of support for these green efforts, with different departments contributing expertise and enthusiasm. The best example was the facilities department's involvement in the xeriscaping project that is now saving USANA one million gallons of water per year. Their expertise led to a water-wise landscape that was the perfect combination of efficiency and beauty — earning USANA an award from West Valley City.
USANA Joins Climate Registry
But the most prominent yardstick for USANA Green's success came from the Climate Registry. This nonprofit collection of North American government and private entities sets standards for calculating, verifying, and publicly reporting greenhouse gas emissions into a single registry, providing accurate data to help reduce these emissions. USANA joined as one of the earliest reporters.
"A lot of people look at climate change and just wring their hands," Robertson said. "Or they'll say, 'There's nothing that can be done about this.' But Climate Registry goes out there and says, 'There is a way to look at climate change that's numbers-based and rational.'"
Climate Registry provided a method for measuring and reporting greenhouse-gas emissions, and required a third-party verification of USANA's emissions portfolio — an important check when developing an effective green program. Working with Climate Registry also allowed USANA to support a broad coalition of groups figuring out how to tackle issues, and provided a focus on hard data instead of empty estimates.
Being a member of the registry puts USANA in good company — members include large universities, government entities, and companies across many industries. At this time, USANA is the only network marketing company reporting to the Climate Registry.
"There is a nexus of social responsibility, environmental responsibility, and responsibility to our shareholders," Robertson said. "If you're not pursuing green, you're kind of foolish because you'll end up with less of all three.
Editor's Note: This is the fifth in a regular series of articles about USANA Green. It originally appeared on USANAToday.com. For more information, go to the USANA Green page. To read others in the series, visit USANA Green on What's Up, USANA?
Be in the know! Follow USANA on Twitter and like our USANA Facebook page for the latest news and notes.
http://whatsupusana.com/wp-content/uploads/2019/11/USANA_Logo_Black.png
0
0
David Baker
http://whatsupusana.com/wp-content/uploads/2019/11/USANA_Logo_Black.png
David Baker
2012-03-03 08:04:01
2012-05-21 10:54:27
USANA Green: Steps to Securing a Healthier Future