USANA Green: Putting Energy First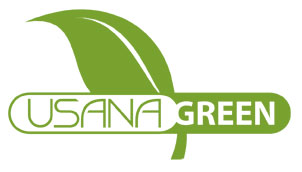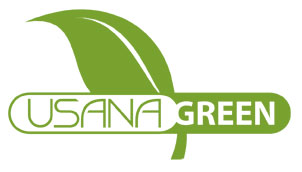 Although it is approximately 150 million kilometers away, the sun has a major impact on our planet. It provides us with light, heat, seasons, and even energy. Every year the sun produces 10,000 times the amount of energy currently consumed by humans. It seems only natural to tap into that energy — which is exactly what USANA has done.
In 2007, the USANA Green team met to develop a plan for going green. But the question remained, where do you begin in reducing your carbon footprint? The team decided to take it one step at a time.
In the Beginning
"Energy was one of the first things we wanted to tackle," said USANA Green Coordinator Jeff Robertson. Rather than just cut back, the team decided on a two-pronged approach: first, find sources of renewable energy; second, reduce the amount of energy used.
USANA started by purchasing wind energy through Rocky Mountain Power's Blue Sky program. Initially, they purchased 75,000-kilowatt hours, enough to offset 10 percent of USANA's energy usage, but the team continued to look for alternate sources of energy. Naturally, they looked to the sun.
Going Solar
The first set of solar panels was installed in 2008. The panels, which were placed on the warehouse roof of the USANA Home Office, supplied enough electricity to power two to three Utah homes. Another set of panels was added in 2011, this one able to supply power equivalent to that of 22 Utah homes.
The panels span more than 140,000 square feet, covering the roof of the Phase 3 Warehouse with over 700 individual panels, making it the largest private installation of solar panels in the state of Utah. Together, the panel sets prevent 14 metric tons of greenhouse emissions.
[youtube]qFNeqXhgubE[/youtube]
View the USANA solar panel video.
USANA then upped the purchase of renewable wind power to seven million kilowatt hours through Renewable Choice Energy. "Through a combination of windmills and solar panels, all of our North American power now comes from renewable energy sources," said Robertson.
Helping Improve Air Quality
Reducing pollutants is an important endeavor worldwide, but it is especially important around the USANA headquarters. "Renewable energy is essential for our location in particular because of Utah's unique challenges with air quality," said Robertson. Frequent winter inversions trap pollutants in Utah's urban valleys and create toxic buildup in the air, posing a health threat to those exposed.
To help counteract this effect, USANA is partnering with Utah State University to examine the role of supplementation in offsetting the negative health effects of exposure to polluted air. The study focuses on whether a variety of antioxidants found in nutritional supplements can mitigate the inflammatory response in the breathing passages of people exposed to high levels of air pollution.
By tapping into renewable energy USANA has saved approximately 600,000 kilowatt-hours a year — that's nearly 750 pounds of sulfur dioxide, 900 pounds of nitrogen oxide, and 550,000 pounds of carbon dioxide that have not been released into the atmosphere.
And That's Not All…
Other changes around the Home Office, such as switching to EPA-approved light bulbs and motion-censored lights, have also helped to reduce energy usage. All of these efforts combined have cut USANA's emissions by one-third, earning the company the title of Clean Utah Partner and a place in the Environmental Protection Agency's Green Power Partner Leadership Club.
It's clear USANA's renewable energy sources are making a major impact as the team's efforts expand and the carbon footprint diminishes. "USANA is dedicated to being a partner in reducing the impacts to Utah's air sheds," Robertson said. "We have a lot more roof space and we have a CEO that is determined to improve the environment."
Editor's Note: This is the fifth in a regular series of articles about USANA Green. It originally appeared on USANAToday.com. For more information, go to the USANA Green page. To read others in the series, visit USANA Green on What's Up, USANA?
We're proud to bring you the freshest content on the web! Follow USANA on Twitter, like our USANA Facebook page and enjoy the latest videos on the official USANA YouTube channel.
https://whatsupusana.com/wp-content/uploads/2012/03/USANAGreen.jpg
172
302
Katie Roundy
http://whatsupusana.com/wp-content/uploads/2019/11/USANA_Logo_Black.png
Katie Roundy
2012-04-22 08:13:26
2012-05-21 10:54:56
USANA Green: Putting Energy First