USANA12 Holds a Special Place in My Heart
Can you believe it? Another USANA International Convention has come and gone. I can barely believe it myself. Four days of inspiring talks, informational breakout sessions, and, well, we can't leave out the iPads, right?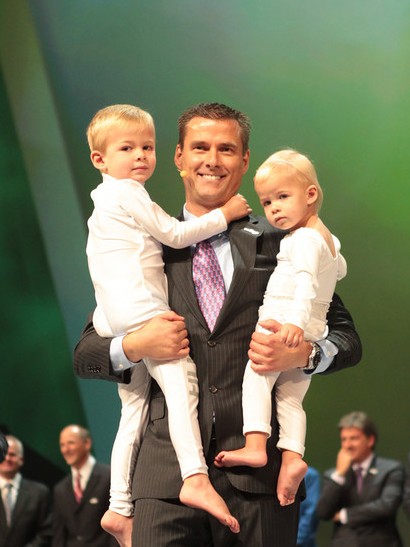 Every Convention is special to me, but this particular one holds a special place in my heart. Twenty years. Twenty years of building, working, struggling, succeeding, and yes, sometimes even failing. USANA has made a huge difference in the world, and we've changed so many lives for the better through our products, our business, and our charitable giving. Sometimes, it seems unbelievable to me, but after spending four days with the USANA family, I can believe it. We ARE making a difference in the world. And just like our brand promise says — everything we do helps you love life and live it.
There were so many incredible parts to this year's Convention that there is no way I can recap them all. So I am just going to mention a few of my favorite moments that touched, inspired, and entertained me.
My first real "a-ha" moment came watching the launch of the new brand. All the months and long days that were put into creating the new look and feel for USANA came back to me as we watched the logo literally come to life on stage. This new logo is fresh, it's relevant, and I can't wait for people around the world to start seeing the new USANA online, in our new publications, and on our updated bottles and packaging.
I couldn't write a blog about my favorite moments and not mention the USANA True Health Foundation. The generosity that abounded from our Associates in their donations was absolutely incredible. But really, we all know the star of the show was the management team in their new logo spandex. These guys gave up a little bit of their dignity for an amazing cause, and in the end that dignity was replaced with honor for representing such an amazing charity.
And who could forget the iPads? When I made the announcement on stage that every distributorship would receive a free iPad, the cheers were deafening! It's our 20th anniversary, right? You deserve a gift, but your business deserves a gift, too. I have to admit I had USANA in mind when I gave you this gift — yes, I want you to have fun with your iPad, but I also want you to build your business with it. I want to see your business grow, and I want to see it grow exponentially. I'm hoping with these new iPads you will take the opportunity to take your business through the roof!
And was it just me, or were the speakers we had this year out-of-control amazing? From John C. Maxwell and Jason Ryan Dorsey to Dr. Christiane Northrup, Jen Groover, and my father, Dr. Myron Wentz, it was an incredible lineup. And who expected Dr. Mehmet Oz to come out of that trap door on stage ripping on a guitar? Unforgettable!
But the most important part of Convention for me, and every Convention I've ever been to, is the Associates. Because without you, none of this would be possible. From the moment Sterling Ottesen — USANA's first Associate — took the stage, I was reminded of how much respect and love I have for every Associate. You make this happen. You keep USANA growing. You are the reason that everything we do helps people love life and live it.
So now it's time to get back to work, for both of us. Time to use the amazing new tools we've been given, both physical and intellectual, to take USANA to a whole new level. It's time to start the next 20 years with USANA and to make this company and your life even better!
Follow me on Twitter (@Dave_Wentz) and Facebook (www.facebook.com/wentzdave) for the inside scoop on USANA.
We're proud to bring you the freshest content on the web! Follow USANA on Twitter, like our USANA Facebook page and enjoy the latest videos on the official USANA YouTube channel.

Learn what USANA is doing to make the world a better place.
Discover what USANA products can do to boost your health today by taking this brief online Health Assessment.
https://whatsupusana.com/wp-content/uploads/2012/08/MG2834-XL.jpg
683
1024
Dave Wentz
http://whatsupusana.com/wp-content/uploads/2019/11/USANA_Logo_Black.png
Dave Wentz
2012-08-23 08:00:34
2017-03-10 10:26:39
USANA12 Holds a Special Place in My Heart