Family Focus: Five Ways to Give Thanks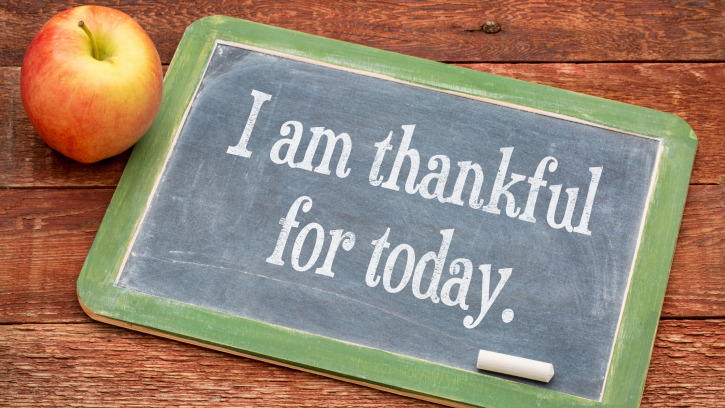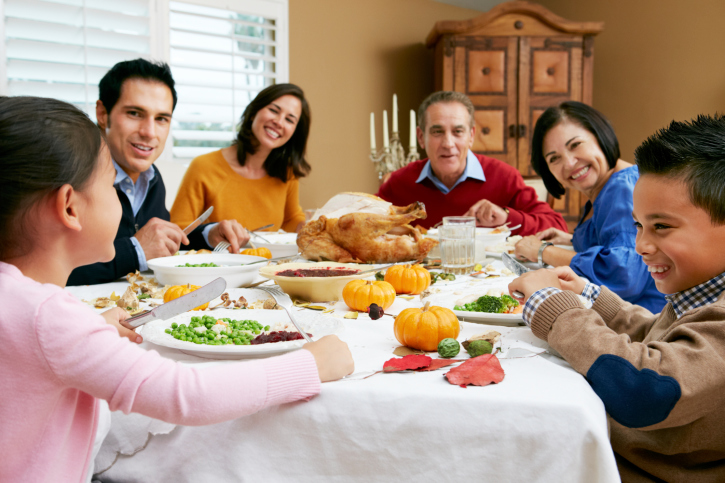 It's that beautiful time of year to give thanks for the abundance in our lives. Have you thought about what you're most thankful for? Maybe it's that anonymous person who bought your latte the other day, or seeing your best friend from college after 20 years. You might be thrilled to finally fit into those jeans — you know, the ones with the tags you've been dying to wear for years — after losing weight with the RESET Challenge.
Whatever it is, we all have something to be grateful for.
However, I think sometimes we lose track of what's most important when we're trying to survive in this fast-paced world. And children especially don't understand how good they have it because most of the time, they are sheltered from what's really going on in their own backyard, let alone the rest of the world.
So, how about this holiday season, we put away the electronics and focus on ways to be more thankful? I'm looking forward to seeing what changes it will make in mine and my children's lives.
Here are some ideas to help you and your families feel more grateful:
1. Help the Needy
Homeless Shelters
Seek out the needs of homeless shelters in your area. Most likely, they could use basic necessities, such as socks, underwear, blankets, etc. You could put together a collection drive for these items, or your family could give time serving food, helping out in the kitchen, or providing a donation.
Food banks
Just recently, employees at the home office participated in a Turkey Trot 5k to raise awareness and donations for the local food bank. Through this effort, we collected close to 900 pounds of food! But you don't need to run a 5k to contribute. Simply take part in a donation drive at a local school or post office, or have your family create its own drive by collecting cans of food from your neighbors.
2. Do Service for Someone
Is there an elderly person nearby who could use some help during the winter raking leaves or removing snow? Maybe a single mom would love help with her kids so she can run errands, or perhaps someone you know is feeling down and a plate of cookies would cheer them up. There are many ways to provide service; just look around for opportunities.
3. Keep a "Happy" Book

A few years ago, my daughter was struggling at school. Her sweet grandmother gave her a "Happy" book to write down everything that made her happy each day. After about a week, the problems she was having didn't seem quite so bad since she was reminded daily of how good her life really was.
4. Visit a Nursing Home

Back in high school, my friend and I played music for a different nursing home each week. What a great feeling it was lifting the spirits of those who resided there. Your children may find that same joy playing games with, or merely talking to, the elderly about their day.
5. Give to the True Health Foundation

The list wouldn't be complete without giving some love to the True Health Foundation. As you know, 100% of proceeds go directly to those in need. Tax deductible donations can be made through the website, autoship, or USANA's online shopping cart. And if you're looking for a great Christmas gift, sign up for a reoccurring monthly donation and you'll receive a free copy of Breakfast with the Usanimals, a new children's book written by USANA CEO, Dave Wentz.
I hope you and your family will take some time to be thankful during this wonderful holiday season by giving to those less fortunate. The benefits your family will receive by serving others will outweigh anything they give. And you might just see a change in your kids you never thought possible. Who knows? They may not whine as much about their chores or ask for as many presents this year.
We're proud to bring you the freshest content on the web! Follow USANA on Twitter, like our USANA Facebook page and enjoy the latest videos on the official USANA YouTube channel.

Learn what USANA is doing to make the world a better place.
The future of personalized health and nutrition is now available with USANA's True Health Assessment.
https://whatsupusana.com/wp-content/uploads/2014/11/thanks-Featured.jpg
408
725
Misty Dangel
http://whatsupusana.com/wp-content/uploads/2019/11/USANA_Logo_Black.png
Misty Dangel
2014-11-26 08:00:25
2014-11-20 11:31:03
Family Focus: Five Ways to Give Thanks