Positive Attitude, Strong Work Ethic Are Key, WTA's Aleksandra Wozniak Says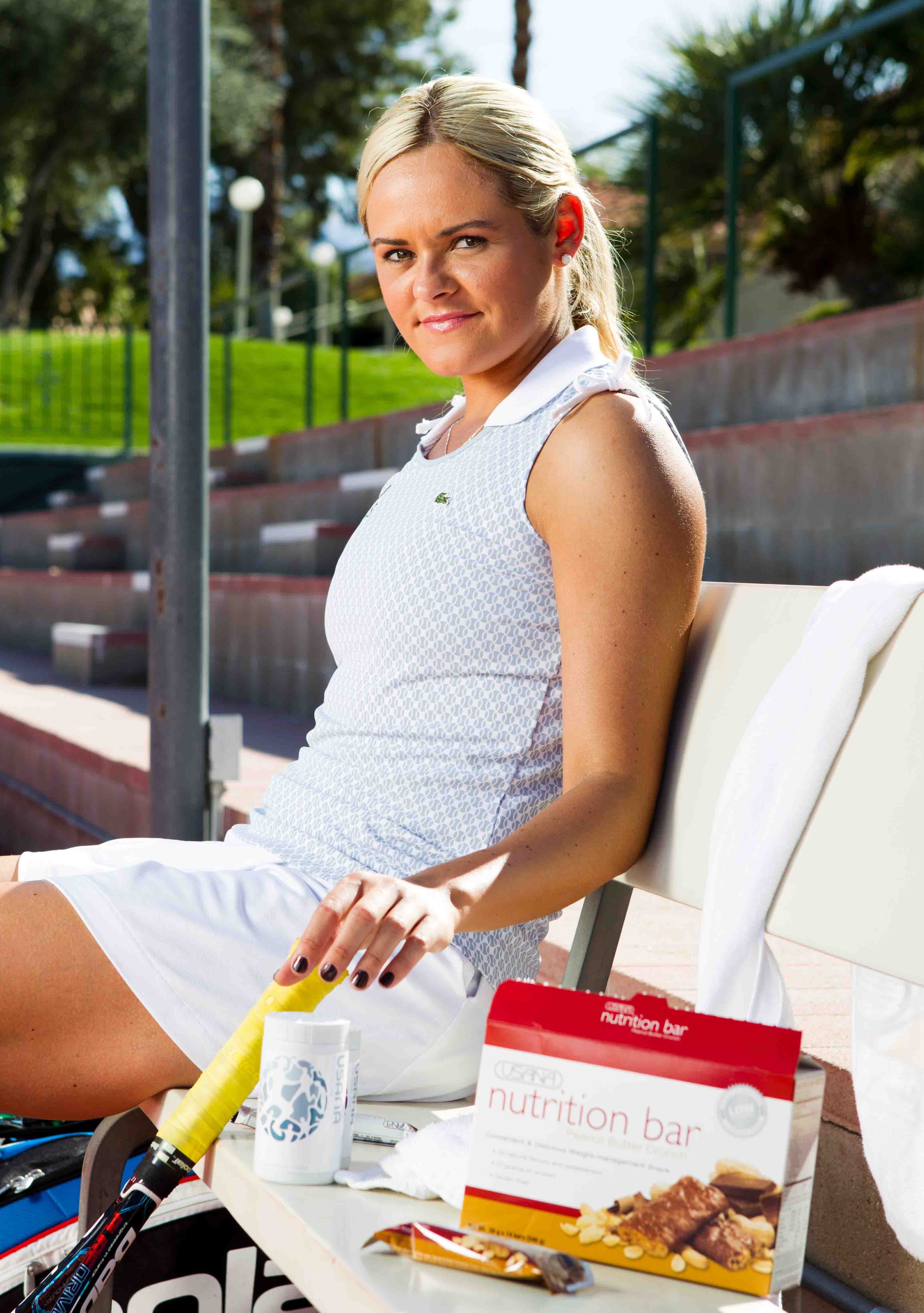 Summer 2012 has been very busy for USANA Brand Ambassador Aleksandra Wozniak. Between the French Open, Wimbledon, London Games, Rogers Cup, U.S. Open, and the Bell Challenge, she's been on the road nonstop. It's also been one of the best summers Aleksandra can remember.
"This summer has been incredible," Aleksandra said. "I think this year now is one of the biggest years of my career because of the Summer Games. It was amazing to have the privilege to represent Canada in London. And it was such a great atmosphere being there with the best athletes in the world in different sports. You could see how the spectators, the fans would get way more involved than any other tournament for their countries, and it was incredible."
What's Up, USANA? caught up with Aleksandra in between rounds at the Bell Challenge in Quebec.
While Aleksandra is happy to be back playing on Canadian soil, she still has fond memories from across the pond at the All England Club. "Every Grand Slam is special with it's own energy, but playing on that Centre Court was the only one missing for me in my career, and it was incredible to be on that court," she said. "It feels so like … it's like royalty."
London 2012 was all encompassing for Aleksandra. Even the seemingly little things stood out. "It's funny, you get this mix of emotions when you step in the cafeteria (at the Athlete's Village), and everyone is just looking at you, wondering what sport you are and all that."
The Summer Games are surreal experience, she explained. You go out on court and can feel it's unlike any other tournament. "It's really a dream come true for me, working really hard to get there and representing my country. It's something very special."
Aleksandra didn't have a lot of time to recover following the Games. She had to quickly adapt to a different time zone and the change from grass to hard courts for the Rogers Cup in Montreal. Aleksandra made history there by becoming the first Canadian tor reach the quarterfinals in 20 years.
"I did well, and the crowd was amazing there — they gave me so much energy," she said. "It was a great week for me. I was so happy to be playing in front of my family, friends, the home crowd. We play 10 months out of 12 and we compete almost every week. … So when you get to play at home it's always awesome."
Being on the road all the time can make it hard to remain healthy. It's one of Aleksandra's biggest concerns. Her health, she says, is her treasure.
One of the things that helps maintain her health is USANA products, Aleksandra says. Her favorite products: Peanut Butter Nutrition Bars and BiOmega™. "It helps me incredibly," she said. "I snack between my matches on the bars. And I take, of course, my minerals every day. USANA helps me to keep my energy up and recover well after long matches. … and my body feels good, not too sore the next day."
Because tennis is an individual sport, athletes need to always follow their specific routines and look out for their own health. Injury doesn't usually come from match play, Aleksandra says, it's the training, the practices and constant repetition that cause wear and tear on an athlete's body.
Aleksandra knows that first hand. In the fall of 2010, she was sidelined by tendentious in her forearm. Coming back wasn't easy. It took 10 months, perseverance and a lot of hard work to get back into the top 50. This week, she jumped up to No. 42.
"Life is all about the journey — it's a process," Aleksandra says. "There's always going to be obstacles thrown at you, and you've just got to try to maintain a good attitude and be patient. For an athlete, it's not easy to be patient, but you've got to try to do the best that you can. Out of all the things I went through, how I came out a winner was about my strength of character. I see things from a different perspective now and I have a better attitude in life."
This summer, Aleksandra attained one of her dreams: competing in the Summer Games. Her next big goal: winning a Grand Slam. "You play to win that big trophy, and I keep working hard at that," she said.
"It's a lot of hard work, but when you love something, it's much easier to deal with other things. Every day you do the same thing. Sometimes you need a rest but you adjust. Life is like that in general — wherever you want to get in life, wherever you want to be, life is about working hard, persevering and loving what you do while getting there."
[youtube]http://youtu.be/27b95Bw1o6g[/youtube]
If you are unable to view the video, please visit the USANA YouTube channel.
*The mentioned athlete is either a distributor or dedicated user who has received compensation for his/her partnership and/or complimentary USANA products.
*These statements have not been evaluated by the Food and Drug Administration. This product is not intended to diagnose, treat, cure, or prevent any disease.
We're proud to bring you the freshest content on the web! Follow USANA on Twitter, like our USANA Facebook page and enjoy the latest videos on the official USANA YouTube channel.

Learn what USANA is doing to make the world a better place.
Discover what USANA products can do to boost your health today by taking this brief online Health Assessment.
https://whatsupusana.com/wp-content/uploads/2012/09/AlekWozniakSLider21.jpg
360
640
Jessica Whiting
http://whatsupusana.com/wp-content/uploads/2019/11/USANA_Logo_Black.png
Jessica Whiting
2012-09-15 08:00:31
2012-09-14 14:22:40
Positive Attitude, Strong Work Ethic Are Key, WTA's Aleksandra Wozniak Says