Bunny Barth Dances Way Into National Spotlight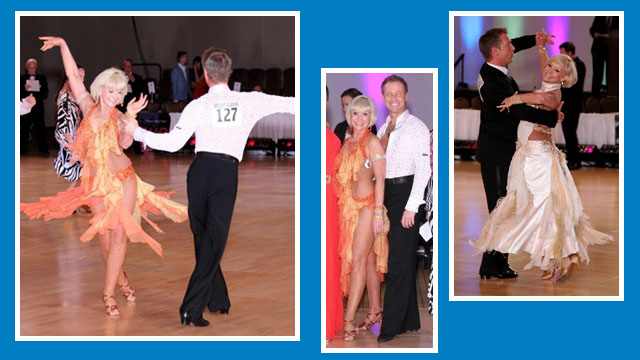 Dance chose Bunny Barth. She never had a chance. Even as a little girl she remembers dancing in front of her vanity.
"I can't remember a time when I didn't have it inside me," she says.
Now, at 64 — after taking dance classes as a girl, dancing professionally, putting her career aside to raise a family, and finding dance again on a suggestion from her daughter — the vanity has turned into a ballroom, her reflection into spectators and judges, but that predestined passion is still inside of her. And using a combination of passion and natural ability, Bunny has danced her way into the elite ranks of ballroom dancing.
At the 2012 United States Dance Championships — held the first weekend of September at Disney World in Orlando, Florida — Bunny and her partner and teacher, Erik Cyr, took home sixth place in the 9 Dance Pro-Am competition. They competed at the highest level, open gold, in the 51-and-over age group. Competitors in pro-am open gold dance with their teacher to unique choreography that falls within the bounds of each dance.
Finishing sixth in the nation is an amazing accomplishment, but Bunny's story gets even more incredible when you consider a few things.
"I told Erik, 'You're going to put me out there my very first time with routines we learned two weeks ago!'" Bunny says. "I thought he was out of his mind."
It was their first time doing the 9-Dance competition, but going in, Bunny was very confident in what they call the American rhythm dances — cha cha, rumba, swing, bolero, and mambo. She's been competing for three-plus years doing those dances, and has worked her way to the highest level of competition. The smooth dances — waltz, tango, foxtrot, and Viennese waltz — however, were new. But since she was competing in open gold in American rhythm, she had to jump straight to the top level in smooth, as well.
Basically, Bunny was competing with dances she hadn't practiced for very long, against the best of the best in her age group — which actually consists of women who are mostly almost a decade younger.
It's certainly impressive. But that's just Bunny. "I've always been an achiever," she says. "There's always been a need for me to try to do something." Look at her career in show business, or the 2-Star Diamond business she has built with her husband, Bud.
Erik calls her a dream student — extremely hard working, dedicated, trusting, a natural on the floor, and a good partner. It's no wonder she did in three years what it takes most dancers a decade to accomplish. And it's no wonder she could overcome sizeable hurdles to succeed at nationals.
"She inspires so many people with her dancing," Erik says. "There's no other woman like her."
But Erik is no slouch himself. He's been dancing for about 34 years (since he was 6 years old), has been a finalist and won multiple awards in the US and Canada dancing with his wife, worked in movies, and won a TV dance competition like Dancing with the Stars — but took second to his wife in the show's second season.
Erik is from a small town of about 1,200 people near Montreal, Canada. He says a lot of kids from his hometown grew up dancing, mostly because a dance teacher moved into town and parents would drop their kids off at class to get a break. So dance was basically the babysitter, and that's a very good way to produce a professional dancer.
So a passion for dancing at a young age is something Bunny and Erik share, but that's not it. There's also a propensity for success, and connection they have on the floor. And don't forget the USANA supplements they both credit with helping out.
"I know it's my USANA that keeps me moving," Bunny, who has been taking the products since 1994, says. "It's given me an extra chapter in my life."
Erik found USANA more recently. He noticed the vibrancy and youth Bunny had on the dance floor and started asking questions. Now all his students take USANA products — it's almost a prerequisite.
"I wish I had heard about USANA years ago," Erik says. "I think my career would've been different."
But with USANA and a passion for dancing on their side, Bunny and Erik aren't done yet. Erik's goal for next year is make the top three at nationals. Bunny would like to go back and compete at lower levels in the smooth dances to get some experience. But there are also more mountains to climb, more opportunities to go out and see what she can do.
"I'm going to go until my legs fall out, I guess," Bunny says.
Celebrating Your Story is a What's Up, USANA? series spotlighting various Associates who are doing extraordinary things. If you know someone who should be featured, please email us at [email protected] with "Celebrating Your Story" in the subject line.
We're proud to bring you the freshest content on the web! Follow USANA on Twitter, like our USANA Facebook page and enjoy the latest videos on the official USANA YouTube channel.

Learn what USANA is doing to make the world a better place.
https://whatsupusana.com/wp-content/uploads/2012/10/BunnyBarth-Featured.jpg
360
640
David Baker
http://whatsupusana.com/wp-content/uploads/2019/11/USANA_Logo_Black.png
David Baker
2012-10-02 07:44:41
2017-02-22 11:14:04
Bunny Barth Dances Way Into National Spotlight