Nick and Stacia Kelly Taking Health to the Next Level
She's a writer, coach, PTA president, self-defense instructor.
He's a musician, teaches anti-bullying classes and is an Internet-safety ambassador.
Together, they're devoted parents and advocates for healthy living.
USANA directors Nick and Stacia Kelly have been in the business of making people's lives better for a long time now. It's even how they met, which happens to be Nick's favorite story:
Nick was applying for a position at a dialysis clinic. The woman at the desk where he was completing the application was taking a photography class and had a bunch of pictures of a beautiful young woman hanging up.
"As I'm writing, WHAM! Here comes the girl from the pictures out of the back office," Nick tells What's Up, USANA? "I totally stopped writing."
He asked the woman behind the desk if she was the girl from the pictures. "Yes," was the answer. "She's beautiful," was Nick's reply. He wasn't expecting the next words out of the woman's mouth: "she's my daughter."
"Lucky for me, she didn't kill me, I got the job, and she's been my mother-in-law for over 14 years now," Nick says.
Nick and Stacia were only about 20 at the time.
Now they're the parents of 8-year-old Brandon, and their priorities have shifted to sharing health with families as a whole.
Shifting Priorities
The shift started when Stacia decided to return to school. She already had a master's degree in professional writing and editing from George Mason University and didn't want to follow it up with a Ph.D. in literature. At the same time, the Kellys were also starting a family, and Stacia was worried she would pass her allergy to antibiotics along to her children.
Stacia wanted to find a program that would strengthen her knowledge about nutrition, fitness and stress. When she came across Anand Institute of Higher Technology and its Ph.D program in holistic health, it seemed to be a perfect fit.
"I was able to study all sorts of areas and at my own pace," Stacia says. "I did my dissertation locally with my home medical community. I learned about hypnotherapy/relaxation management and ended up getting certified in that as well at the time."
After that, things just sort of fell into place.
"Once Stacia began her research for her Ph.D., we started to change what we ate and when," Nick says. "She was a professional figure competitor for a few years, and her research, combined with me bringing in things like Eric Schlosser's Fast Food Nation and Morgan Spurlock's Super Size Me, helped keep us on track. USANA represented the next level."
Part of Stacia's Ph.D. training included starting a health coaching business, for which she was told to have a service, product and book. USANA seemed the perfect choice.
"I needed to have a way that I could go on vacation and still be earning money," Stacia says. "I'd had a meeting with (USANA Diamond Director) Dave Delevante, and by the end, said sign me up for three business centers. I shocked him. I'd tried other direct sales companies before, but they weren't a passion."
USANA's dedication to excellence and compassion were what drew Stacia in. The products blew her away.
Nick says he became a USANA convert "through the brilliance" of his beautiful bride. She had signed up and they were both taking products, and after attending International Convention and hearing success stories, he began to understand.
"I told Stacia I didn't think I could sell supplements, but if we had an energy drink, I could approach my buddies in sports or music and late night careers."
The next day, USANA launched Rev3 Energy®. "I've become our local Rev3 resource ever since, and I gained the confidence to begin speaking about the whole product catalog and the business after that," Nick says.
Expanding Focus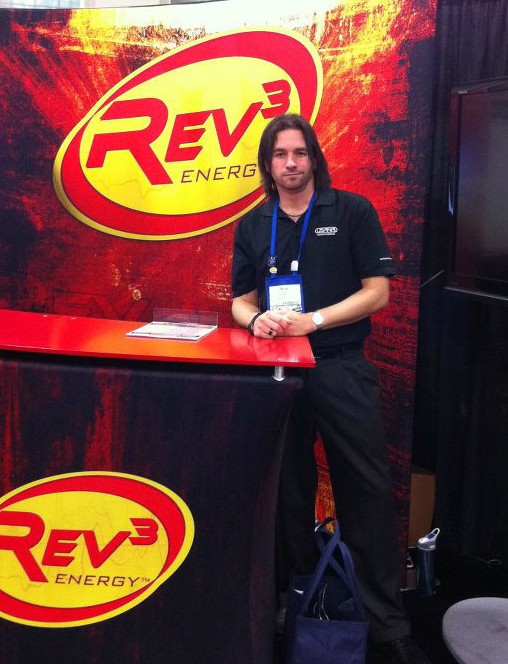 USANA is just one aspect of Nick and Stacia's health regimen. The dynamic duo also works with children on anti-bullying, and they're certified to teach women's self-defense. "I get to put on the suit and get kicked around," Nick says. "It's a blast!"
Nick and Stacia believe keeping children in good shape is key — so much so that Stacia serves as executive director and Nick as managing partner of Fit n' Healthy Schools, which provides balanced exercise and nutrition education for school-aged youths; demonstrates and models safe and fun exercise activities for teachers and students; and empowers students to take responsibility for their own lives.
"Any parent will tell you that children's health and safety is paramount," Nick says. "My priorities in life totally changed once Brandon was born. That was really when I began philanthropic work for child safety, working with organizations like Stop the Silence, Enough is Enough, and The National Center for Missing & Exploited Children. When Fit n' Healthy Schools came in to being, I saw it as a natural extension of what we were already doing."
"We need to be more focused on the health of our children," Stacia says. "I've been horrified by the number of kids I see, even out at the mall, as young as 5 with a Big Gulp filled with Coke in their hands … and parents wonder why their children are heavy and don't want to be out doing things. It's really all about educating the parents so they can make better choices and then the children will do the same."
Going Social
The couple has also taken to social media to share their message.
Each Wednesday at 9 p.m. EST, the Kellys run a #healthchat on Twitter. They introduce a new topic every week, with one of them as moderator, and subject-matter experts answer questions.
#healthchat has covered everything from healthy recipes and allergies to vitamin D and has featured well-known guests including, Dr. Ro (@everythingro) from the Dr. Oz Show and Chef Rock Harper (@RocktheCook) from Fox's Hell's Kitchen. People interested in participating can shoot Nick a question on Twitter @Nick_Kelly. You can follow Stacia at @StaciaKelly.
"Social media can represent everything positive about the Internet," Nick says. "We're closer and more accessible to everyone on the planet. We can collaborate on business, comedy, music, whatever."
"It's how I stay in contact with my customers, my instructors, friends and family," Stacia says. "I've made so many new friends via Facebook and Twitter. When we do meet in person, it's as if we've known each other for all our lives. It's helped us continue to encourage our USANA customers on their health goals as well."
Family Focus
Over the years Nick and Stacia's goals have evolved from extrinsic to intrinsic. They hope to continue their journey of personal growth and helping families and children with their health, and they feel like now they have all the tools to accomplish that together.
"Our personalities are different," Nick says. "She's exceptional at being organized and managing projects or business initiatives we have. I'm a natural extrovert, having spent thousands of hours on stages all over America, and I love to present and be up in front of people. Stacia is great at speaking with people who think I'm a little too in-your-face. We both support one another."
"We started out working together when we first met, and this is just an extension of that," Stacia adds "We add our son in, and he talks about Usanimals, too. He actually asked one of his teachers if she knew what USANA was. When she said no, he handed her his USANA pen and told her to check out our website! (He's 8.) We're used to working together, so I think it's more odd when we're not. We definitely have more family time this way!"
Meet Nick: Nick will be speaking at the February Steps to Success event in Washington, D.C.
[wp-imageflow2]
Celebrating Your Story is a What's Up, USANA? series spotlighting various Associates who are doing extraordinary things. If you know someone who should be featured, please email us at [email protected] with "Celebrating Your Story" in the subject line.
We're proud to bring you the freshest content on the web! Follow USANA on Twitter, like our USANA Facebook page and enjoy the latest videos on the official USANA YouTube channel.

Learn what USANA is doing to make the world a better place.
https://whatsupusana.com/wp-content/uploads/2012/12/NickStacia7.jpg
2592
3872
Jessica Whiting
http://whatsupusana.com/wp-content/uploads/2019/11/USANA_Logo_Black.png
Jessica Whiting
2012-12-12 07:45:01
2017-02-22 11:14:01
Nick and Stacia Kelly Taking Health to the Next Level