Achieving Greatness One Step at a Time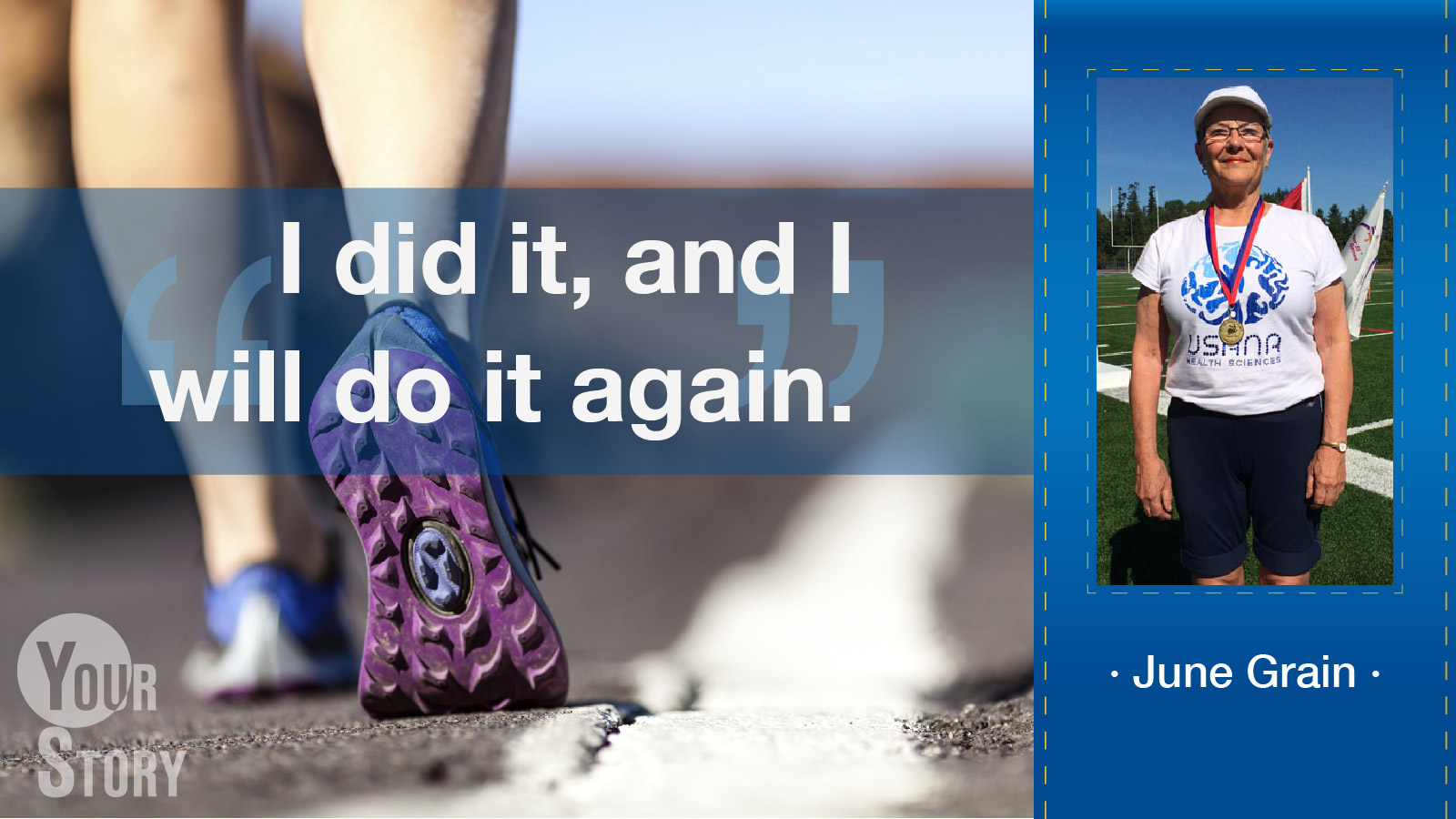 The sun is beginning to creep over the eastern sky in USANA Believer June Grain's hometown of Campbell River, British Columbia, and while many are rushing out the door for the day, June is tying her shoelaces. "I live right on the ocean and the seawalk is right in front of me, and each day I get out there to walk and take advantage of the beauty around me," she says.
Beyond the beauty, June is also constantly in training mode, and has been since becoming an active athlete in the 55+ BC Games in 2010.
"I was out on a stroll one day when I came across two women speed walking down the seawalk, and these women were going by me at an incredibly fast pace," she recalls. "I commented to them about their impressive speed and they told me they were training for the speed walking event in the games. I had never heard of it, but I was so impressed by this 82-year-old woman, I wanted to learn more about it. I thought it could be a good experience and something I might be interested in."
But June did more than just learn about it—she became an active participant.
Nearly 3,500 men and women all 55 years or older participate in the 55+BC Games each year, and while June has been focused on speed walking, "there are a myriad of events that happen during the games—everything from speed walking to horse jumping, and bowling to pickleball," she explains. "The experience of being in the games is so exciting and rewarding, and it's great to interact with other athletes knowing our goals are similar. We enjoy the competition while having fun."
June first competed in 2010. "As I waited for the race to start, I was so happy I was able to participate in a competition—something I had never previously done," she recalls. And as she crossed the finish line earning a silver medal, she was overwhelmed with joy.
"I was filled with elation, pride, and accomplishment. Since that day forward, my thoughts have always been, 'I did it, and I will do it again.' And I have!" Since her first games, June has gone on to receive a gold medal in speed walking for a 5K in 2012 at a time of 36:06 (most people run a 5k in about 35 minutes), and a gold medal this past August for a 10K.
Achieving Greatness as a Family
As a mother, June has always been a cheerleader for her two children: her son Aaron, and daughter Gina. "I am so proud of my children and all they have been able to accomplish in life. They are my greatest gift," she says with a smile.
"Aaron has participated in various swimming challenges, and Gina participated in the 2008 Beijing Summer Games in cycling. My family is absolutely the most important thing in my life, and I am so grateful for them." And now her children are the ones cheering her on.
"Knowing my family is always there supporting me is an honor. To have them encouraging me and seeing their smiling faces each time I finish a lap makes me very proud to be their mom."
Focused on Health, Focused on Life
While living a healthy lifestyle has always been of supreme importance to June, living the #USANAlifestyle is something she now enjoys sharing with others.
Since 2005, June has made USANA a daily part of her life, and it will never change. "Hearing Dr. Wentz talk about cellular health opened up a whole new world for me," she says. "In addition, that is one of the greatest aspects to participating in the games—being focused on health."
While June continues to tie up her laces every morning, she is grateful for the chance she has to challenge herself, and she's never going to give that up. "I got my nursing degree at the age of 60, and won a gold medal at the age of 68," she says. "That's pretty amazing, and I love that I have been able to do it!"
We're proud to bring you the freshest content on the web! Follow USANA on Twitter, like our USANA Facebook page and enjoy the latest videos on the official USANA YouTube channel.

Learn what USANA is doing to make the world a better place.
The future of personalized health and nutrition is now available with USANA's True Health Assessment.
https://whatsupusana.com/wp-content/uploads/2014/11/June-Grain-01.jpg
900
1600
Suzanne Houghton
http://whatsupusana.com/wp-content/uploads/2019/11/USANA_Logo_Black.png
Suzanne Houghton
2014-11-12 08:00:59
2017-02-22 11:13:47
Achieving Greatness One Step at a Time