USANA World News: Focus on the Americas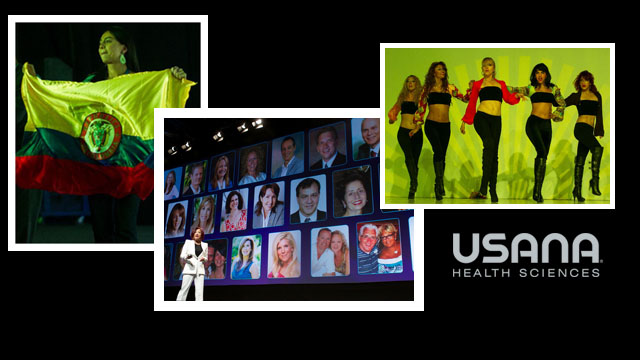 USANA World News takes a look at happenings around the USANA globe. In this edition, we'll take a look at some of the exciting events and announcement that have recently taken place in the Americas. Be sure to browse through the gallery of photos from these great events below.
USANA Colombia
As you may have read in a previous blog post, Colombia has been announced as USANA's 19th market. There is a tremendous amount of excitement surrounding this announcement and we wanted to share with you exactly how it went down.
With the help of our friends in USANA's international department (specifically, Devan Foster) here is a description of the announcement that took place at the México XRC:
"The Colombia announcement was incredible. It took place at the México XRC in Querétaro, México, on March 16. Leading up to the announcement, USANA Studios created a video that highlights USANA's strengths as it showed a timeline of USANA's international expansion over the years.
It really put into perspective USANA's vision to take pragmatic steps toward international expansion; to bring our products and the business opportunity to people all over the world.
Mexico's GM, Carlo Ledezma, spoke on stage prior to the video, and made reference to new opportunities to grow and expand the Associates' networks, at which point the video was played. The final market shown on the video was the announcement of the 2013 launch of Colombia.
At that moment, a cannon went off that caused many of our Associates to jump right out of their seats. At the same time, a team of dancers came on stage and performed several cultural dances common to Colombia, and many of our energetic Associates joined in by salsa dancing in the aisles.
The energy in the room was palpable, and people continued to cheer at the top of their lungs for the next several minutes when the music culminated with confetti cannons."
Our international team is constantly seeking out information and conducting market research to insure that expansion is the right thing for USANA and its Associates and that the correct markets are selected.
USANA México
As mentioned above, USANA México closed 2013's first quarter with an incredibly successful event that is sure to propel Associates in that market forward as the year goes on. Here's a short summary of the event from USANA México's Director of Marketing and Communication, Carlos Zozaya:
"USANA México has no words to express its gratitude for shaping the best ratification of your success in Querétaro's 'Celebrating You' event. More than 3,000 people showed their passion to change their lives and the life of those around them; with new sales tools, the launching of the only-for-México Comparative Guide, the welcome to our Colombian brothers into the USANA family, generous, moving and powerful speakers, information and testimonials of how this company has set a precedent that has always been imitated but never equaled in our beloved México."
USANA Canada
In like manner, USANA Canada celebrated its success with Associates at the Montreal XRC. The event featured an incredible cast of speakers and presentations. Below is a short summary from one of the attendees, Canadian Field Coordinator John Schneider:
"The Montreal XRC was super charged with passionate speakers, both local and visiting. Throughout the show USANA's leaders from Quebec kept a focus on Dr. Wentz's vision and a message of renewal within USANA. Richard Aubé represented the home crowd well with his positive energy and enthusiasm. Jordan Kemper had an undeniable appeal to the Gen Y crowd. Our scientists and Quebec native Jean-Pierre Gagné gave us the nuts and bolts focusing on the superiority and rigor our USANA products pass through in development and manufacturing.
The real show stopper was Dr. Libby Weaver! As a leading health expert who actively builds a USANA business, Dr. Weaver energized the crowd and shared crucial information vital to those seeking to replicate her success. Coupled with the science focus prior to her speech, it was like a one-two punch to knock out the audience.  All who attended felt a renewed focus and a clear vision of what's to come for USANA."
[wp-imageflow2]
We're proud to bring you the freshest content on the web! Follow USANA on Twitter, like our USANA Facebook page and enjoy the latest videos on the official USANA YouTube channel.

Learn what USANA is doing to make the world a better place.
The future of personalized health and nutrition is now available with USANA's True Health Assessment.
https://whatsupusana.com/wp-content/uploads/2013/04/USANA-World-News-Featured.jpg
360
640
USANA Health Sciences
http://whatsupusana.com/wp-content/uploads/2019/11/USANA_Logo_Black.png
USANA Health Sciences
2013-04-05 08:05:37
2017-02-23 08:41:20
USANA World News: Focus on the Americas