USANA Athletes: Helping Others, Achieving Greatness
Happy 2012! We've got a lot happening with Team USANA right now, so let's get to it.
First, if you missed this story from late last month about Lindsey Van, one of ski jumping's top athletes and a member of the USANA-sponsored Visa Women's Ski Jumping Team, please take a moment to read it.
For the second time in less than a year Lindsey selflessly donated bone marrow to a cancer-stricken man, a man she's never met.
"Someone asked me for cells to help save their life and there's no reason why I wouldn't do it again," said the 27-year-old Park City, Utah, resident. "It's the right thing to do."
Here's an ESPNW story from last year, talking about Lindsey's first donation, which she did after signing up at bethematch.com.
All of us at USANA are proud to be associated with such a talented athlete and an incredible human being.
——————–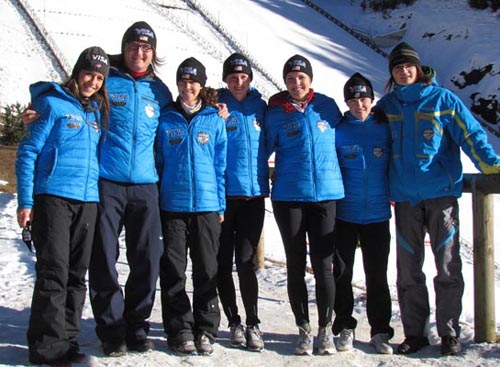 More From Women's Ski Jumping
In other Women's Ski Jumping news, the team continues to thrive.
Sarah Hendrickson, left, picked up her second World Cup win of the season in Hinterzarten, Germany, on Jan. 8, while Jessica Jerome finished third. Lindsey soared to a second-place finish on Jan. 12 in her first event back.
And just last weekend, Sarah won her third and fourth World Cup titles at a competition that saw impressive finishes from several other WSJ-USA jumpers, including three in the top six on Jan. 14!
Also last weekend, WSJ-USA development team member Emilee Anderson, right, represented the U.S. in the inaugural Youth Olympic Winter Games in Innsbruck.
This was the first IOC-sanctioned event that women were allowed to compete in ski jumping, according to WSJ-USA, and Emilee finished ninth.
And finally, here is the 2012 Visa Women's Ski Jumping Team Nomination:
Team A
Jessica Jerome, Park City, UT
Lindsey Van, Park City, UT
Team B
Sarah Hendrickson, Park City, UT
Team C
Abby Hughes, Park City, UT
Alissa Johnson, Park City, UT
Development Team
Nita Englund, Park City, UT
Nina Lussi, Lake Placid, NY,
Emilee Anderson, Eau Claire, WI
——————–
USANA Freestyle Cup This Weekend
Congratulations to two-time Olympian Emily Cook on her second-place finish last weekend in the FIS Freestyle World Cup opener.
Coming up, USANA will be the title sponsor for the Freestyle World Cup event in Lake Placid, N.Y. It is scheduled to take place Jan. 19-21 and will be broadcast Jan. 28 on NBC.
——————–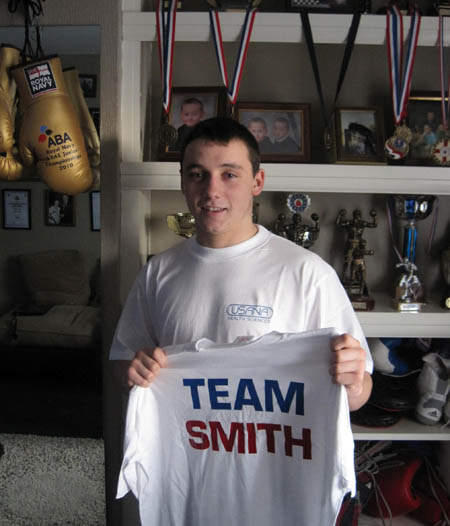 Mitchell Smith Prepares for Pro Boxing Debut
We've written in this space before about Mitchell Smith, an up-and-coming boxer from the United Kingdom. Well, now he is preparing to make his professional debut in early March in York Hall, the world-famous home of British boxing.
USANA Associate Brian Knapp is connecting us with Mitch for more information closer to his bout in which he'll be fighting in the super featherweight (59kg) class. For now, Brian wanted to give What's Up, USANA? readers an update on Mitch's preparations.
"He follows a very strict regimen. He currently is training every day for his bout with regular 5-mile runs, as well as boxing pad work and sparring with some real top names in British boxing. Mitch has also organized his diet to integrate the USANA products, including his certified SportsPak and the Nutrimeal shakes.

"He will be fighting out of the Noble Arts Gym Greater London under the guidance of experienced pro coach Danny Chamberlain. Mitch has signed with Francis Warren under Queensbury Promotions. More details coming soon…"
Awesome! We'll keep an eye out for Mitch.
——————–
Additionally…
Follow Team USANA
Now you can keep up with all the excitement and accomplishments of our Team USANA athletes by following our updates on Twitter: http://twitter.com/teamusana.
Plus, don't forget to follow our USANA Athletes List, which compiles the tweets of several USANA-sponsored athletes in an informative, easy-to-follow, uh, list!
——————–
And Finally…
Unless you've been living under a rock, you heard that USANA Brand Ambassador Lindsey Jacobellis cruised to victory at the USANA Snowboardcross Cup in Telluride, Colo., in December (check out the photos).
If you missed the broadcast on either NBC or Versus, here's what you missed…
[youtube]AHzXm_FAS7E[/youtube]
If you're unable to view the video, please click here.
And if you've yet to see the "Trusted by 600+ Athletes" commercial that aired during the telecast (produced by USANA's own Jason Nacey), here you go…
[youtube]ntAAA4zt2eo[/youtube]
If you're unable to view the video, please click here.
For additional information about all USANA-sponsored athletes, please visit www.usana.com and don't forget to like USANA Athletes on Facebook and follow @TeamUSANA on Twitter. For previous athletes updates, please visit here.
Many of the mentioned athletes are either distributors or dedicated users who have received compensation for their partnership and/or complimentary USANA products.
http://whatsupusana.com/wp-content/uploads/2019/11/USANA_Logo_Black.png
0
0
Tim Haran
http://whatsupusana.com/wp-content/uploads/2019/11/USANA_Logo_Black.png
Tim Haran
2012-01-17 14:24:38
2017-09-11 09:00:28
USANA Athletes: Helping Others, Achieving Greatness