Ask Andy: Online Retail, Autoship via iPads and The Healthy Home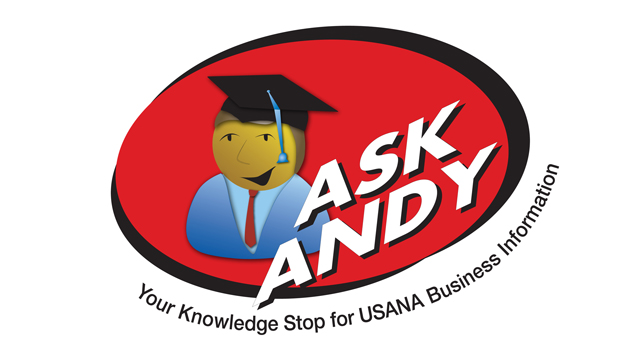 USANA's customer service team fields hundreds of calls from Associates and customers on a daily basis. Many times, personal outreach is required, but there are many answers that can be found at your fingertips.
USANA's Ask Andy site features the most-frequently asked business-related questions — and their corresponding answers — posed to USANA's customer service team.
Below are some of the most recent questions, including some about selling USANA products on online retail sites, placing autoship orders via iPads and Healthy Home book codes.
Can I sell USANA products on an online retail site?
USANA Associates cannot conduct USANA business along with other business under Policies & Procedures section 3.6.
USANA's Compliance Department continuously monitors known online retail sites for those that are not in compliance with USANA's Policies & Procedures. If you have information that may lead to the identification of anyone breaking USANA's Policies & Procedures regarding the online sale of products, please contact USANA's Compliance Department at [email protected].
Why can't I use my iPad to change my Autoship or place orders?
Most of the applications on USANAToday can be accessed through an iPad because they are Internet-based and an iPad will support the Internet functions. However, applications that require functions that are normally accessed by, say, a mouse click, have not had specific programming in place in order to incorporate selections from an iPad. In order to utilize these applications, one would need to access them through an iPhone application that has this capability. We are working on programming for a resolution to these issues, however a specific timeframe of availability is not yet available.
Why am I not receiving notifications for the True Health Companion?

USANA's True Health Companion is still in its beta phase and thus some functionality may not be working, or working but not properly, and glitches are to be expected. We are working correcting these issues, however do not have an estimate timeframe yet available.
Where can I enter in secondary Healthy Home book codes?
Unfortunately, at this time, there is only the ability to register book codes through the www.myhealthyhome.com site. The secondary book code registration was deactivated as there were not any registrations being entered, however we are looking at possibly reactivating the link, but do not have an estimate as to if or even when this may be.
Where can I find information regarding USANA in China?
For information on how you can help Chinese National Citizens learn more about BabyCare, please contact USANA's Chinese Customer Service Team at 1-888-805-2525 or 1-801-954-7878.
We're proud to bring you the freshest content on the web! Follow USANA on Twitter, like our USANA Facebook page and enjoy the latest videos on the official USANA YouTube channel.

Learn what USANA is doing to make the world a better place.
The future of personalized health and nutrition is now available with USANA's True Health Assessment.
https://whatsupusana.com/wp-content/uploads/2012/10/AskAndySlider.jpg
360
640
USANA Health Sciences
http://whatsupusana.com/wp-content/uploads/2019/11/USANA_Logo_Black.png
USANA Health Sciences
2013-01-04 08:00:05
2013-04-04 08:27:13
Ask Andy: Online Retail, Autoship via iPads and The Healthy Home