So You Want to be Like … US Speed Skater Travis Jayner
Travis Jayner is a Canadian-born American short track speed skater. He is a 2010 Winter Games bronze medalist, a medal he earned in the 5000m relay.
Travis has been on the US Speedskating World Cup team since 2004 and has won 21 World Cup medals (3 gold, 9 silver, 9 bronze). He is the only male short track athlete in the world to medal in all four Olympic distances. That is quite an accomplishment.
You could say speed skating is in Jayner's blood. You could also say that Jayner was born with a competitiveness to win. He may have inherited that from his father, also a speed skater and a Canadian short track champion. Travis was introduced to the sport when he was 5 and has been going strong ever since.
For those of you who don't know, Travis is a newly sponsored brand ambassador for USANA and loves USANA products. He was recently at USANA's 2013 International Convention talking about the product and what it does for him.
"As a world-class athlete, I'm pushing my body to its limits every day," Travis said. "So it may come as no surprise that nutrition is incredibly important to me. With USANA, not only am I getting amazing products that make me feel great, but I'm also getting the peace of mind that USANA is striving for excellence, the same way I am."
I asked Travis some questions regarding his sport and his life. So let's see what you need to do to be like world-class speed skater Travis Jayner.
What's Up, USANA: How many countries do you travel to in a typical season?
Travis Jayner: 5 or 6
WUU: What is a typical day for you?
Travis: Wake up at 6:51 a.m. Warm up/off ice workout 8-8:45 a.m.  On ice from 9-11:30 a.m. Lunch break noon-2 p.m. Off-ice workout 2-2:45 p.m. On ice training 3-4:15 p.m. Off-ice training 4:30-5:30 p.m. Cool down/Recovery 5:30-6:30 p.m. The off-ice training could consist of anything from strength training to running intervals to plyometrics to skating imitations.
WUU: How many hours a day do you practice/workout?
Travis: 6 hours
WUU: In your mind, what does it take to be a professional athlete?
Travis: Hard work, dedication and the ability to put sport first in your life.
WUU: How important is health when it comes to being a professional athlete?
Travis: Health is one of the most important factors when it comes to being a professional athlete. In order to be able to perform at the highest level in competition you need to train hard and push your body to its physical limits on a daily basis. If you do not have healthy habits it will be nearly impossible to push your body to the limits needed in order to compete and win at the highest level of sport.
WUU: What's YOUR one piece of advice for someone who wants to be an elite athlete such as yourself?
Travis: There are going to be setbacks and disappointments both in training and competition. In order to succeed at the highest level you will need to be able to refocus and find the opportunity in those setbacks. Also, if you are enjoying what you're doing, all that hard work won't seem like work at all.
WUU: Did you look up to a professional athlete growing up? If so, who was it and do you still look up to them today?
Travis: I didn't have one specific athlete that I looked up to while I was growing up but, to this day, I draw a lot of inspiration from athletes who push themselves to the limits, have a passion to win and never give up.
Quick Answers
Q: Pirates or Ninjas?
A: Ninjas because I wear their swords on feet to skate fast in circles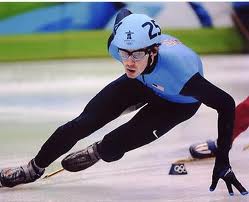 Q: Movie or Book?
A: Both. I love going to the movies but in the summer I love a good book.
Q: Chris Farley or Adam Sandler?
A: Farley because the skits on SNL are still hilarious to this day
Q: Diving Board or Waterslide?
A: Diving board because I love doing flips both front and back
Q: Hug or high five?
A: High five because it's impossible to give or receive a high five without a smile.
Q: New Year's or 4th of July?
A: The 4th because everyone loves a birthday party and there is nothing better than celebrating this great nation with 300 million of your closest friends.
Q: Pizza or Hamburgers?
A: Pizza because I could eat it every day of the week
Q: Flip flops or Sneakers?
A: Flip flops because it feels great to wear so little on your feet after wearing hard carbon fiber skates for a living
Q: iPhone or Android?
A: iPhone because it's all I have ever owned
USANA and Travis go way back. Here's an interview we did with him early in 2012.
[youtube]http://www.youtube.com/watch?v=iYMg3cNo1pE[/youtube]
If you're unable to view the above video, please visit the USANA YouTube channel
Want More?
Don't forget to follow Travis on Twitter, and check out more in the So You Want to be Like … Team USANA athlete series.
*The mentioned athlete is either a distributor or dedicated user who has received compensation for his partnership and/or complimentary USANA products.
We're proud to bring you the freshest content on the web! Follow USANA on Twitter, like our USANA Facebook page and enjoy the latest videos on the official USANA YouTube channel.

Learn what USANA is doing to make the world a better place.
The future of personalized health and nutrition is now available with USANA's True Health Assessment.
https://whatsupusana.com/wp-content/uploads/2013/10/Travis-Jayner-USANA13-Featured.jpg
728
1280
Dan Bennett
http://whatsupusana.com/wp-content/uploads/2019/11/USANA_Logo_Black.png
Dan Bennett
2013-10-11 08:00:47
2017-02-24 09:41:42
So You Want to be Like … US Speed Skater Travis Jayner