Congo Trip an Emotional Experience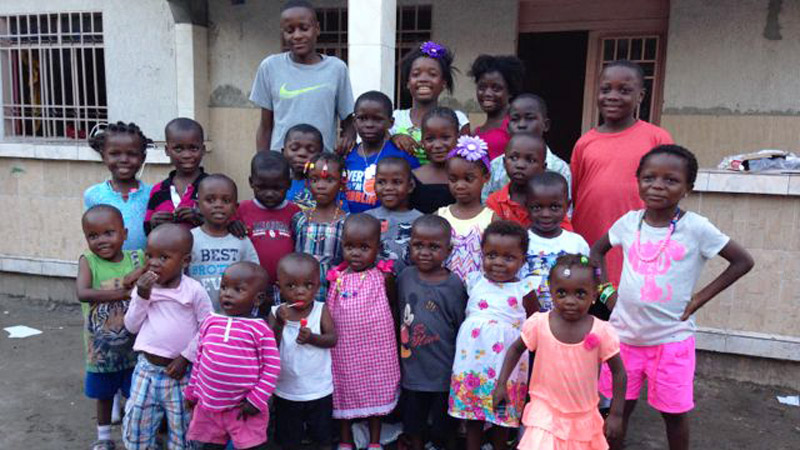 Editor's Note: USANA Event Production Manager Michael Rytting and his wife, Diana, recently visited an orphanage in the Democratic Republic of the Congo. Mike shared his experience with us and we wanted to share his story with What's Up, USANA? readers.
Wednesday, April 9, 2014

My wife, Diana, works with an orphanage in Kinshasa in the Democratic Republic of the Congo. She works with families who are interested in adopting children from the orphanage through For Every Child, a nonprofit adoption agency based out of Utah.

Right now is a difficult time because the last step in the adoption process has been temporarily suspended by the Congolese government. All other steps have been completed, including visas, passports, etc. for the children.

While these children wait to have their adoption finalized and travel to their new homes in America, parents travel to the orphanage to visit and begin the bonding process with their children.

These couples take with them all kinds of supplies and donations. Shoes, clothes, medicine, school supplies, books, formula and diapers — all things that the children desperately need.

USANA also donated 200 bottles of Usanimals. That's enough to give 50 children daily vitamins for over half a year!

I was able to travel with my wife this time to help care for the children who are not matched with families. Getting photographs, updating their height and weight, conducting interviews, assessing the needs of the orphanage and distributing the supplies were all things we worked on during the five days we were there. The group of 22 travelers carried 2,000 pounds of supplies in over 40 bags.

It was amazing to feel a connection and love for these children in such a short time! My wife asked me if I thought she was crazy to love the Congo and these Congolese children so much. After this trip it doesn't seem crazy at all.

Other Items of Interest
33 children are matched with 16 families.
Some families are adopting as many as four children who are siblings.
The families are from all across America. Kentucky, Indiana, Colorado, Utah, Virginia, Oklahoma, Montana, and California.
One of the children got sick with malaria. She started to have seizures, so she was rushed to the hospital. It was extremely fortunate that she was with her adoptive family and they could rush her to the hospital immediately. She had the most severe type of malaria (there are five types). Malaria is the most common cause of death among children in Africa, so it was a real scare. This little girl spent four days in the hospital and is now doing very well.
Photographs in the Congo are not allowed. You can go to jail for taking photographs of the city, the airport, government offices, police, or the military. We were, of course, able to take many photographs of the children at the orphanage.
The orphanage is in need of safe drinking water. Now, they have to carry in water every day. Plans were made during this trip to pipe in water to the orphanage.
Most of the children of the orphanage now attend school, supported by donations from sponsors in America. This pays for their school fees, uniforms, etc.
A highlight of the trip was hearing the children sing and watching them dance. They always prepare songs for the arrival of the volunteers and parents who come to visit.
The children matched with families were able to spend four days together at a hotel with a swimming pool. There was a lot of laughter, fun and bonding for these families.
The main language for the children is Lingala. The main language for Kinshasa is French. So there is definitely a language barrier for the families as they try to communicate. There were translators on hand, but most of the bonding came through activity, smiles, hugs, tickling and meals together.
[slideshow_deploy id='45358′]
We're proud to bring you the freshest content on the web! Follow USANA on Twitter, like our USANA Facebook page and enjoy the latest videos on the official USANA YouTube channel.

Learn what USANA is doing to make the world a better place.
The future of personalized health and nutrition is now available with USANA's True Health Assessment.
https://whatsupusana.com/wp-content/uploads/2014/05/Mike-Rytting-Congo-12.jpg
450
800
USANA Health Sciences
http://whatsupusana.com/wp-content/uploads/2019/11/USANA_Logo_Black.png
USANA Health Sciences
2014-05-05 08:15:23
2014-05-05 15:46:49
Congo Trip an Emotional Experience