USANA Athletes: Can't Stop, Won't Stop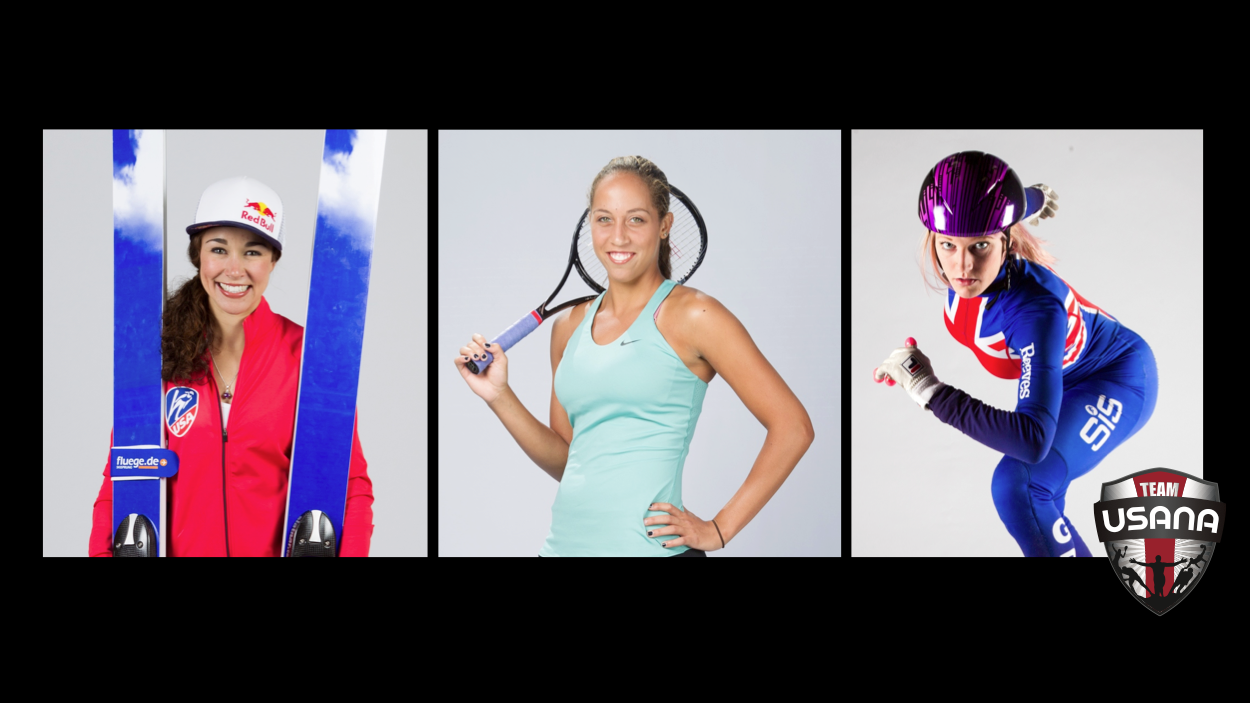 First and foremost, I apologize if the title of this blog has left you singing silly lyrics in your head. If not, than please disregard that apology and consider yourself lucky.
We may only be seven weeks into 2015, yet our USANA athletes have already accomplished some impressive feats—making the rest of us reevaluate those resolutions we set and have yet to touch.
No worries though. Just do what I do and live vicariously through their accomplishments. (Hey, you can only do so much physically when you're 8 months pregnant.)
TENNIS ACES
WTA Rising Star and USANA Ambassador Madison Keys, 20 (today's her birthday!), made her first Grand Slam SF appearance at this year's Australian Open after beating Venus Williams in the quarterfinals, before facing Serena in the semis. While she gave Serena trouble in the beginning, Madison fell to the ultimate champion, 7-6(5), 6-2. However, due to her impressive performance the American has since broken into the Top 25 to achieve a career-high ranking at No. 20!
Fun fact: Madison was the third straight 19-year-old to make Australian Open SFs, following fellow USANA Ambassadors Genie Bouchard (2014) and Sloane Stephens (2013).
Speaking of Genie, the No. 7 ranked Canadian continued her Grand Slam success as she made it to the QF's of this year's event, before falling to Maria Sharapova, 6-3, 6-2.
ICE, ICE BABY
The Short Track World Cup season recently wrapped up as athletes competed in Germany and Turkey. Highlights include:
Charles Hamelin (CAN) captured bronze in the 1500m in Germany and the 500m in Turkey.
Speed Skating Canada took home a total of six medals from the final WC, two silver and four bronze.
Elise Christie (GBR) secured a gold (1000m), silver (500m) and bronze (500m) during the final WC events. Elise was also recently crowned the 2015 European Short Track Champion!
Kim A Lang (KOR), took first in the 1000m in Germany.
Sin Da Woon (KOR) walked away with gold in the 1500m and 1000m.
Park Se Yeong (KOR) captured silver in Germany in the 1500m.
Long Track skaters completed the fifth and sixth stint of their world cup circuit in Norway and the Netherlands. Team USANA highlights include:
Heather Richardson (USA) captured three gold medals finishing first in the 1500m in Norway and the 500m and 1000m in the Netherlands.
Brittany Bowe (USA) took home silver in the 1500m and 1000m events, in addition to bronze in the 500m.
Denny Morrison (CAN) secured bronze in the 1500m.
Ivanie Blondin (CAN) took home silver in the mass start in Norway, capturing her fifth World Cup medal in the event this season.
Seung-Hoon Lee (KOR) also captured his fifth mass start medal with a first place finish.
Sang Hwa Lee and Tae Boem Mo both took second in their respective 500m events.
During last week's World Singles Distance Championships, U.S. Speedskating won an impressive seven medals:
Brittany Bowe: Gold 1000m, Gold 1500m, Silver 500m
Heather Richardson: Gold 500m, Silver 1000m, Bronze 1500m
Shani Davis: Gold 1000m
Speed Skating Canada secured four:
Denny Morrison: Silver 1500m
Laurent Dubreuil: Silver 500m
Ivanie Blondin: Silver Mass Start Ladies
Team Pursuit Men: Silver
WINNING LUGERS
With the FIL Luge World Cup season less than halfway over, USA Luge is on track to make this season its most successful ever. To date, the team has won a total of 12 medals this season, in four different events—2 golds, 5 silver, 5 bronze—and is two medals away from passing the organizations single season high of 13, set in 1996-1997.
SNOW STOPPERS
Sarah Hendrickson put together back-to-back podiums over the weekend before heading into the FIS Nordic Ski World Championships.

WSJ-USA's Nita Englund soared to a career first podium, finishing second in a shortened one-round competition in Romania.
Mikaela Shiffrin thrilled the hometown crowd in Vail/Beaver Creek, defending her world title with the second straight gold for the USA.
The U.S. Ski Team won five medals, including two gold, matching the second best performance in history at World Champs.
Bryan and Taylor Fletcher, along with Olympic champion Billy Demong, headline a five-person World Championship Team named earlier this month.
Taylor had a breakthrough performance last month in Sapporo, skiing from 28th after the jump to finish third with the fastest cross country time. Bryan was second fastest, taking eighth.
At just 14-years-old, Chloe Kim became the youngest X Games champion upsetting three-time Olympic medalist Kelly Clark, who was going for a fifth straight X Games title in Aspen, late last month.
Hannah Kearney became the most decorated freestyler skier ever, taking gold for her eighth career World Championships medal.
Lindsey Vonn established herself as the most winning female ski racer of all time, taking her 63rd Audi FIS Ski World Cup victory in the Cortina super G.
Biathlon Canada's Alex Harvey took home silver at the World Cup in Sweden, capturing his 15th career World Cup medal!
Follow Us!
Be sure to follow USANA Athletes on Facebook, and @TeamUSANA on Twitter and Instagram for the latest information about your elite USANA athletes.


*The mentioned athletes are either distributors or dedicated users who have received compensation for their partnership and/or complimentary USANA products.
We're proud to bring you the freshest content on the web! Follow USANA on Twitter, like our USANA Facebook page and enjoy the latest videos on the official USANA YouTube channel.

Learn what USANA is doing to make the world a better place.
The future of personalized health and nutrition is now available with USANA's True Health Assessment.
https://whatsupusana.com/wp-content/uploads/2015/02/Screen-shot-2015-02-13-at-9.10.33-AM.png
703
1250
Allie Henderson
http://whatsupusana.com/wp-content/uploads/2019/11/USANA_Logo_Black.png
Allie Henderson
2015-02-17 08:00:32
2015-07-30 14:40:20
USANA Athletes: Can't Stop, Won't Stop