USANA Athletes: Winter Sports Wrap-Up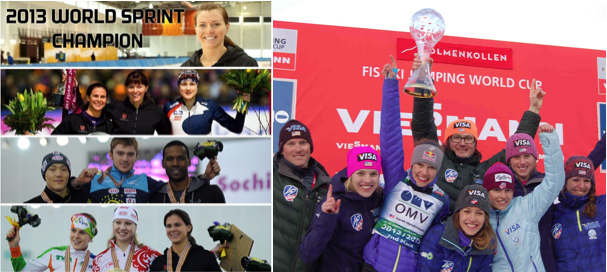 As spring is trying its hardest to make a grand entrance and save the life of the ill-advised Punxsutawney Phil, the winter sport season is coming to an end for more than 350 USANA-sponsored athletes. But don't worry. With everyone preparing for the 2014 Sochi Winter Games, we will surely be keeping you updated on all of their progress.
But while they enjoy some time off from their rigorous training schedules, let's recap what they've accomplished this season!
The Sky's the Limit
In our last USANA Athletes post, we mentioned that Women's Ski Jumping USA athlete Sarah Hendrickson was named the 2013 World Champion, but what we didn't include was the team's overall season ranking.
Last month in Oslo, Norway, the historical team wrapped up its season as it took to the Holmenkollen hill for the first time ever, marking the first time women have been allowed to compete on the large hill, or K120, in an International Ski Federation-sanctioned event!
If that wasn't enough, Sarah took first in the event to help the U.S. secure the Nations Cup for the second consecutive year!
Also soaring to great heights in Norway would be slopestyle skier, Grete Eliassen, who secured bronze at the FIS Freestyle World Ski Championships. In one of her first events since her injury last year, Grete mastered the giant course that featured two rail sections, a pole-jam-to-air and three massive jumps!
Right now Grete is also in the running for ESPN'S "Best in Action Sports Women" and needs our votes. The fourth round kicked off today and goes until April 7. Voting is as simple as clicking right HERE and then picking Grete!
Hot on the Ice
After tracking more than 38,000 miles, the US Speedskating Long Track team ended their season with an impressive list of accomplishments:
27 World Cup medals (10 G, 9 Silver and 8 Bronze)
8 World Championship medals (2 Gold, 2 Silver and 4 Bronze)
1 World Champion (Heather Richardson, World Sprint Champion)
The Short Track team will wrap up their season this weekend at the Masters International Short Track Championships in New York.
It's Bout Time
Last month, undefeated WBO Welterweight Champion Timothy Bradley defended his title against Ruslan Provodinkov in what is being considered the year's best fight. In a brutal 12-round battle, Bradley defeated Provodinkov in a unanimous decision with scores of 114-113, 114-113, and 115-112.
Next to take to the canvas is USANA-sponsored athlete and former 4-time World Champion, Juan "Baby Bull" Diaz.
Nearly two-and-a-half years since his last fight against Juan Manuel Marquez, Diaz is coming out of retirement to take on Pipino Cuevas Jr. (16-9, 14 KOs) at the American Bank Center in Corpus Christi, Texas, on April 13. The fight will be broadcast on FSN at 10 p.m. EDT.
Also stepping back in to the ring this month is USANA's newest Brand Ambassador Austin "No Doubt" Trout, who will face Saul "Canelo" Alvarez in a junior middleweight title unification bout April 20.
The fight will test the undefeated records of both fighters and help catapult their name into the best, "Pound for Pound" boxer alive, and has already sold more than 31,000 tickets!
Fight begins at 10 p.m. EDT on Showtime.
WTA visits USANA
Since wrapping up our photo shoot in Indian Wells, the WTA and our ambassadors have been hard at work, celebrating the organization's 40th anniversary and traveling all over the world for tournaments and USANA appearances!
Former No. 1 doubles player Liezel Huber took time out of her travels to stop by USANA's Mexico Cross-Regional Conference last month to share her testimony to more than 3,000 USANA Associates, while the recently retired Kim Clijsters will also be making an appearance at a USANA event this weekend at USANA's European Convention in Paris.
The mom-to-be (who recently announced she is expecting a boy) will talk about life after tennis, staying healthy and why she chooses USANA.
Follow Us!
For the latest news about our USANA athletes, make sure to follow us on Twitter (@TeamUSANA) and Facebook!
*The mentioned athletes are either distributors or dedicated users who have received compensation for their partnership and/or complimentary USANA products.
We're proud to bring you the freshest content on the web! Follow USANA on Twitter, like our USANA Facebook page and enjoy the latest videos on the official USANA YouTube channel.

Learn what USANA is doing to make the world a better place.
Discover what USANA products can do to boost your health today by taking this brief online Health Assessment.
https://whatsupusana.com/wp-content/uploads/2013/04/Screen-shot-2013-04-02-at-3.19.25-PM-e1364943954525.png
272
607
Allie Henderson
http://whatsupusana.com/wp-content/uploads/2019/11/USANA_Logo_Black.png
Allie Henderson
2013-04-03 08:00:46
2013-05-03 09:54:38
USANA Athletes: Winter Sports Wrap-Up