So You Want to be Like … Free Skier Grete Eliassen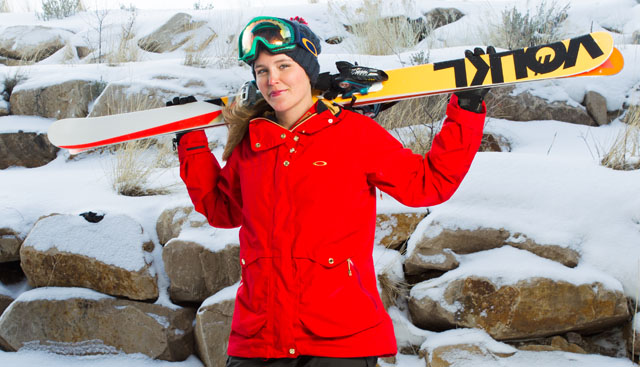 Do you think you could jump 31 feet in the air without hurting yourself? USANA Brand Ambassador Grete Eliassen not only thinks she can, she has.
Grete (rhymes with feta), a member of the United States Ski and Snowboard Association, grew up for the most part in the Salt Lake City/Park City area of Utah.
Her mom is American and her dad is from Norway. Grete started skiing at the age of 2 and has never looked back. She's won golds, silvers, bronzes and several first-place podiums at X Games and other world-class events. She is dedicated to her sport and has done a lot for women's skiing.
In April of 2010, Grete set the record for jumping 31 feet in the air (you can see the YouTube video below). No other woman has accomplished such a feat. Grete is a recent graduate of the University of Utah, and she has big plans in the coming year. Grete is expected to compete in the Sochi 2014 Winter Games. It will be the first time her sport — slopestyle skiing — will be in the Olympics.
I have personally met Grete, and she is an incredible person and an incredible athlete. She always has a smile on her face and is willing to help out wherever she can. She is a great ambassador for USANA!
What's Up USANA made its way up to Park City and had a quick interview with Grete. Check it out.
[youtube]http://www.youtube.com/watch?v=dvp3uY9S7zg[/youtube]
If you're unable to view the video, please visit the USANA YouTube channel
Be Like Grete Eliassen
So you think you might want to be like Grete? Below are some questions I asked her about being an elite athlete. Enjoy!
WHAT'S UP, USANA: What is a typical day for you?
GRETE ELIASSEN: I wake up around 7 or 8 a.m. and eat a good breakfast. Then I head to the mountain to ski. Depending if I am just skiing to learn new tricks, compete in a contest or participate in a photo shoot, my wake-up time will be different.
I will ski for four hours, and after skiing, I will get on a bike to cool down my muscles and work on some strength exercises. I have always been very regimented when it comes to keeping my muscles strong throughout the season.
I love to eat a great dinner as well and relax with my fiancé at home. I love to read so I will probably read a good book before I go to bed or cheat and watch a movie.
WUU: In your mind, what does it take to be a professional athlete?
GRETE: You can't just become a professional athlete because you want to be. You have to love doing a certain activity more than anything. I just love to ski. Even if I did not win anything I would still be a skier. It just happened to be that the activity I was most passionate about became my job.
WUU: How many hours a day do you practice/workout?
GRETE: I practice/work-out eight hours a day. Sometimes more depending on my schedule.
WUU: What is the hardest thing you ever had to do as an athlete?
GRETE: I think the hardest thing I have to do as a skier is to know when to go. Sometimes I am put into dangerous situations and if I do not think through a jump or take into account speed I could become seriously injured. You need to be very in tune with everything around you to be a successful skier and have a long-term career.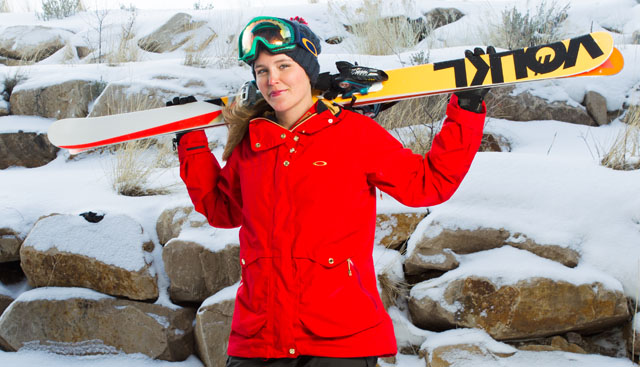 WUU: What's the funniest thing that's happened to you relating to your career?
GRETE: A couple of years ago I was helping my sponsor Oakley out at the Sundance Film Festival in Park City. I was teamed up with the artist Shwayze and I taught him how to ski off jumps and slide a box. I just think it's funny the type of people I get connected with through skiing. Check out the video.
WUU: How many countries do you travel to in a typical season? Do you have a favorite?
GRETE: I travel to more than six countries a year. My favorite part about traveling is the surprise upgrade to first class Delta will give me once in a while. After traveling for so many years, sitting in those tight seats in the back, it gets hard. So when you walk to the gate and they surprise you with a first-class seat, that's always a delight.
I love to travel, but being away from my family is hard at times. My favorite place is always the place I have never been. I love going to new places.
WUU: What is one thing that may surprise people about you or your sport?
GRETE: Just being a female professional skier is enough surprise for anyone. Whenever a stranger asks me what I do they are always so surprised that my career is skiing. They are just in awe and always ask me how I did it.
WUU: How do you set yourself apart from other athletes that you compete against?
GRETE: Being a well-rounded skier has always been my priority. I think it's important to keep whatever you are doing fresh and to change it up a bit. At first I started in the park (slopestyle course) then I moved into the halfpipe, later I moved into the backcountry and now I am back in the park. Therefore, my competitors see me as a threat in every part of skiing not just one discipline.
And now, Grete's mind-blowing world record jump we teased you about earlier:
[youtube]http://www.youtube.com/watch?v=tzXquX5mE2M[/youtube]
7 Quick Answers
Q: What is your favorite sport as a fan?
A: I love watching all the summer sports from Summer X-Games, surfing, and to wake-boarding. I think it's because I never get to play those sports so I love watching them.
Q: Beaches or Mountains?
A: For sure the mountains. I grew up in the mountains and I am a little timid of the ocean.
Q: Pie or Cake?
A: Cake! l am not a fan of cooked fruit, but I love cake.
Q: Fruit or Vegetables?
A: I love fruit. Clementines and strawberries are my favorite.
Q: Flip flops or High heels?
A: Flip flops! I only wear high heels when I have to for an event.
Q: Movie or Book?
A: When you read a good book it does not even compare to the movie. I love reading great books.
Q: iPhone or Blackberry?
A: I was a Blackberry user for a long time, but now I own an iPhone.
For more in the series, please visit the So You Want to be Like… archives.
*The mentioned celebrity is either a distributor or dedicated user who has received compensation for his/her partnership and/or complimentary USANA products.
We're proud to bring you the freshest content on the web! Follow USANA on Twitter, like our USANA Facebook page and enjoy the latest videos on the official USANA YouTube channel.

Learn what USANA is doing to make the world a better place.
The future of personalized health and nutrition is now available with USANA's True Health Assessment.
https://whatsupusana.com/wp-content/uploads/2013/03/Grete-Eliassen-Featured.jpg
367
640
Dan Bennett
http://whatsupusana.com/wp-content/uploads/2019/11/USANA_Logo_Black.png
Dan Bennett
2013-03-30 06:00:55
2017-02-24 09:41:57
So You Want to be Like … Free Skier Grete Eliassen