USANA Athletes: World Champions & Historical Firsts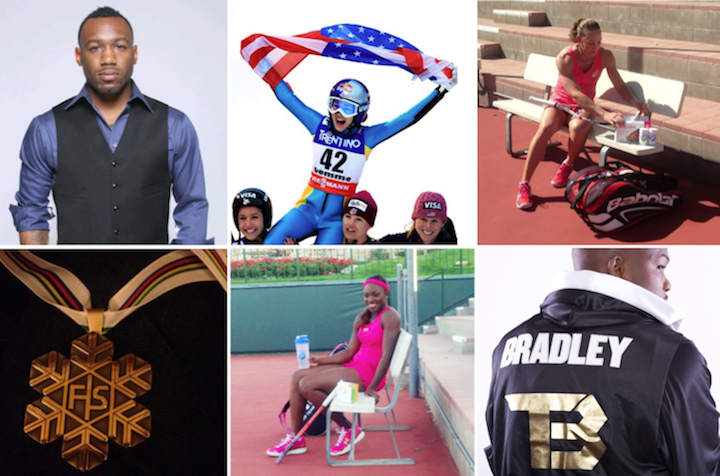 March Madness is upon us — and in more ways than one.
Sure, the college basketball frenzy is right around the corner. In fact, I'll be voluntarily working the second and third rounds of the NCAA Men's Division I Basketball Championships in Salt Lake City, but that's not what I'm referring to.
Over the past few weeks a handful of USANA-sponsored athletes have managed to make headlines for their recent achievements and there is no indication that things are going to change. If anything it's likely that we'll be seeing a lot more from them during the next 23 days!
On Court with the WTA
If you read Monday's post, you know a few of us recently met up with some of our WTA Brand Ambassadors for a video/photo shoot in Palm Springs, but what you might not know is the amount of work that goes on behind the scenes.
During our two full days there, we set up lights and backdrops, battled the heat of the sun and the faintest of breezes and moved more than 120 pounds of sand bags around the courts.
But in the midst of our efforts, we gathered new content for our marketing and sales tools, social media pages and had the opportunity to get to know some of our ambassadors on a more personal level.
Did you know that…
Liezel Huber and her husband Tony recently adopted an adorable baby boy? He's 5 months old.
If Sam Stosur could be anyone else for a day, she would be a current popular singer?
Sloane Stephens' favorite movie was released when she was only six?
Zheng Jie's good luck charm is a teddy bear keychain?
All four women are currently competing in the BNP Paribas Open at the Indian Wells Tennis Garden and we wish them all the best of luck on their impending matches. For live results, visit wtatennis.com!
And although our other WTA ambassadors, Kim Clijsters and Aleksandra Wozniak, were unable to attend this year's shoot, we'd like to congratulate Kim on her big and exciting announcement, and Aleksandra on her impending return to the game later this month at the Miami Sony Open!
In the Ring
Earlier this week we made a big announcement of our own as we welcomed undefeated professional boxer and current WBA Super Welterweight Champion of the World, Austin "No Doubt" Trout to Team USANA.
"Since I started taking the USANA Products, I can feel the difference in my workouts. My strength, energy, and confidence have increased dramatically! I push myself to the limits with every workout, but on USANA I'm able to go further and push harder."                                                                                                                      – Austin Trout
Trout currently holds a 26-0 record with 14 KO's and is stepping back in the ring April 20 to face the current WBC Jr. Middleweight Champion and undefeated Canelo Alvarez in a unification fight between the two divisions. The fight will be held at the Alamodome in San Antonio and showcased as the main event of a Showtime card.
Also stepping back in to the ring would be USANA's very own WBO Welterweight Champion, Timothy "Desert Storm" Bradley Jr., who will defend his title against No. 2 contender Ruslan Provodnikov (22-1, 15 KOs). The bout will be broadcast live on HBO World Championship Boxing® next Saturday, March 16, from The Home Depot Center in Carson, Calif., beginning at 10:15 pm ET/PT.
Soaring to Victory
Late last month a handful of our USANA-sponsored athletes headed to Val di Fiemme, Italy for the FIS Nordic World Ski Championships and returned with great results!
Women's Ski Jumping USA athlete Sarah Hendrickson secured gold with two solid jumps (106m, 103m) and was named the 2013 World Champion! Out-jumping World Cup overall title winner, Sarah Tankanashi of Japan, Hendrickson is the second American to earn the title since teammate Lindsey Van won the inaugural event in 2009.
But the fun didn't stop there.
Ambassadors Billy Demong, Bryan Fletcher and Taylor Fletcher secured bronze in the Nordic combined event alongside teammate Todd Lodwick to make a historical podium appearance. Their third place finish marks the first time the U.S. Nordic Combined team has ever medaled in the event at the international competition and is a first Worlds medal for both Fletcher brothers!
For more details about their experience in Italy, check out their recent blog posts:
Follow Us!
For the latest news about our USANA athletes, make sure to follow us on Twitter (@TeamUSANA) and Facebook!
*The mentioned athletes are either distributors or dedicated users who have received compensation for their partnership and/or complimentary USANA products.
We're proud to bring you the freshest content on the web! Follow USANA on Twitter, like our USANA Facebook page and enjoy the latest videos on the official USANA YouTube channel.

Learn what USANA is doing to make the world a better place.
Discover what USANA products can do to boost your health today by taking this brief online Health Assessment.
https://whatsupusana.com/wp-content/uploads/2013/03/Screen-shot-2013-03-08-at-1.47.37-PM.png
476
720
Allie Henderson
http://whatsupusana.com/wp-content/uploads/2019/11/USANA_Logo_Black.png
Allie Henderson
2013-03-09 07:55:12
2013-05-03 09:54:26
USANA Athletes: World Champions & Historical Firsts