USANA Test Kitchen: Peanut Chicken Stir-Fry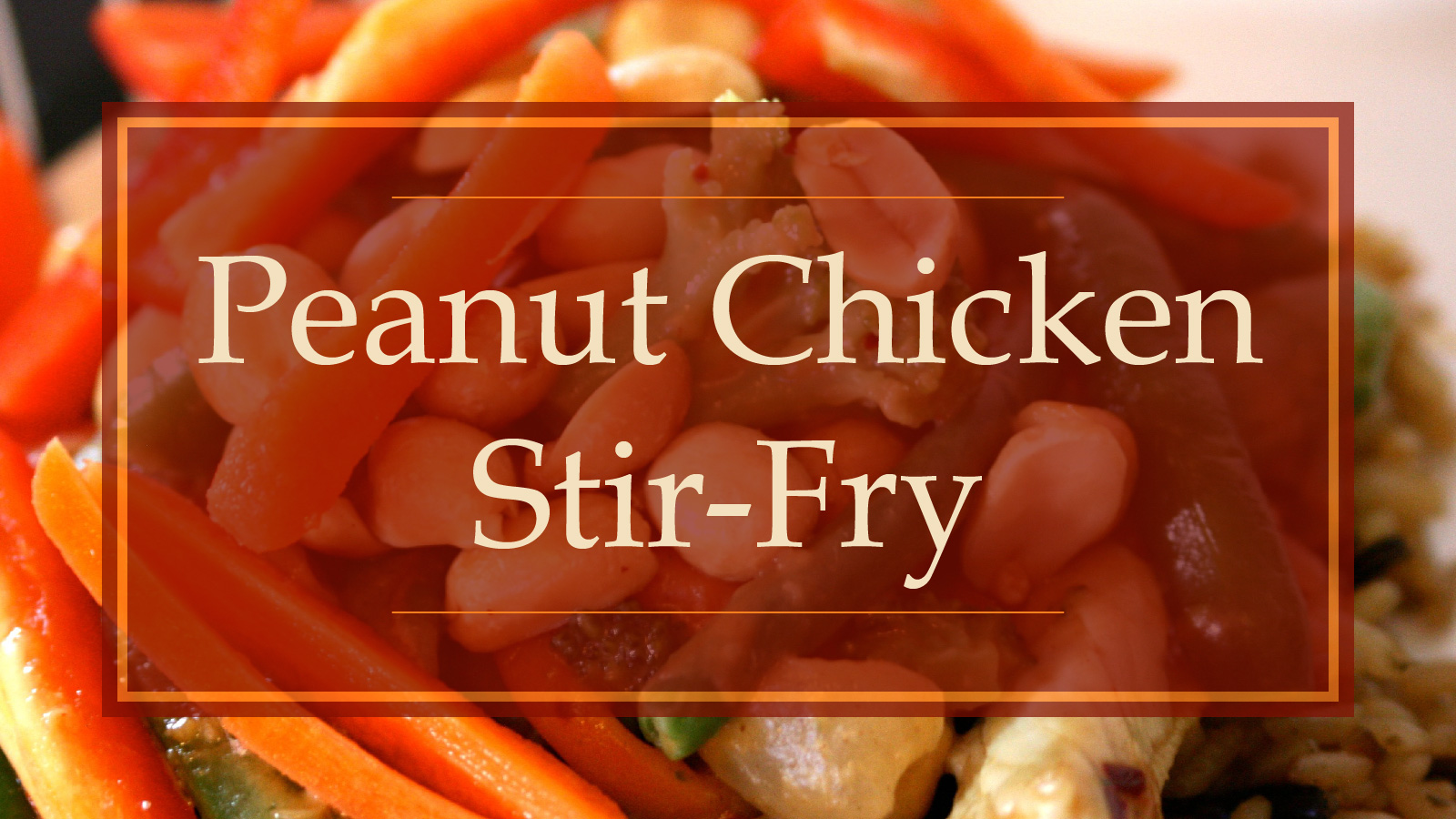 Making a healthy dinner every night during the week can be difficult. And I'm only cooking for my husband and myself! I can't imagine having to appease children—especially picky eaters. (I know, I was one. Sorry, Mom.)
With limited time to prepare a meal in the evenings, it's easy to turn to unhealthy fast food or TV dinners. Luckily, there's a little thing called stir-fry.
Peanut Chicken Stir-Fry might be one of the easiest, most versatile dishes you can make because you can use whatever you have in your fridge and pantry. And since a lot of kids like peanut butter, using a peanut sauce might entice even the most finicky of eaters to try it out. Plus, it covers the taste of the veggies—something I would have appreciated as a kid.
Did I mention how simple this recipe is? Just to prove it, I timed myself. It took 22 minutes 30 seconds from start to finish. And if you use frozen veggies and pre-cooked chicken it'll take even less time.
Peanut Chicken Stir-Fry (serves 3–4)
Ingredients:
Peanut Sauce
1 tbsp. light brown sugar
1 ½ tbsp. soy sauce
1 tbsp. lime juice
2 tbsp. peanut butter (or any nut butter)
1 minced garlic clove
¼ tsp. crushed red pepper (optional—this definitely adds some spice to the stir-fry)
Stir-Fry
2 tbsp. olive oil
4–5 chicken strips
1 cup broccoli
1 cup carrots, cut julienne
1 red bell pepper, cut julienne
1 cup snow peas
¼ cup unsalted dry roasted peanuts
2 cups cooked brown rice
Directions:
Mix together the light brown sugar, soy sauce, lime juice, peanut butter, garlic, and crushed red pepper in a small bowl until well combined, and set aside.
Heat the olive oil in a wok or large pan on the stove over medium heat. Cook the chicken strips until no longer pink—about 3 minutes per side. Remove from pan and set aside on a paper towel–lined plate.
Place the broccoli, carrots, pepper, and snow peas in the same wok or pan, stirring frequently. Meanwhile, cook the brown rice. (The rice can be cooked first to save time.)
After the vegetables are cooked through, mix in the peanut sauce until well coated. Then stir in the chicken and one tablespoon of peanuts.
Serve the stir-fry over the brown rice and top each serving with remaining peanuts.
Note:
You can substitute the chicken for pork, beef, or tofu—or not use any meat at all. Adding in more vegetables like water chestnuts, mushrooms, or onion—basically whatever you have on hand—gives it some variety. And you don't have to use the peanut sauce. Here's a whole list of different stir-fry sauces.
What's your go-to weeknight meal? Tell us about it in the comments.
We're proud to bring you the freshest content on the web! Follow USANA on Twitter, like our USANA Facebook page and enjoy the latest videos on the official USANA YouTube channel.

Learn what USANA is doing to make the world a better place.
The future of personalized health and nutrition is now available with USANA's True Health Assessment.
https://whatsupusana.com/wp-content/uploads/2015/04/stir-fry-feat.-image-01.jpg
900
1600
Missy Bird
http://whatsupusana.com/wp-content/uploads/2019/11/USANA_Logo_Black.png
Missy Bird
2015-04-02 08:00:29
2015-07-02 08:04:12
USANA Test Kitchen: Peanut Chicken Stir-Fry