Your Social Media Ticket to #USANA15!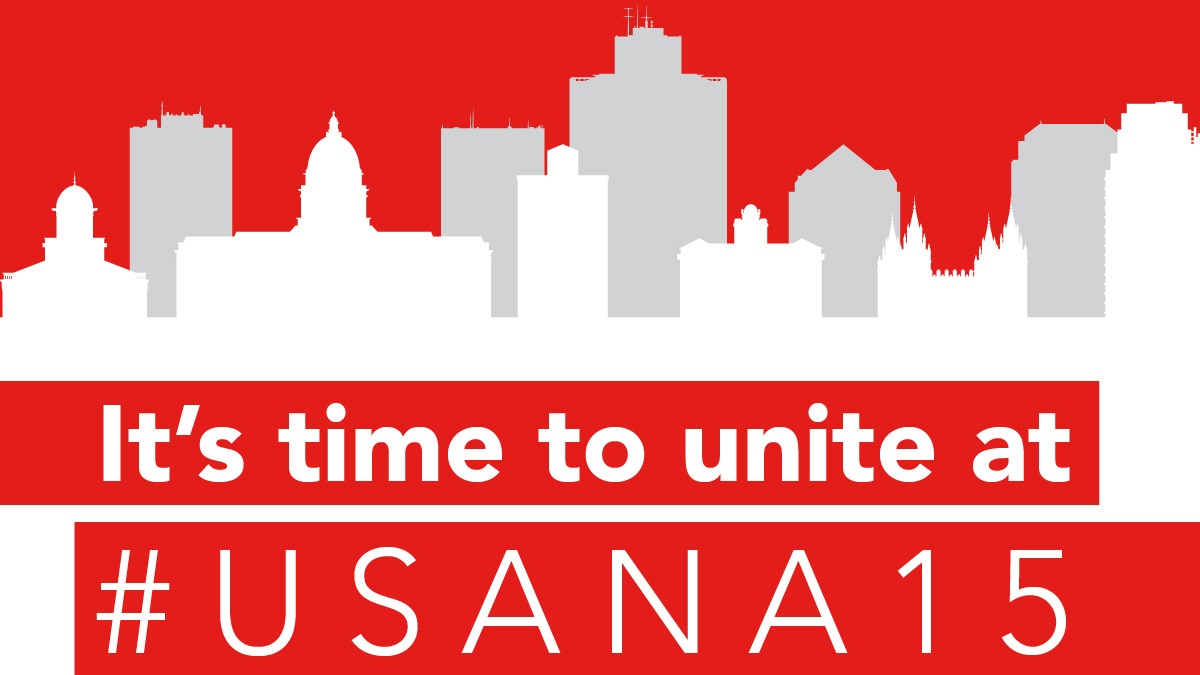 Every year, we tell you how important it is for your business that you attend International Convention.
And it is.
But, we also realize that life sometimes gets in the way.
That's why, year after year, USANA's social media team does its best to keep you in the loop. Pay attention to #USANA15 and we'll make it feel like you're there with us.
This year, more than ever, you'll want to follow along on Facebook, Twitter and Instagram – that's where you'll find the most up-to-date, behind-the-scenes, exclusive information about this one-of-a-kind event.
That said, it's not too late to register (and there's always on-site registration).
If you're planning on joining us in person, be sure to take a look at Kathleen Rockney's annual list of convention travel tips before you embark on this unforgettable journey (you'll be glad you did).
Welcome to #USANA15
Sure, we cover every keynote speaker, training and major announcement, but we want to see how you experience USANA International Convention. Join in on the conversation by using tagging your photos, tweets and status updates with #USANA15.
Follow the Action Online
Whether you're joining us in Salt Lake City in August or live-streaming Convention or just following along on social media, these are the sites you need to be following right now:
What's Up, USANA?: A no-brainer. The USANA blog is the home base for Convention updates, exclusive photos, videos and quotes from USANA's elite. You'll want to subscribe so you don't miss anything.
Facebook: While the vast majority of convention content will be posted on our USANA Health Sciences, Inc. page, don't forget to check out some of the other pages from time to time: Rev3 Energy, Sensé Beautiful Science, USANA True Health Foundation…
Twitter: If you're not already following @USANAinc, what's stopping you?! We will be live-tweeting the entire event, so if you want to hear the news first, you better be paying attention.
Instagram: Last year, you blew us away with all of your #USANAselfies! We've got a new contest for you this year, but don't let that stop you from sharing your experience at #USANA15!
#USANA15: Please include #USANA15 at the end of your status updates (even on Facebook) during convention. This notation is called a hashtag and it allows convention-related tweets to be sorted for easy viewing.
Find the Social Media Swagon at #USANA15
If you're looking for the social media team at the Salt Palace or Energy Solutions Arena, keep an eye out for the Social Media "Swagon." We introduced our mobile, social media station last year and we're bringing it back.
It will be loaded up with tons of swag (hence the name), so pay attention on social media to find out how to get some for yourself!
We Are #USANAUnited
You may have heard it's the theme of this year's International Convention, but it's also something bigger than that.
The message of USANA United is that underneath everything that makes us unique, we are all members of the USANA family. That's a really powerful idea. It means that when we work together, we can change the world—for the better.
You can celebrate this unity with your team and USANA Associates around the world by sharing the hashtag #USANAUnited, and by participating in the USANA United social media contest.
But wait, there's more!
Exclusive Social Media T-Shirt: One of the most popular shirts at convention every year – you'll want to get your own so pay attention to social media to find out how.
Social Media Pin: Do you have the social media pins from the last 5 years? Don't break the streak! And if this is your first year attending, there's no better time to start your collection!
Digital Download Pack: We've created all-electronic documents for you to maximize your social media presence. The pack – completely free and easily downloadable – includes USANA-themed backgrounds, Facebook cover photos, a Beginner's Guide to Social Media and more!
Social Media Online Resources: Finally, if you're a USANA Associate, be sure to visit Communications Edge on the Hub to unlock a wealth of resources.
There's an App for That
Download the USANA Events app. Do it now.
From planning out your daily schedule to reading up on all the amazing presenters to easily sharing your thoughts about trainings and presenters on social media, the app does it all.
Plus, the handy map feature makes sure you know where you need to be at all times!
Live Streaming and Video On Demand
For the first year ever, we are offering a live streaming and video on demand service for those of you who can't make it to Salt Lake City this August.
Of course we'd love to have you here in person, but we get it. Sometimes things just don't work out. That doesn't mean you have to miss out on this amazing event.
Questions?
Please feel free to email us (whatsupusana [at] usana [dot] com) if you have any questions about the USANA Convention Social Media Experience. Or send us a tweet. We'll get back to you as soon as possible.
More Questions?
We're happy to answer any social media questions you may have during #USANA15, but we know how crazy convention can get. If you're unable to catch us, we encourage you to join us for an exclusive webinar on August 31.
Attendees will dictate the content. Sure, we'll provide a bit of practical information about getting the most out of social media, but most of all, we'll be available to answer your questions!
Here are the details:
Date: Monday, Aug. 31, 2015
Time: 6:00-7:00 p.m. MDT
Where: Wherever you're most comfortable (and have access to a telephone and/or computer)
Register: http://bit.ly/usana15webinar
Thank You!
It's no secret we couldn't do what we do without you – our readers, fans and followers. You have helped us create an amazing social media community. It's proving to be a valuable tool for connecting and interacting with USANA Associates and others interested in maintaining their health and taking control of their financial future.
A big thank you to everyone who has joined us. Please introduce yourself or re-connect with us at convention.
We're proud to bring you the freshest content on the web! Follow USANA on Twitter, like our USANA Facebook page and enjoy the latest videos on the official USANA YouTube channel.

Learn what USANA is doing to make the world a better place.
The future of personalized health and nutrition is now available with USANA's True Health Assessment.
https://whatsupusana.com/wp-content/uploads/2015/08/Unite1.jpg
675
1200
Sarah Flinn
http://whatsupusana.com/wp-content/uploads/2019/11/USANA_Logo_Black.png
Sarah Flinn
2015-08-18 04:00:31
2017-02-22 10:53:47
Your Social Media Ticket to #USANA15!