4 Food Subscription Boxes to Try Now

Food Subscription Boxes: The New Grocery Store
Times sure are a changin'. Gone are the days of going to the market with your loved ones— pushing around a dirty metal cart, fighting off Granny for the last tomato, waiting in a line ten people deep to pay for your groceries, and stuffing your trunk with plastic bag after plastic bag. In today's world of immediate, on-demand service, people are turning to food subscription services to get more locally-sourced, animal and health friendly foods that are sent right to their door—skipping the grocery store experience all together. It's like taking an Uber to Flavor Town.
These services send you high quality, health conscious foods that are sophisticated in taste but are easy to make—so you can impress your friends or that special Tinder date.
There are a lot of different services out there—so I've done the research and will break down four of them so you can decide which one to try for yourself.
And lucky for you, all of these services offer first-time coupon codes so you don't have to pay full price!
Blue Apron
The most well-known of all the meal subscription services is Blue Apron—you've probably seen or heard their ads online or during your favorite podcast.
They offer a two-person (three meals a week) or family plan (choice of two or four meals a week) that serves four. The pricing for the two-person plan is $9.99/meal—or $59.94/week. The family plan is $8.47/meal and $69.92/week (two meal plan) and $139.84/week (four meal plan). This turns out to be one of the better price lines out of all the services.
Blue Apron offers a new menu every week that gives you the choice of delicious meals like the fresh pimento cheeseburgers, crispy chicken Milanese, and avocado tempura tortas on this week's menu.
While Blue Apron definitely gives you the most bang for your buck—there are some downsides. First off is the packaging. All your meals for the week are stuffed into one box without being sorted and can make it difficult to portion out the spices and sauces if they are used by multiple meals.
The recipe cards and extra features are also lacking compared to other services. Their delivery options requirements also take some convenience out of the experience.

Hello Fresh
Hello Fresh is European-based meal subscription service that delivers around the world and offers many of the same options as the other services. A lot of the recipes on Hello Fresh are created by celebrity chef Jamie Oliver and come with in-depth instructions and nutritional facts.
A cool thing about Hello Fresh is that it offers a classic, vegetarian, and family plan. The classic plan is $9.90/meal, the veggie is $9.08/meal, and the family plan is $8.75/meal.
Meals this week include pork dumplings, deconstructed ratatouille, and coconut-crusted chicken fingers.
While the quality of the packaging and recipe/nutritional cards are a big plus with Hello Fresh— some of their recipes are more advanced and not as health-conscious as the others. Hello Fresh also sends their ingredients in large quantities which could end up being wasteful in the long run.
Plated
Plated gained notoriety for being on Shark Tank and receiving an offer of $500K from Mark Cuban for 5.5% of the company. The deal fell through but Plated is still going strong.
Plated's meal plan options are two, three, or four dinners per week with each dinner costing a total of $12. So it's more expensive than the others without offering a ton more in quality or presentation. The portions are larger with Plated—so that's a bonus.
On the menu this week is cheesy butternut squash taquitos, Cuban chicken empanadas, and crispy sole.
Besides the high pricing—Plated also has the same problems as Blue Apron with the extra-large packaging and bland and uninformative recipe cards. Add that to the high price and confusing cooking instructions—I would have a hard time starting with this one.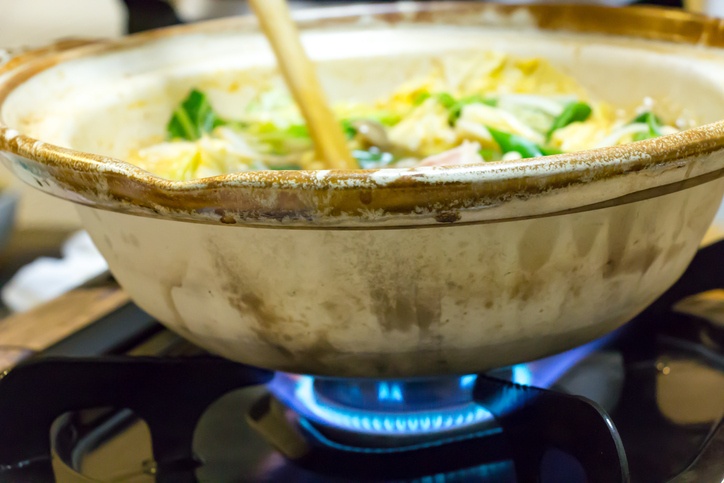 Peach Dish
When you go on the Peach Dish website—you get the feeling that they are the most grass-roots, downhome, local Southern hospitality service out there—and that's exactly how they market themselves. They are all about telling you where the ingredients are coming from and how healthy and clean they are.
But with that comes a steep price—$12.50/meal to be exact.
The ordering system at Peach Dish is different from the rest where it isn't a subscription per se and you pay for meals separately for the day—not weekly like the others. You can get two servings for $25, four servings for $50, six for $70, eight for $90, and 12 for $130. Even with the beautiful packaging and detailed recipe and information cards—that is a much higher price than the others.
Items on Peach Dish this week range from chicken with garlicky kale and grits, curried chicken breast with bok choy and jasmine rice, pecan-stuffed trout with roasted pears and mashed sweet potatoes, and white bean stew with kale and sweet peppers.
Peach Dish feels like the most luxurious and "handmade" service with long-titled recipes and top quality ingredients sourced regionally in Georgia—so if that's something you enjoy paying for—Peach Dish will definitely tickle your fancy.
We're proud to bring you the freshest content on the web! Follow USANA on Twitter, like our USANA Facebook page and enjoy the latest videos on the official USANA YouTube channel.

Learn what USANA is doing to make the world a better place.
The future of personalized health and nutrition is now available with USANA's True Health Assessment.
https://whatsupusana.com/wp-content/uploads/2016/10/4Subscription_Food_Featured.jpg
648
1152
Steve Kostrencich
http://whatsupusana.com/wp-content/uploads/2019/11/USANA_Logo_Black.png
Steve Kostrencich
2016-10-14 04:00:10
2016-10-12 15:21:04
4 Food Subscription Boxes to Try Now