Our Top 5 Apps To Help You Sleep Better Tonight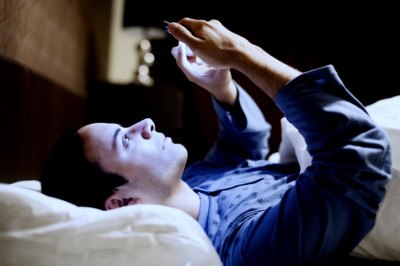 Lately, it seems like more and more people are talking about the effect sleep – or lack of sleep – has on our health.
This isn't anything new.  In fact, we've talked about it before on the blog.
But technology tends to get a pretty bad rep when it comes to sleep.
This is no surprise when 95% of us use some sort of electronic device at least a few nights a week during the hour before bed[1].
Think about it – wouldn't looking at your work e-mail right before bed potentially keep you up at night with stress?
Or maybe you can't stop watching funny cat videos on YouTube (let's face it – they're pretty darn cute.  Exhibit A.)
But what if you could use technology as a tool to help improve your sleep?
Great news: you can.
We've rounded up some apps you can use to sleep better and smarter.  These cover everything from sleep tracking to power naps – so you're sure to find one to fit your lifestyle needs!
Top 5 Apps to Help You Sleep Better
Relax Melodies (iOS and Android) – this app is a sound generator that allows you to create a 'sleep mix' of sounds that you like. With 52 high quality ambient sounds, you're sure to find something that helps you relax.
SleepBot (iOS and Android) – this app is a 'smart alarm' that tracks your sleep cycle. It records movement and sounds throughout the night.  You can customize how you want to sleep and wake up each morning during your lightest sleep phase.  There's also the option to listen to ambient sounds as you fall asleep.
Pillow (iOS) – Another sleep tracking alarm clock that can measure and track your sleep quality. They also have a powernap mode so you can snooze for a bit when you need it!
SleepCycle Alarm Clock (iOS and Android) – With a slogan of "waking up made easy", this is an app to keep on your radar. This app will monitor your sleep using vibration analysis and it will wake you during your lightest sleep phase. *$0.99USD on Google Play Store, offers In-App purchases for iOS devices.
Digipill – This app claims to help with more than just sleep regulation. So if you're looking for something a little extra, give this app a try.  It claims to help reduce stress, help you be more creative, decrease anxiety, and beat insomnia! *Offers In-App purchases for Android and IOS devices.
And if all else fails and you're still struggling to catch some ZZZ's?  Don't worry.
There's always a little solution called Pure Rest.*
Do you have a favorite health or wellness app?
Let us know in the comments below!
---
Source: [1] https://sleep.org/articles/how-technology-changing-the-way-we-sleep/
*These statements have not been evaluated by the Food and Drug Administration.  These products are not intended to diagnose, treat, cure, or prevent any disease.
https://whatsupusana.com/wp-content/uploads/2016/10/Sleep_Feature_ImageW.jpg
360
640
USANA Health Sciences
http://whatsupusana.com/wp-content/uploads/2019/11/USANA_Logo_Black.png
USANA Health Sciences
2016-10-24 04:00:47
2017-01-19 10:31:51
Our Top 5 Apps To Help You Sleep Better Tonight