3 Trending Workouts to Try In 2017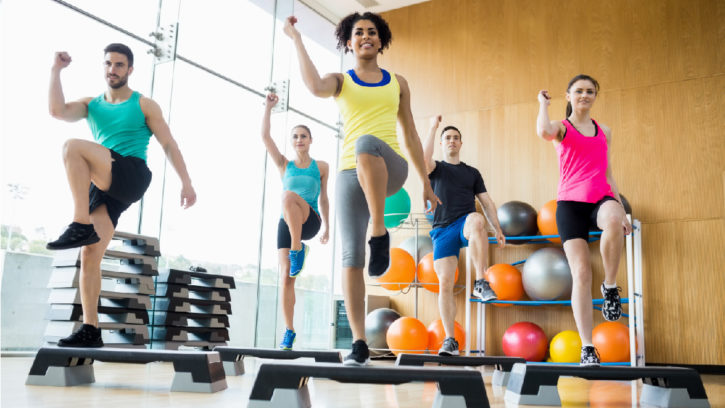 New Year, New You, New Workout
The new year is a time of hope and optimism—filled with lofty goals of losing weight, starting a new diet, reading more, and finding that special someone that will finally get your parents off your back for not being married and having kids yet. Unfortunately—life usually gets in the way and ruins any hope of achieving the goals you set.
I know because it happens to me every year. Diet and exercise starts in 2018, right? Wrong! It starts now.
One of the biggest problems I have faced when it comes to exercise is not pushing myself hard enough when working out by myself. I can only seem to achieve my inner Schwarzenegger when working in a class or up tempo setting. Fortunately for you—my good people—there are now lots of new and exciting gyms and trending workouts that can help motivate and shed that extra winter weight.
I will be going through three of the hottest workout classes: SoulCycle, Pure Barre, and Orangetheory Fitness. I'll be laying out what each of them are and how effective they are at incinerating the fat off your body.
"I want to ride my bicycle, I want to ride my bike"
Spinning classes have been around for quite some time—but the phenomenon that is SoulCycle has been a relatively new trend in the workout world. SoulCycle is the ultimate cycling workout that intertwines peddling to the beat of the music, upper body workouts, and hardcore spinning into one calorie-blasting workout.
The difficulty of SoulCycle is based on how hard you push yourself, like most workouts. You can adjust the resistance of the bike to better fit your current levels—but it should never be too easy. You can expect a pretty serious workout of about 500-700 calories burned during a 45-minute session. Again, it depends on how hard you push yourself. The group setting can really help push you out of your comfort zone and get you peddling like you've never peddled before.
Spinning is an intense workout that uses almost every muscle in your body. It works the obvious areas like your glutes, thighs, calves, hamstrings. SoulCylce also works your upper body and core to create a full body workout.
SoulCycle is considered one of the more high-end facilities and they have a price tag to back that up. If you want to try out SoulCycle for the first time, it will run you around $20. Single classes are around $30 per class. Five classes are around $150, 10 for $280, and 20 for $540. You can get 50 classes for $3,500 (if you are really hardcore with some deep pockets).
SoulCylces are also only found in bigger cities like New York, L.A., and Chicago, but if you do happen to find one in your area, I recommend trying it out for whole new workout experience.
Raising the Barre
Barre workouts aren't well known to everyone. Though the people who do barre swear by it. Barre is a mix of Pilates, yoga, and muscle training that is amazing for shaping and toning your body. The name comes from the movements similar to what ballet dancers use to train and strengthen their bodies. The whole thing was started by a ballerina—so it's no surprise that most of the workouts are similar to ballet training.
Pure Barre is a very popular barre studio that has locations all across the country—so it's very accessible to a lot of people. Pure Barre is also a little more affordable than SoulCycle—with classes ranging from $20 for one class, $90 for five monthly classes, $160 for a package of 10, $280 for 20, or you can go with the economical monthly unlimited pass for $149.
If you've ever done Pilates or ballet, you know how intense but rewarding the workouts can be. Pure Barre is no different. You'll be toning your entire body through using light weights, body movement, and of course the ballet barre.
You can burn upwards of 500 calories during one of Pure Barre's 55-minute group classes if you really push yourself. Going multiple times a week is your best chance to see results, boost your metabolism, and burn calories.
And don't worry all my dudes out there—Pure Barre isn't just for women. It might not be hardcore weightlifting or CrossFit—but I promise you—it will kick your butt to next Tuesday.
Orange you glad you tried OrangeTheory?
While SoulCycle and Pure Barre are more specific workouts—the more traditional cardio/strength training is found at OrangeTheory Fitness. OrangeTheory uses "heart rate-based interval training." This helps increase your strength, speed, power, and endurance.
Like Pure Barre and SoulCycle—OrangeTheory classes are in a group setting led by an instructor. The trainers at OrangeTheory are more involved than at the other two. I personally enjoy a more up-close, involved approach when I'm strength training.
OrangeTheory provides each participant with a heart rate monitor that tracks your progress and how your body is reacting to the training. You can burn more than 500 calories in one 60-minute session. You will continue to burn after the workout because of the jumpstart your metabolism is getting.
The OrangeTheory workouts always vary to prevent the routine from getting stale. They have all kinds of equipment from treadmills, to rowing machines, benches, and free weights to ensure you get the best all-around burn.
The amount of studios OrangeTheory has is quite impressive. Odds are there is one near you. The pricing for OrangeTheory Fitness is less than what you will find with SoulCycle and Pure Barre, and is on par with most boot camp/CrossFit-style gyms.
You are given a first session for free to try it out. The price goes up to around $60 for the "Basic" four classes per month and $100 for the "Elite" eight classes per month. You can get an unlimited number of classes for $160 per month if you really love going to OrangeTheory.
Mix it up with trending workouts
If you're getting bored with your usual fitness routine, try mixing it up with one of these classes. Let us know in the comments below if you've tried one you particularly enjoyed.
We're proud to bring you the freshest content on the web! Follow USANA on Twitter, like our USANA Facebook page and enjoy the latest videos on the official USANA YouTube channel.

Learn what USANA is doing to make the world a better place.
The future of personalized health and nutrition is now available with USANA's True Health Assessment.
https://whatsupusana.com/wp-content/uploads/2017/01/Exercise_Feature_16x9W-725x408-1.jpg
408
725
Steve Kostrencich
http://whatsupusana.com/wp-content/uploads/2019/11/USANA_Logo_Black.png
Steve Kostrencich
2017-01-19 16:19:21
2017-03-10 10:20:47
3 Trending Workouts to Try In 2017