Top-Rate Training: John Fleming, Dani Johnson Wow Crowd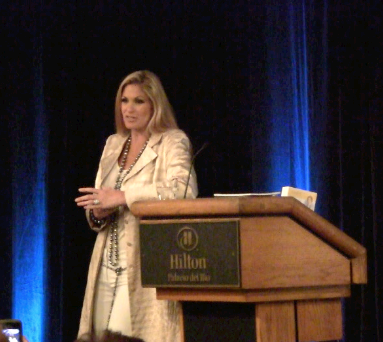 From a pool of 1,100 who opted in to participate in the USANA United States Cross-Regional Conference (XRC) Incentive, nearly 250 people won admission to an exclusive day of training featuring John Fleming, Direct Selling News publisher and editor-in-chief, and Dani Johnson, who famously found herself homeless at age 21 and a millionaire two years later.
"You can be an architect of your own destiny," said Fleming, underscoring the title of his presentation, It's Time to Take Control. "Especially with USANA."
Fleming, a veteran of the direct-selling industry and ambassador for the 87.6 million direct sales professionals worldwide, is a strong believer in the power of network marketing.
"I really think network marketing is one of the finest forces of good on the planet," said the co-author of The Business of the 21st Century, which he wrote with Robert Kiyosaki.
Fleming took time to record an excellent video for USANA social media about the importance of developing relationships the correct way when utilizing tools such as Facebook. Look for it on What's Up, USANA? soon.
Dani Johnson Tells It Like It Is
Following a lunch break, Johnson stepped to the stage and instantly captivated the crowd with her witty and conversational — but no-nonsense, deadly serious — tone, and her intensely personal stories of failure and ultimate success. She's witnessed the power of direct selling from the vantage point of a distributor.
As she recalled many of the hardships she faced in her personal life, and the difficulty she had in obtaining any level of employment, it's easy to see how Johnson epitomizes the self-made millionaire.
Resolved to chart a new course for herself, she soon began earning thousands of dollars a month — only to have it all ripped away from her, forcing her to start from square one.
The next chapter in Johnson's roller-coaster saga took her to the top: At age 23, she was a millionaire.
"Don't ever underestimate the opportunity you have in your hands right this minute," she told the audience.
"You earned your way into this room because you did something right," Johnson said. "If you're fairly new to this business you have quite a ride ahead of you."
Johnson took the audience on a three-hour ride filled with valuable tips to turn them from amateur business owners into professional ones. "The only variable in your success is you!" she said.
Explaining that the product in the industry is people, direct-sellers' earning potential is ultimately tied to people skills. Such skills help differentiate the professionals from the amateurs, she said.
"If you become genuinely interested in other people, other people will become genuinely interested in you," Johnson said.
A Star-Studded Event
The audience also included a who's who of USANA movers and shakers, executives and Associates alike. Two such individuals, Dean and Matt Chionis, members of the Fortune 25 and recipients of the 2011 Dr. Wentz Vision Award, kicked off the training with tips to build a strong foundation in business.
Dean reminded the audience that "they're watching you," meaning that everything from your appearance to your belief level in the company, the products, the industry, and yourself must be unshakable in order to grow and achieve greater success.
"I don't care what level we're at," the 1-Star Diamond Director said, "we all need to continue to grow."
It's obvious the group who qualified for this exclusive training is determined to keep growing.
"I am looking around this room and this is what success looks like," said Michelle Merriwether, USANA's Vice President of United States Field Development.
Dr. Denis Waitley, who will be speaking at the XRC on Saturday morning, wrapped up the event by sharing stories of individuals and companies who have achieved success through networking and who have developed the leader within.
"I think the [direct sales] industry is the future," he said. "The company you choose is so important."
[youtube]bfzZaTeqt7s[/youtube]
If you're unable to view the video, please visit the USANA YouTube channel.
Let's Get it Started
The XRC officially gets under way tonight with a guest event at the Henry B. Gonzalez Convention Center in downtown San Antonio, which is scheduled to include a presentation by Kansas City Chiefs linebacker Andy Studebaker.
I had a chance to catch up with Andy this afternoon. He's a very down-to-earth guy who is passionate about health, fitness, and USANA. Look for an exclusive video with him on Facebook and What's Up, USANA? in the near future.
Keep it Going Saturday
A full day of inspiration, motivation, and education is on tap for Saturday as the XRC kicks into high gear with an all-star lineup of speakers and a "USANA Experience" unlike any other outside the main conference room.
If you're in town, be sure to stop by and say hi to your friends in social media and marketing — and pick up a sweet "Start the Conversation" pin (while supplies last).
Follow Along…
If you couldn't make it to Texas for the event, we invite you to follow along on Twitter (use the #usanaXRC hash tag to listen in on and participate in the conversation) and the USANA United States Facebook page.
We're proud to bring you the freshest content on the web! Follow USANA on Twitter, like our USANA Facebook page and enjoy the latest videos on the official USANA YouTube channel.
https://whatsupusana.com/wp-content/uploads/2012/04/DaniJohnson.png
342
383
Tim Haran
http://whatsupusana.com/wp-content/uploads/2019/11/USANA_Logo_Black.png
Tim Haran
2012-04-13 15:45:02
2017-09-11 08:57:36
Top-Rate Training: John Fleming, Dani Johnson Wow Crowd