'True Meaning of USANA Family' Emerges Following Tragedy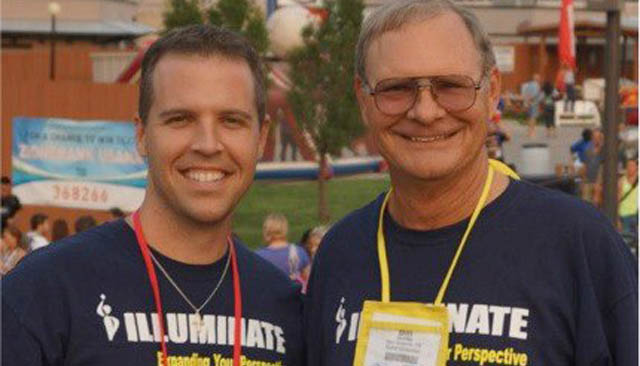 "In all that you know to be right … do."
Those were the words Bill Bohlke lived by. They are the words his family, friends and associates will never forget.
But it is the actions of Bill that will resonate with a small Texas town forever.
Bill was the mayor of Hollywood Park, a quaint town within the San Antonio area. He was a  software company owner, retired credit union vice president, avid hunter, soccer coach, purebred cattleman and rancher, retired air force major, B-52 instructor pilot, hay farm owner, head usher of his church, husband and father to three, and grandfather to four. He had a master's degree in computer information systems and was a USANA Gold Director.
Everyone in his community knew and respected Bill. He was a hard worker who believed in doing what was right at all costs. His family says he was the epitome of good character and never faltered.
He is described by loved ones as an Oak — the strongest of the strong. His mental focus and physical toughness masked by a quiet, gentle humbleness.
Tragically, his life was taken in an inexplicable farm accident on August 27, 2012.
"He never complained about anything, believing you can change any situation with hard work. He loved life and lived it fully everyday," his son, Brian, says of the man who never missed any of his soccer games. "Most importantly, he showed our family what it looked like to love."
A Family Comes Together
In what was the darkest hour of Brian's life, however, the most joyous experience emerged in this rural town of just over 3,000 residents.
"The night my dad was killed, the intensity of my situation began to set in," Brian says. "My mom, my kids, my family, my wife, the funeral, the cows, the hay, Emerald! The desire to finish was gone. I was only four hours into this experience and I was already beyond exhausted, physically, mentally and emotionally."
Days before his father's death, Brian had been working hard in his USANA business and making an intense run for Emerald status. With the tragedy taking a toll on Brian, he couldn't even think about Emerald — his team, his USANA family, the let down, the failure, the fatigue — without being consumed by emotions.
Brian and his wife, Jaclyn, sat in their car in confused silence.
At 12:34 a.m. a life-changing text came in from Brian's best friend, USANA Gold Director Chris Harl. He was one of the first people on the scene when Bill Bohlke went missing and remained while the tragic events unfolded.
"I want you to know that I am taking the rest of the Emerald run; Bill would want it that way!" Chris's text read. "Y'all handle the family stuff, I will have a meeting with all your leaders tomorrow."
As Brian read that text, he was overcome with emotion.
"I cried. No, I wept," Brian says. "The immediate thought entered my mind that being joyful would be wrong at this time. I couldn't help it; in an instant I was overwhelmed with a joy almost equal to becoming a father."
'True Meaning of the USANA Family'
Over the next week and a half, Brian watched over his family, while his dear friend Chris watched over his USANA family … as Emerald evolved from hope to reality.
Under Chris's guidance, leaders stepped up and the response from Brian's entire USANA team and whole USANA family was overpowering.
"They showed my family a love I didn't know existed inside the business world," Brian says.
Other USANA leaders and members from the home office flew to San Antonio to support the Bohlke family. Full of gratitude, Brian says, "I am here to tell you, Jaclyn and I now know the true meaning of the USANA family."
With all that was happening, it would have been understandable and honorable to put the Emerald run on hold, but Chris explains why they didn't:
"Because we all learned this lesson from Bill Bohlke — always do what is right," he says. "I believe 100 percent that the right thing to do was finish the run for Brian and Jaclyn for all that they have done for their entire team over the years.
"Every individual involved is forever changed because of who they had to become through this process. Bill Bohlke is the only person I know that was capable of creating such a powerful movement that affected thousands in an instant."
In Memory of Bill
The successful Bohlke Emerald run is a tribute to the man who started it all.
In 2006, Bill Bohlke had a quintuple bypass. He told his family that the only way to recover was with the best nutrition in the world. Bill believed that USANA products helped him get his health back. He truly loved USANA and inspired that same love in his team.
Now Bill's legacy will be carried on by the Bohlke army of loved ones.
"Even in the midst of darkness and the middle of chaos, there is a right thing to do. In the natural process of reviewing the lessons of my dad, in evaluating his life, in realizing his dedication to doing what is right, it is what I need to do," Brian says. "His life summarizes my reasoning. It's what he would have done. My dad's dedication to perfection will continue on through me and my USANA family."
Brian offers this advice for his USANA family:
"Get focused now sowing seeds of gratitude and family into your USANA business. Do what is right for your team. When difficulties arise, you will have a family of Associates to rest upon. Rising up giants in your business is not for the purpose of lifting them on your shoulders to boast; instead they are meant to be rested upon during the times in your life when you need them most."
USANA public relations specialist Misty Dangel contributed to this post.
We're proud to bring you the freshest content on the web! Follow USANA on Twitter, like our USANA Facebook page and enjoy the latest videos on the official USANA YouTube channel.

Learn what USANA is doing to make the world a better place.
https://whatsupusana.com/wp-content/uploads/2012/11/Bohlke.jpg
366
640
Angie Larsen
http://whatsupusana.com/wp-content/uploads/2019/11/USANA_Logo_Black.png
Angie Larsen
2012-11-06 07:54:35
2012-11-05 10:22:45
'True Meaning of USANA Family' Emerges Following Tragedy