Women Scientists Working to Formulate True Health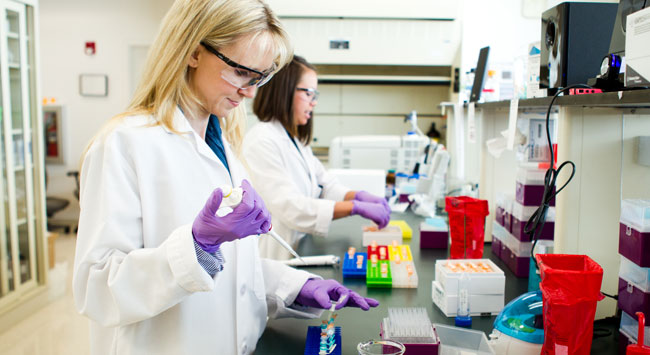 Women are key contributors to developing true health and true wealth in all aspects of USANA Health Sciences. In fact, some of the greatest contributors to fulfilling the dream of a world free of disease at USANA are the female scientists and professionals in the research and development department.
Toni McKinnon wears many hats at USANA. She is the senior manager of science information and clinical research nurse coordinator. She is involved with advancing USANA inside the lab and on the web. Some of Toni's handiwork includes the weekly Essentials of Health e-mail message, the Health Assessment and Advisor on USANA.com, and the "Ask the Scientists" database. "The 'Ask the Scientists' database is a very useful tool for our Associates," said Toni. "The database is regularly maintained and averages more than 1,000 users a day."
In addition to her work on the web, she manages a small team of scientists that research and support product development, quality control, and regulatory compliance. She also manages all aspects of USANA's human clinical research studies (both in-house and contract research studies).
One of the women that works with Toni and is involved with the inception of new products is Jenna Templeton. Prior to joining USANA, Jenna earned her bachelor's degree in chemistry from Virginia Tech. As a lab associate, she is intricately involved with the various phases of the studies conducted at USANA. "It's rewarding to be a part of a big, concerted effort to make these study days, and ultimately the study, go smoothly," said Jenna.
At the onset of a study, Jenna is a large contributor in writing a document, called a protocol, which outlines the background and the specific procedures to be taken. After months of preparation, the protocol she wrote for a study is now in the testing phase. Currently, she helps put the procedures she wrote into practice by assisting the scientists to acquire, store, and analyze the blood samples of study participants.
Nancy Steely is a recent addition to the research and development team as a senior scientist. She joins USANA with a naturopathic degree from Bastyr University, in Seattle, Washington, in addition to her undergraduate degrees in anthropology and psychology from the University of British Columbia.
Nancy said she is pleased to join USANA because of their high standards of excellence. "USANA doesn't just put anything out there," she said. "We won't put out a 'me too' product. We wait until the research is there to support the use of an ingredient. This ensures that our formulas will be reliable and effective—not gimmicks."
Nancy is settling into USANA with an appreciation for the balance of males and females in the department. According to Nancy, "This balance allows for a broader range of insights into product development, the industry in general, and potential customer needs."
Learn more about the research that Toni, Jenna, Nancy, and others do to create USANA products during the 2012 International Convention. Register before June 1 to save big.
Editor's Note: A version of this article originally appeared on USANAToday.com.
We're proud to bring you the freshest content on the Web! Follow USANA on Twitter, like our USANA Facebook page and enjoy the latest videos on the official USANA YouTube channel.

Learn what USANA is doing to make the world a better place.
https://whatsupusana.com/wp-content/uploads/2012/05/LabWomenScientists.jpg
355
650
USANA Health Sciences
http://whatsupusana.com/wp-content/uploads/2019/11/USANA_Logo_Black.png
USANA Health Sciences
2012-05-18 09:04:36
2012-06-05 14:13:21
Women Scientists Working to Formulate True Health