Scientifically Speaking: Meet the New R&D Members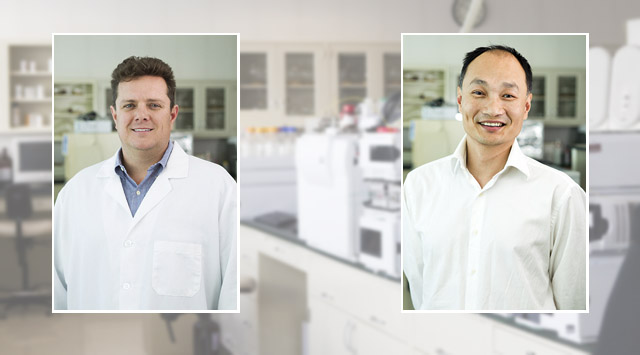 In case you didn't already know, USANA doesn't mess around when it comes to their products. That's why each and every one is backed by real science, leading to real results.
But have you ever wondered what it actually means when we claim to be "backed by science"? Well, let me tell you. It means we've got an entire department of in-house scientists conducting valuable research that informs and shapes our world-class product line.
The point is, we take our research and development department pretty seriously. So when I heard we had two new employees, oops, I mean scientists, join the team, I thought it'd be a good idea to get in touch with them and see what they're all about.
Sean Surbeck, USANA's senior manager of food product development
After studying food science at Louisiana State University, Sean progressed into what he calls the "nutritional business," working with fortified foods. Specifically, his expertise is in vitamin fortification — packing foods with essential vitamins and nutrients and ensuring they taste good.
Coming from an extensive background in food nutrition, he knows how important leading a healthy lifestyle is, which is why the position at USANA was so appealing.
Jeremy Tian, USANA's senior research scientist
Working at USANA, I can't go more than a day without hearing about antioxidants or micronutrients and how great they are. But I don't really understand why certain ingredients are so special. Good thing we have people like Jeremy Tian, who studies and researches nutrients on a daily basis.
Jeremy holds a Ph.D. in nutrition and spent six years at Stanford University working on post doctorate research, mastering everything there is to know about the body's interactions with essential vitamins and nutrients. At USANA, he'll study our current formulas to ensure we're creating the best product possible.
With new information being discovered every day about the impact of antioxidants, it's crucial to have someone like him reading the research and applying it to USANA's already-awesome products.
One Month In
Both of our new scientists were hired just over one month ago, and they're already experiencing what it's like to work for USANA. They each expressed to me how thankful they were to be a part of a company where new ideas are not only accepted, but also encouraged from upper management.
And on top of that, they get to experience the many perks of being a USANA employee: onsite workout facility and classes, onsite café packed with healthy food choices, fresh fruit delivered daily, basketball court, rock climbing wall, and — best of all — free USANA product.
They're happy to be with USANA, but we're even happier to have them. Please join me in welcoming Sean and Jeremy to the USANA team!
We're proud to bring you the freshest content on the web! Follow USANA on Twitter, like our USANA Facebook page and enjoy the latest videos on the official USANA YouTube channel.

Learn what USANA is doing to make the world a better place.
The future of personalized health and nutrition is now available with USANA's True Health Assessment.
https://whatsupusana.com/wp-content/uploads/2013/06/Scientificall-Speaking-Surbeck-Tian-Featured.jpg
355
640
Nick Peterson
http://whatsupusana.com/wp-content/uploads/2019/11/USANA_Logo_Black.png
Nick Peterson
2013-06-21 08:00:46
2017-02-23 08:10:25
Scientifically Speaking: Meet the New R&D Members