Inside USANA: International Development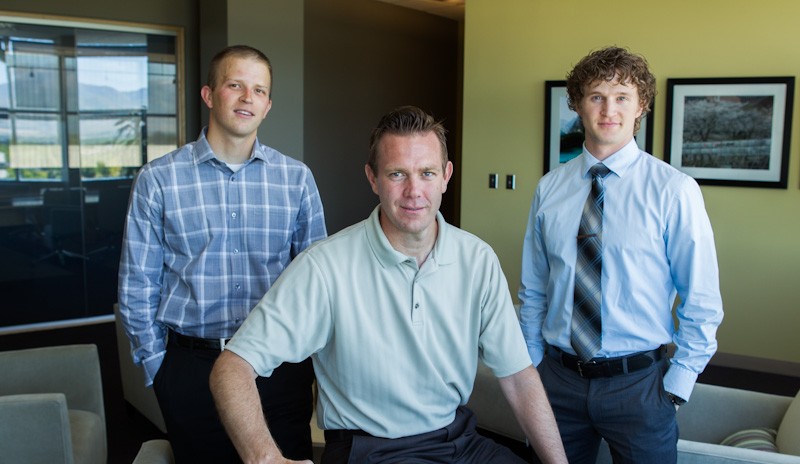 After featuring USANA's international development team as a small entity in a previous Inside USANA post about our legal team, it was obvious this group deserved its own story. We're always checking in with the groups who look out for the company by producing marketing materials, keeping Associates in compliance, and producing our top-of-the-line supplements. But do you ever ask yourself who's looking out for the future of the company? Because that's these guys! Of course, every USANA employee wishes for the most prosperous future possible, but the international team doesn't have time for "wishing"— only doing.
The People
So if these are the guys researching and coordinating business strategies, potential markets to pursue, and international laws and regulations, there's probably a room full of employees working on this stuff day after day, right?
Wrong!
The international team consists of only three people. But don't worry, I can promise you they're three very effective and efficient people. If you have any doubt, look to the successful openings of the France, Belgium, and Thailand markets this year. While the team had plenty of help along the way, these three people were responsible for overseeing these openings, and they tackled the challenge head on.
Dan Whitney — Executive Director, Compliance & International Business Development
Seth Miller — Director, International Business Development
Devan Foster — Coordinator, International Business Development
The Process
Those "business development" titles are probably a little confusing. The following is a watered down version of what each person is responsible for when moving into a new market.
Executive Director — While the executive director does a lot of work with the director, they still have the final say on international decisions. And since Dan is a pro when it comes to compliance issues, we really rely on him to evaluate any legal ramifications USANA might run into in a specific country.
Director — The director is probably the most hands on when pursuing a new market. To state it simply: Seth is in charge of the entire "Country Opening Strategy" — aka where to go, when to go, how to go, and why. This includes creating long- and short-term strategies, budgets, and timelines leading up to the launch of the new market.
Coordinator — The coordinator is the director's right-hand man. Basically, Devan's there for whatever Seth needs, which is quite a responsibility. He's taking notes in meetings, following up on project assignments, making calls to new markets, and researching proposed countries for expansion.
The Places
This is all a great explanation of how we break into a new market, but you're probably wondering how the team chooses which country to pursue in the first place. Two factors come into play here — first, Associates have to express a desire to open in a specific country, and second, the country needs to be economically sound, meaning there's plenty of financial opportunity for our Associates. And just because Associates have a "desire" for USANA to open in a particular market doesn't necessarily mean it's going to happen. Simply having Associates express interest isn't enough. The USANA team needs to know there are solid leaders with meaningful contacts in the market who are committed to building those markets.
Taking these (and many more) factors into consideration, Seth then organizes weekly meetings with cross-functional teams to discuss the realities of starting business in a proposed market. It's a pretty smart call on Seth's part, because so many departments are dependent upon each other when entering a new country. For example, the accounting department might consider a country financially capable of sustaining a direct-selling industry, while the operations team might see shipping issues bad enough to hold off an opening in the same country.
"I think the way we've grown internationally over the years is a prime example of the right way for a company to expand," Seth says. "Sometimes with the pressure we get from Associates, it can be difficult to reject a certain market, but just because USANA is as successful as it is, doesn't mean we need rush into anything. Remember: we don't want hyper growth — we want consistent growth."
The Secrets
You probably thought you'd get some "insider secrets" on which markets the team is scoping out next. Sorry, but these three remained tight-lipped on any future openings. (Believe me — I begged them for secrets!)
What I did get out of them was a sense of excitement and even anticipation. Sounds to me like the team has got something up their sleeve.
Start guessing!
Inside USANA is a monthly series in which we check in with various departments to help you get to know them a little better.
We're proud to bring you the freshest content on the web! Follow USANA on Twitter, like our USANA Facebook page and enjoy the latest videos on the official USANA YouTube channel.

Learn what USANA is doing to make the world a better place.
https://whatsupusana.com/wp-content/uploads/2012/06/Group-e1338846524293.jpg
464
800
Nick Peterson
http://whatsupusana.com/wp-content/uploads/2019/11/USANA_Logo_Black.png
Nick Peterson
2012-06-06 07:45:52
2012-06-07 08:08:22
Inside USANA: International Development