USANA Accolades: Fifty-Seven And Counting
Well folks, it's happened. We have officially outdone ourselves. We have broken our own single-year accolades record. And we did it in just 6.5 months.
In May we were three accolades away from matching our 2011 record of 45 awards, and today I can proudly announce that our current count is at a respectable 57. For all of you math wizards out there, that's an average of 9.5 honors a month, which is truly astonishing (in my opinion).
So What Did We Earn?
First, The American Business Awards, which were created in 2002 to honor the achievements and positive contributions of organizations and business people worldwide, awarded USANA with 10 medals last month in acknowledgement of the hard work and dedication our amazing management team and employees displayed last year.
Silver Stevies
PR Executive of the Year: Dan Macuga, Chief Communications Officer, for his innovative vision and leadership in public relations.
Bronze Stevies
Company of the Year
CEO of the Year: Dave Wentz
Management Team of the Year
Communications Department of the Year
Communication Program of the Year, Social Media
PR Executive of the Year: Ashley Collins, Executive Director of Marketing, PR, and Social Media, for her foresight and commitment to public relations.
Maverick of the Year: Jim Bramble, Chief Legal Officer and General Counsel, for his notable guidance and commitment to ethics.
Support Department of the Year, Warehouse
Support Staffer of the Year: Andrea Chen, Executive Assistant, for providing exceptional assistance to USANA's President of the Americas and Europe, Kevin Guest.
Then the Apex Awards for Publication Excellence bestowed us with honors in two of their categories during its annual competition for publishers, editors, writers and designers who create print, Web, electronic and social media materials.
It shouldn't come as too much of a surprise that our gifted creative services and social media departments would be recognized for their talents though, because they really are, well, amazing!
Awards of Excellence
Blogs — What's Up, USANA? (Hey! That's us!)
Magazine & Journal Writing — USANA Magazine, 2011 Influencer Edition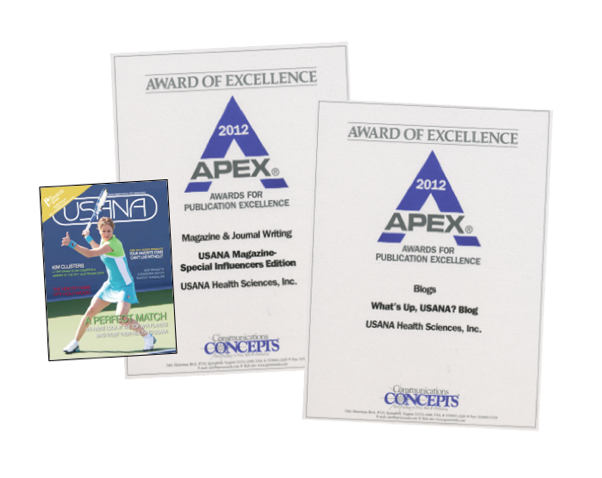 As always, a huge thank you to EVERYONE who has helped us accomplish so much already this year!
Any guesstimates as to how many awards we will end our 20th year with?
We're proud to bring you the freshest content on the web! Follow USANA on Twitter, like our USANA Facebook page and enjoy the latest videos on the official USANA YouTube channel.

Learn what USANA is doing to make the world a better place.
Discover what USANA products can do to boost your health today by taking this brief online Health Assessment.
https://whatsupusana.com/wp-content/uploads/2012/07/Accolades-July-2012.jpg
360
640
Allie Henderson
http://whatsupusana.com/wp-content/uploads/2019/11/USANA_Logo_Black.png
Allie Henderson
2012-07-12 14:52:23
2017-02-24 09:32:27
USANA Accolades: Fifty-Seven And Counting