USANA Growth 25: Plunder & Pirates
Isla Tortuga was a pirate's paradise. Just off the coast of Hispaniola, pirates long since immortalized used the island as a place of safety and as a jumping-off point to raid, pillage, and plunder their way across the Caribbean.
The area is still a paradise. Hispaniola, to the south, has long since been divided into what is now the Dominican Republic and Haiti, and though the pirates are gone, the island continues to beckon to those seeking both tranquility and exhilaration. But there's a lot less plundering, these days.
Saturday, members of USANA's 2012 Growth 25, refreshed and eager for excitement, left behind the peace of the resort and set out in search of adventure.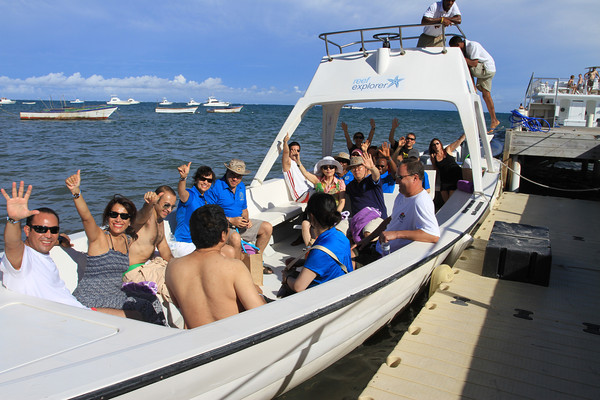 One group explored Punta Cana in dune buggies. Snaking their way through the dense Dominican jungle, they stopped at a secluded beach and then hiked to a natural spring where they swam in the rain.
Others decided to stay closer to the sea. They traveled to a floating dock set out in the Caribbean, where they snorkeled in the turquoise water and explored Punta Cana's coral reef while taking in the stunning marine wildlife.
After regrouping back at the resort, the Associates were surprised by a special gift from USANA — Maui Jim sunglasses.
The gift-giving took a while — there were more than a dozen types to choose from — but everyone has been wearing them since, displaying their plunder for all to see.
Of course, pirates aren't entirely gone from the island. Growth 25 members and USANA's management team dressed up as pirates for Saturday night's dinner party.
It may sound silly, perhaps, but it was unbelievably fun, and people took it to the extreme in typical USANA fashion.
There was a lavish buffet dinner rich with local flavor, prizes awarded for the best costumes, and a wild Dominican band that kept the group dancing for hours. Even a neighboring wedding party came over to take pictures of all the USANA fun. And of course, there was more pirate talk than the islands of Hispaniola and Tortuga have seen in years.
Avast mateys, check out What's Up, USANA? tomorrow for a glimpse of the final day in paradise, as Growth 25 members have a free day to explore the Dominican Republic on their own, and trade in their pirate gear for formal wear at the gala dinner.
—–
Check out all the posts from the USANA 2012 Growth 25 trip. And for many more photos, please visit USANA on SmugMug.
We're proud to bring you the freshest content on the web! Follow USANA on Twitter, like our USANA Facebook page and enjoy the latest videos on the official USANA YouTube channel.

Learn what USANA is doing to make the world a better place.
https://whatsupusana.com/wp-content/uploads/2012/11/Growth25-Day3-4-Featured.jpg
366
640
Doug Giddings
http://whatsupusana.com/wp-content/uploads/2019/11/USANA_Logo_Black.png
Doug Giddings
2012-11-11 13:00:20
2017-02-22 12:56:07
USANA Growth 25: Plunder & Pirates