Success on the High Seas: A USANA Life for Me!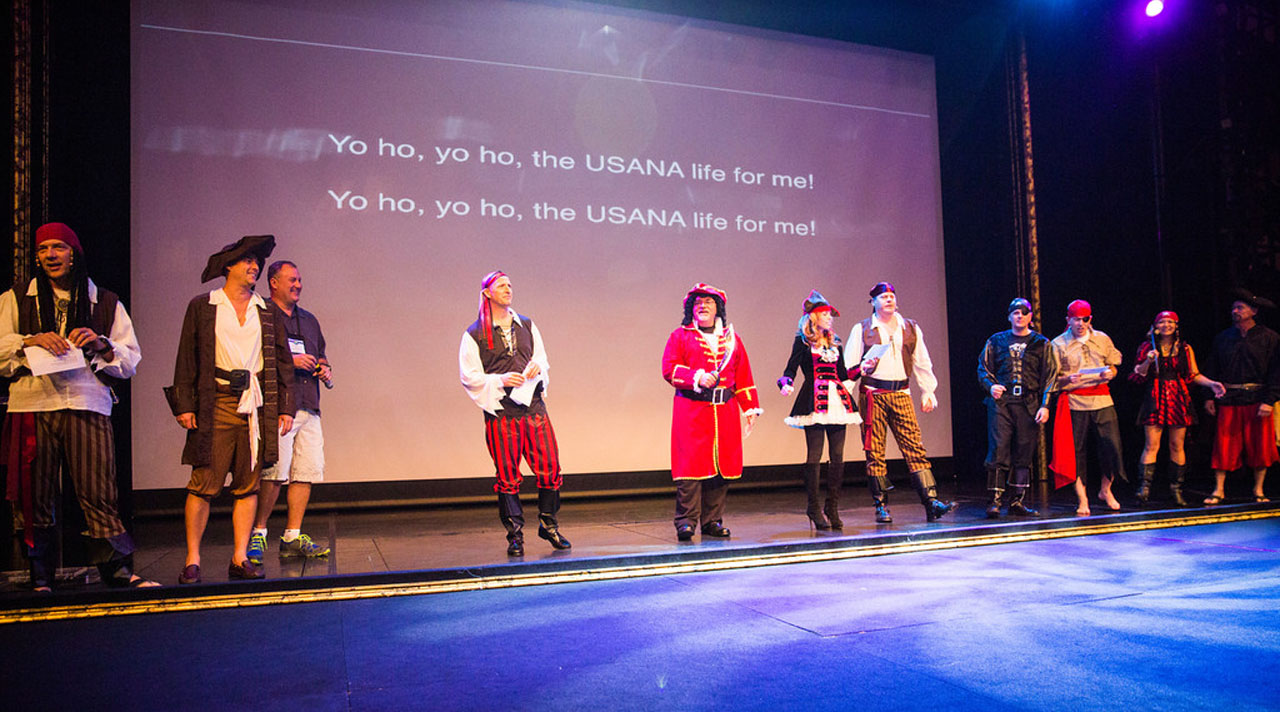 Talking parrot, check. Salty disposition, check. Wooden leg, check.
Dave Wentz, Lori Truman, and other members of USANA's management team dressed in their finest swashbuckling attire to welcome Associates aboard the Allure of the Seas — the newest nautical vessel of Royal Caribbean's commanding fleet — and commend them for all their hard work and tremendous success.
That's right, Success on the High Seas is officially underway and there's plenty of raucous pirate joy and plundered booty to go around.
But success on the High Seas isn't just about chasing an illusive horizon, playing the part of your favorite salty knave. It's about rewarding those who have been actively building their business for the past year, working to make true health and true wealth a possibility for everyone, and each member of the Growth 25 has done just that.
They're some of the hardest working Associates you'll ever meet — hitting the pavement every day, doing whatever is takes to make sure that when people think of health and wellness, they think of USANA. They work hard. And they've all earned the right to celebrate their success.
Jordan Kemper, Eduardo Barreto, and Elizabeth Rider — all members of the Growth 25 — are just a few of the many familiar faces you'll find strolling from starboard to port, soaking up the sunshine and laughing with other members of the USANA family.
But they're working, too. They share the USANA vision with everyone they meet, looking for the next "Diamond in the Rough."
And that's why they're aboard Success on the High Seas. Because they never stop moving forward, proving that a USANA life is the only life for me. Well, them. Me, too.
[wp-imageflow2]
More Photos!
Be sure to check out all the photos from Success on the High Seas. This album will be updated daily throughout the cruise.
We're proud to bring you the freshest content on the web! Follow USANA on Twitter, like our USANA Facebook page and enjoy the latest videos on the official USANA YouTube channel.

Learn what USANA is doing to make the world a better place.
The future of personalized health and nutrition is now available with USANA's True Health Assessment.
https://whatsupusana.com/wp-content/uploads/2013/11/BenPieperB_11042013_0595-XL.jpg
712
1280
Aaron Adams
http://whatsupusana.com/wp-content/uploads/2019/11/USANA_Logo_Black.png
Aaron Adams
2013-11-05 07:30:19
2017-02-22 12:55:55
Success on the High Seas: A USANA Life for Me!