Building and Growing Together: USANA's First European Convention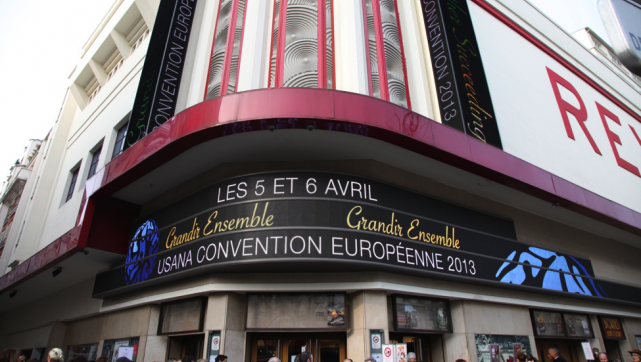 Building and Growing Together. This was the goal and the promise made to each of the USANA Distributors who came to the exceptional first USANA European Convention.
The April 6 event held at the Grand Rex (a magical, historical venue in Paris) made for an incredible day of emotions, surprises and gratitude. It brought together Distributors from all over the world, including:
1-Star Diamond Directors Rommel and Daisy Balaguer from the Philippines
5-Star Diamond Directors Jacques Fiset and Sophia Marcoux and 4-Star Diamond Director Seta Der Artinian, representing Canada
And, of course, several hundred French, Belgian and English Distributors
Each Distributor and each country were united in the same USANA message — Health and Freedom. This message resounded loudly in the magnificent Grand Rex theater.
[youtube]http://www.youtube.com/watch?v=AGq58KDlzqU[/youtube]
If you're unable to view the video, please visit the USANA YouTube channel
Scientific Speakers
An exceptional speech by USANA CEO Dave Wentz set the tone for the day's events. His words were followed by those of renowned health specialists who discussed the health benefits of USANA® nutritional supplements.
Speakers included M.D. and master nutritional therapist Philippe David and nutritional therapist and Diamond Director Jean-Pierre Gagné, who spoke, respectively, of the power of antioxidants and the benefits of Omega-3s.
Carsten Smidt, USANA's vice president of research and development, discussed new nutritional habits in the 21st century while highlighting the importance of USANA's nutritional supplements.
World-Class Athletes
Top-tier athletes also took the stage to talk about the quality of USANA products. These included:
Déborah Giaoui, two-time France beach volleyball champion
Andreea Musca, two-time European champion and world vice champion in taekwondo
Virginia Dionisi, trainer for ITF Brussels and the Belgian national taekwondo team
Patrice Canayer, manager and trainer of Montpellier Agglomération Handball (MAHB)
Alain Carmand, Medical Commission Director for MAHB.
These individuals expressed the importance of their partnership with USANA.
But that's not all!
Kim Clijsters, the former top-ranked tennis player in the world and now a USANA Brand Ambassador, energized the room by hitting autographed tennis balls into the crowd.
Surprise Announcements
France and Belgium Marketing Director Christelle Bourgeois then made a few surprise announcements. New sales tools are now available for Distributors, including:
New product and enrollment pack flyers are available to download on USANAtoday.com
A new website that will soon be available for Distributors to order sales tools for their meetings as well as personal development tools
Other announcements included:
Welcoming the new Sensé™ Deluxe pack, which includes the entire line of Sensé products to help showcase all of your beauty
The 5 Minis pack, which includes samples of Daytime Protective Emulsion, Night Renewal Crème, Eye Nourisher, Rice Bran polisher and Nutritious Crème Masque
Belief Building
In the afternoon, several Distributors shared their own experiences. Star Diamond Directors explained the possibilities that the USANA opportunity provides.
Jacques Fiset and Sophia Marcoux, Seta Der Artinian, and Daisy and Rommel Balaguer shared their personal experiences that touched many in the audience.
Isabelle Autissier, the first woman to complete a solo race around the world, also shared with the crowd her story and how the forces that led her to fulfill her dreams align with USANA's values of hard work
and perseverance.
We also had the honor of hearing from General Manager of France and Belgium Jeremy Lunt; President of the Americas, Europe and the South Pacific Kevin Guest; and Vice President of Europe and Customer Service Alan Bergstrom. They brought with them the USANA message as well as their own encouragement for the European market.
To go with this, Alan announced very good news — each European Distributor who had not qualified as a Premier PaceSetter or Premier Platinum PaceSetter had a new chance to reach this goal between April 6 and May 31, 2013!
An Incredible Event
The inaugural USANA European Convention proved to be a powerful day filled with gratitude and emotion. Several Distributors received prizes (such as iPads, banners, and macarons), recognizing that hard work and effort do pay off.
The entire event allowed each Distributor to end the day with a smile, a boost of energy, increased motivation, a new understanding of USANA and a desire to spread the USANA message.
Assembled together to proudly celebrate the first anniversary of USANA in France and Belgium, we all truly have grown closer after this memorable day. Thank you to everyone for an unforgettable time!
To read this post in French, please click here.
We're proud to bring you the freshest content on the web! Follow USANA on Twitter, like our USANA Facebook page and enjoy the latest videos on the official USANA YouTube channel.

Learn what USANA is doing to make the world a better place.
The future of personalized health and nutrition is now available with USANA's True Health Assessment.
https://whatsupusana.com/wp-content/uploads/2013/04/Euro_Convention1-e1366306041210.png
362
641
Marine Flatres
http://whatsupusana.com/wp-content/uploads/2019/11/USANA_Logo_Black.png
Marine Flatres
2013-04-21 07:30:28
2017-02-23 08:41:19
Building and Growing Together: USANA's First European Convention