USANA Accolades: Going the Extra Mile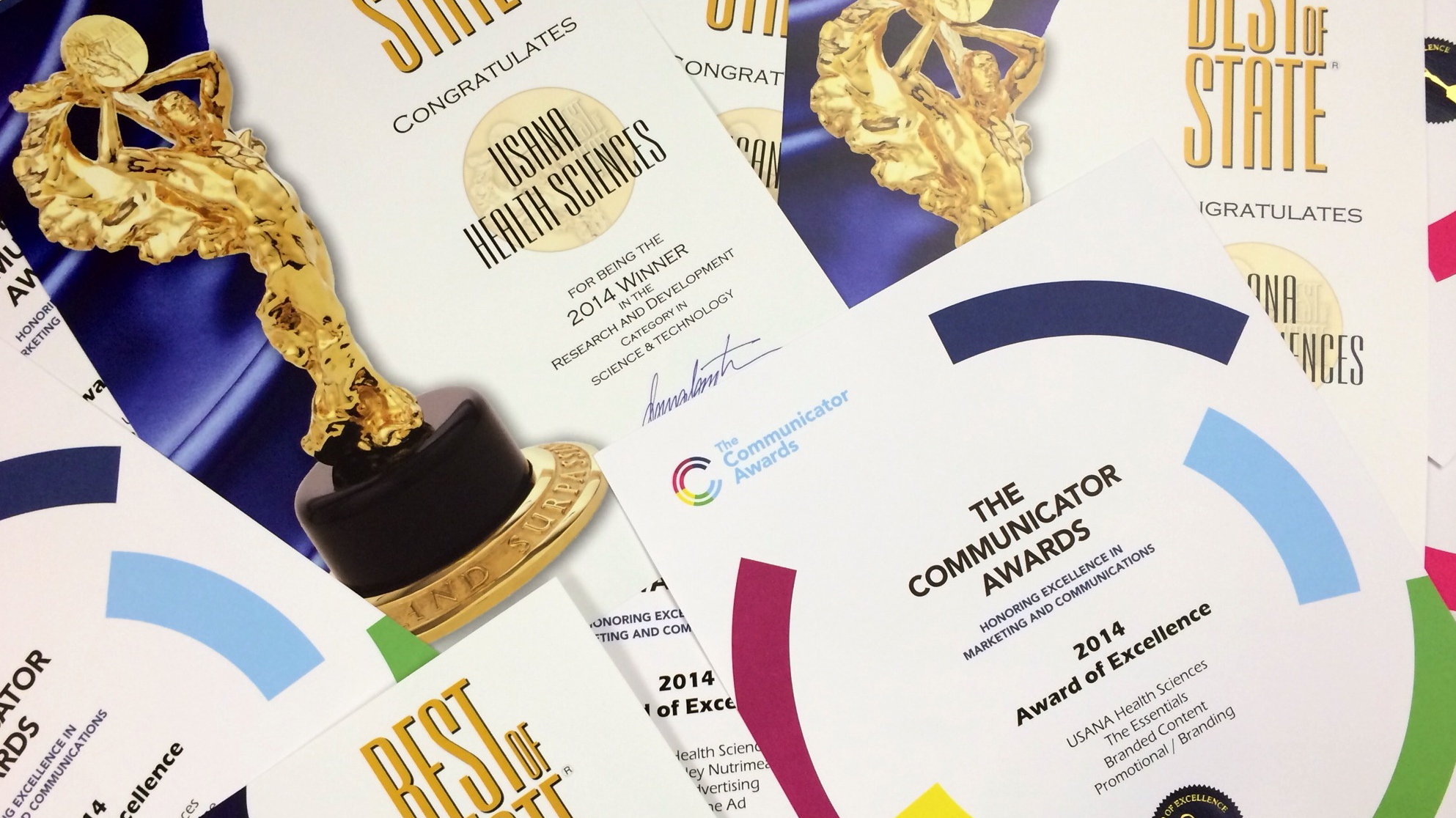 When it comes to performing its best, USANA knows a thing or two about outdoing its competitors.
From our natural partnerships with the some of the world's best athletes, to creating high-quality nutritional products and innovative marketing tools to help our independent business owners thrive, USANA always goes the extra mile to make sure what we do at the Home Office helps you succeed.
And we aren't the only ones who see it that way. In fact, dozens of third-party organizations think our products and materials are some of the best they've ever seen.
But how do these accomplishments benefit you directly? Easy. They build up USANA's credibility, strengthen our reputation and promote our rigorous testing procedures — proving we really are as good as we say we are.
Take a look at some of USANA's recent notable achievements.
The Beehive's Best
USANA was recently awarded five Utah Best of State medals for its innovative science and exceptional nutritional supplements, personal care and energy products, in addition to the prestigious The Best of State Statue (BOSS®) for a third time since 2008!
As one of only ten BOSS® recipients, USANA won in the largest category — merchandising and consumer services — for being the most outstanding medal winner in its divisions.
Dietary Supplement — 11 wins since 2003
Personal Care Products/Cosmetics (Sensé™) — 6 wins since 2007
Health/Nutrition Beverage (Rev3 Energy®) — 6 wins since 2009
Science/Technology (Research and Development) — 2 wins since 2012
Health/Nutrition Product — 4 wins since 2009
USANA has won 33 Best of State honors since 2003.
Creativity is Key
Since 2009, USANA has received an astonishing 43 Communicator Awards for its big and innovative ideas in marketing and communications campaigns and tools.
Award of Excellence (Gold):
Print & Design/Content Marketing/Infographic — Baby Edition
Print & Design/Print Advertising — Timothy Bradley Nutrimeal Ad
Print & Design/Magazine/Overall Design — 2013 Influencer Magazine
Online Video/Branded Content — The Essentials
Award of Distinction (Silver):
Print & Design/Magazine/Special Edition — 2013 Influencer Magazine
Marketing Effectiveness — Social Media at #USANA13
USANA's in-house creative minds in social media, creative and USANA Studios also received four Hermes honors and two Summit International Creative awards for its online campaigns, videos and promotions!
Social Media Icons
One of USANA's most recent accolade achievements came from New York City, as it was awarded two prestigious honors from PR News' Social Media Icon Awards for taking chances and breaking new ground in how it uses social media as a tool for communications.
The big win of the day went to USANA's very own social media guru Tim Haran and his team, as they were recognized as the Best Social Media Team of the Year! USANA's True Health Assessment was named Best App.
Exceptional Examples
Last but not least, several standout USANA employees, departments and marketing campaigns — 19 to be exact — stood out among 100s of other working professionals in the United States and were recognized for their positive contributions to USANA by the American Business Stevie Awards.
For the full list of winners, click here!
Be sure to check back with us over the next couple of months for the next USANA Accolades update! I mean, you want to stay in the know, right?
We're proud to bring you the freshest content on the web! Follow USANA on Twitter, like our USANA Facebook page and enjoy the latest videos on the official USANA YouTube channel.

Learn what USANA is doing to make the world a better place.
The future of personalized health and nutrition is now available with USANA's True Health Assessment.
https://whatsupusana.com/wp-content/uploads/2014/06/photo.jpg
1116
1986
Allie Henderson
http://whatsupusana.com/wp-content/uploads/2019/11/USANA_Logo_Black.png
Allie Henderson
2014-06-24 07:30:18
2017-02-24 09:38:22
USANA Accolades: Going the Extra Mile