Carin Johnson: Loving Her Body, and Life, Through RESET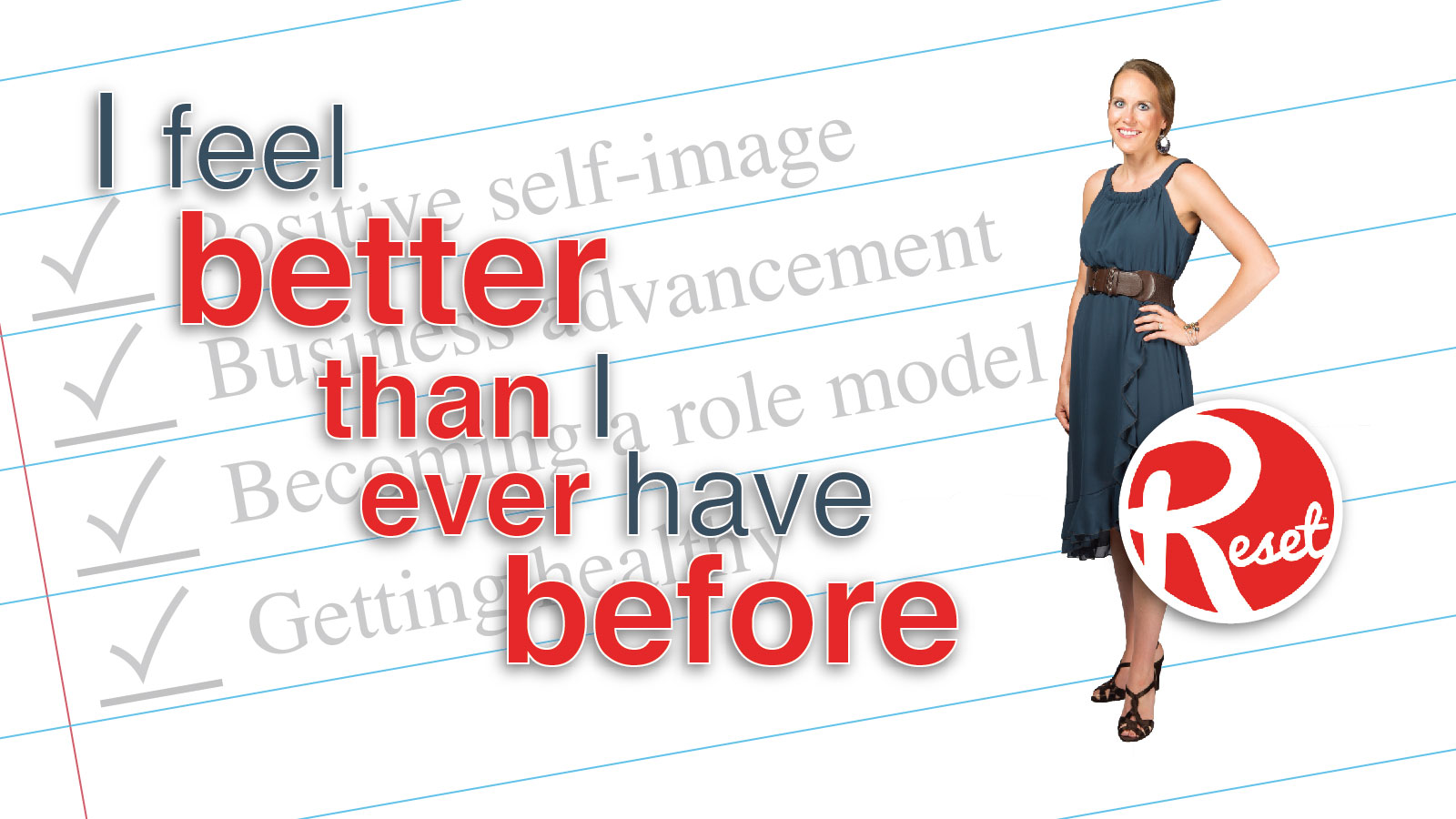 Carin Johnson has finally let go of her past. For years, her past has been difficult to talk about. Until now. Thanks to the RESET Challenge: Destination Transformation, Carin is opening up about how USANA and RESET have changed her life and the life of her family.
As a teenager, Carin suffered from eating disorders and was diagnosed with clinical depression. Her poor self-image led to a negative outlook on her appearance.
"Truthfully, I've never really been overweight, but your mind is a powerful thing and it can play tricks on you," Carin wrote in her winning essay for the Challenge. "Every time I looked in the mirror, all I could ever see were round, floppy body parts instead of the flat, toned look that I thought was required to be truly beautiful."
That's why Carin didn't keep track of the total weight she had lost since starting on the USANA products in September of last year.
While she ended up losing 19 pounds, or 14 percent of her total weight, during the RESET Challenge she gained so such more.
Starting a Family
Carin and her husband, Matt, got married in 2008 — Leap Day, February 29, 2008, to be exact. When they finally decided they were ready to become parents, it took Carin two years to get pregnant. They went through hormone treatments, fertility drugs, and a miscarriage before Carin's depression hit an all-time high. The various pregnancy-related medications also caused her to put on a few extra pounds.
Finally, they were able to conceive and had their son, Oscar, in May of 2013.  Although she had a rather healthy pregnancy, Carin did put on some additional weight.
"After the birth of our son, despite being so happy with my new role as a mother, my confidence really dropped," she wrote.  "Yes, I was proud that my body was capable of growing a whole human being.  Yes, I am thankful for him and can even deal with the new 'squishiness' that pregnancy left me with when I look at our healthy, happy baby boy.  My tummy grew and my self-confidence shrank."
Ready to RESET
Matt and Carin started on the RESET™ weight-management program at the end of September and were skeptical at first.  Then Matt ended up losing 35 pounds and their minds were made up that this was a safe and effective way for them to stay healthy.
When the RESET Challenge came up, they knew they had to sign up to continue working on their new lifestyle.
"We both felt way better and were amazed at the results we experienced so quickly," Carin says. "With the Transform phase, the excess pounds and squishiness just melted away. I feel better than I ever have before."
After going through the RESET Challenge, Carin believes their weight-loss journey and going to Sanoviv gives more credibility to building their business.
"We held our own RESET Challenge right before going to Sanoviv and we advanced from Builder to Silver Director!" she says "It's amazing to us that every time we meet someone, we know we can help change their life."
Although Carin and Matt's initial goal when they started with USANA was to pay for the products they used, Carin, a former teacher, was able to become a stay-at-home mom after their son was born.
"The transition from two incomes into one income was very easy and comfortable thanks to our extra USANA money," she says.
Becoming a Positive Role Model
USANA has done more for Carin than just help her drop a few pounds — she's finally healthy and happy.
"For the first time in my life, I have a very positive self-image," she says.  "I'm so thankful for this experience."
Because of USANA, Carin says her family's life has completely changed.  They're eating healthy, taking their USANA supplements, and are very active — all while being walking billboards for their USANA business.
Carin finally feels like she can be a positive role model for her son.  "He has a mother who is healthy, both physically and emotionally," Carin says.  "Thanks to USANA, instead of a moody, 'squishy' mother, my son will now have a happy, healthy, active mama!"
*Individual results may vary. RESET weight-management system lowers your daily caloric intake and recommends moderate exercise for best results. Average results are 4.5 lbs. in five days.
We're proud to bring you the freshest content on the web! Follow USANA on Twitter, like our USANA Facebook page and enjoy the latest videos on the official USANA YouTube channel.

Learn what USANA is doing to make the world a better place. The future of personalized health and nutrition is now available with USANA's True Health Assessment.
https://whatsupusana.com/wp-content/uploads/2014/07/Loving-Her-Body-01.jpg
900
1600
Missy Bird
http://whatsupusana.com/wp-content/uploads/2019/11/USANA_Logo_Black.png
Missy Bird
2014-07-11 08:00:04
2017-02-23 06:52:15
Carin Johnson: Loving Her Body, and Life, Through RESET