Joey Mantia: World Champion Speed Skater
If mass start speed skating had a soundtrack, it wouldn't be heavy metal or hardcore rap. The 6,400-meter race is more nuanced than grinding guitars or thumping beats. It would be some sort of masterful classical piece, like Tchaikovsky's "1812 Overture."
The mass start of skaters mimics the opening chords of this musical masterpiece: haunting, foreboding, and menacing. As the skaters toe the line, they gracefully embark on their journey into history. It's not a mad dash. They skate a single lap, called a neutral lap, to spread the ice and prepare their legs for the battle ahead. And just like a symphony erupting in a crescendoed descent into madness, the skaters explode into combat at the sound of the gun.
Game plans are left in the locker room. Once the race starts, the only thing that matters is besting the other skaters over 16 laps. Described as the NASCAR of ice skating or roller derby on ice, mass start speed skating takes the technique of long-distance ice skating and marries it to the close quarter pugilism of short track.
And Joey Mantia is one of the best.
Since his debut in 2013, Joey has taken the speed skating world by storm. He's a world champion and has represented the United States twice in the Olympic Games. Joey is a maestro who composes on two blades. He propels his body at unfathomable speeds over sheets of frozen water and is always pushing for more.
Toeing the Starting Line
As a kid growing up in Central Florida, Joey never imagined a pair of inline skates could take him around the world. Sochi and PyeongChang are literally thousands of miles away from Ocala, Florida. But like other world-class athletes, he became laser-focused on a sport he loved. Skating became a part of Joey's DNA. He skated curbs, streets, and neighborhoods and got good—really good. Compact and powerful, he was able to transform his passion from amateur to professional.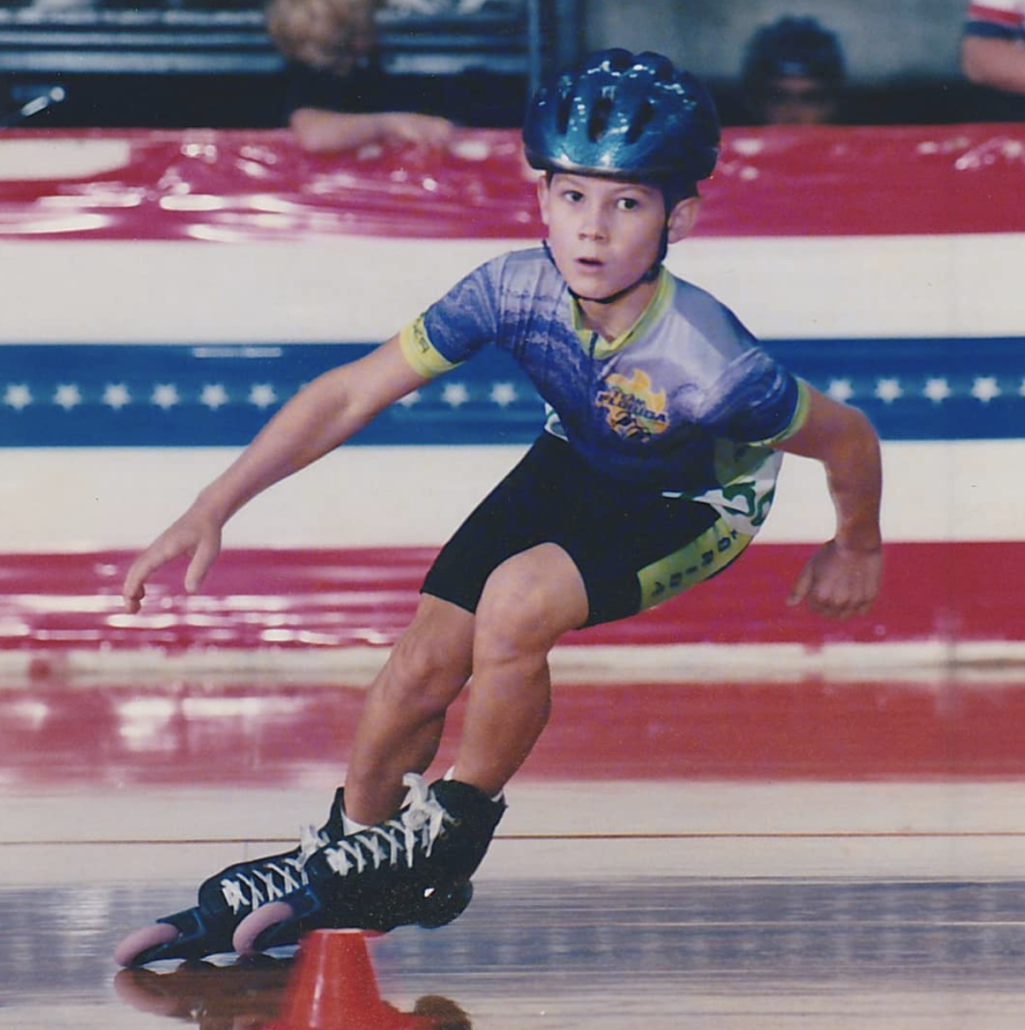 At 17, Joey won two gold medals at the 2003 Pan American Games. He dominated the inline skating field to become world champion. Four years later, he defended his combined sprint title with another gold medal performance. Joey won the American Speed Skater of the Year award for three consecutive years (2005, 2006, 2007) and took home the prestigious 2007 Elmer Ringeisen Sportsmanship Award, the sport's highest award for sportsmanship.
Joey was on an unparalleled trajectory for greatness, but it wasn't enough. He had been racing professionally for eight years, but he craved a new challenge. If he continued to compete as an inline skater, he was afraid he may start to hate the sport he loved. Furthermore, Joey was reflective on the lifespan of a top athlete. "I knew I only had a short shelf-life to compete at the highest levels," Joey says. "I was ready to challenge myself and push past every limit in my life."
That's when he made the transition to the ice.
A Gift and a Curse
Let's talk about speed. Imagine driving a car on a freeway at 40 mph. Not only would it seem incredibly slow, the other drivers would surely inform you with blasts from their horns. Now, imagine speeding 40 mph on a sheet of ice with only two razor-sharp blades between you and the unforgiving, rock-hard ground. Sounds scary, right?
For speed skaters, the ability to physically travel at speeds over 40 mph is the difference between victory and missing the podium. It takes a massive amount of training and focus to not only reach these speeds, but to compete at them. This was the natural next step for Joey.
At first glance, you'd think going from inline skates to ice skates would be a smooth transition. According to Joey, "kinda." Some of the core basics had carryover value, but a lot of the natural movements had to be forgotten and relearned.
"It was a gift and a curse," Joey says. "Honestly, I'm still learning how to relax and focus on my form. I'm constantly learning new techniques, but every year, it's getting a little more natural."
In 2010, Joey took his talent from Florida and moved to the Olympic Training Center in Colorado, eventually landing in Salt Lake City to train with the Olympic national team. The training was relentless. He was skating with the best of the best. Everything from nutrition, stretching, and even sleep was reevaluated. Most importantly, Joey sharpened his focus to match his skating blades.
"The mentality of racing is the biggest challenge to conquer," Joey says. "We [speed skaters] want to hurt. We train to dig deeper, especially when the lactic acid is heavy, to find something special inside of us."
Where others avoid pain, speed skaters immunize themselves every day with a training schedule reserved for masochists. Weight training, band training, cross training. They attack every physical limit, because when they are in the final stretch of a race, speed skaters need to find that extra gear to push them to victory. "You're not only skating against your opponent—you're skating against the ice," Joey says. The unforgiving ice pushes skaters to be meticulous in their technique.
"The ice is always presenting you with new things to work with," Joey says. "You can have three good weeks of training and, bang! You struggle because the technique is not there."
There's always something to improve on the ice. It's never a mindless workout when Joey trains. He takes this approach in all aspects of his life—striving to be present. Whether remodeling his home, running his coffee shop, or teaching himself the piano, Joey analytically appreciates every challenge thrown his way.
The Sum of Success
For a thoughtful and autodidactic man, it's surprising to learn Joey never attended college. He checks all the boxes for somebody who would have pursued higher education: creative, insightful, curious.
Joey credits his parents for setting him on his trajectory. He wasn't allowed to skate if he wasn't doing better than a C in school. Joey says it's insane to think about, but his parents didn't force him to go to college. When most kids are filling out college applications, Joey was preparing to head to the Pan America Games in Dominican Republic. He approaches self-education with the same intense self-motivation he brings to the rink.
"I'm pretty nerdy," Joey laughs. "Even when I was young, I always thought in terms of math and physics. This love of learning has been with me my entire life."
And knowing something about physics has been Joey's ace in the hole. When he hits the turns, he's traveling faster than 30 mph, pulling enough Gs to effectively double his weight. In these turns, wearing gloves is mandatory. Bare skin coming in contact with the ice could burn his skin. And let's not forget to mention the skin-tight body suit he wears is lined with Kevlar.
Joey says every race can be broken down to a simple math equation. "You add up your gains, subtract your setbacks, and whoever brings the bigger number to the starting line will win gold medals."
Looking to the future, Joey is still in pursuit to bring this bigger number to his next race.
At a Glance
Sport: Speed Skating
Hometown: Ocala, Florida
Began skating at age 7
Two-time Olympian (2014, 2018)
Won two gold medals in the World Cup, 2016–17 season
Owns Coffee Lab, a coffee shop in Salt Lake City
7 Fun Facts About Joey
Why he trusts USANA: USANA takes pride in what they do. I've been using their products for eight years. USANA has definitely stood the test of time.
Favorite USANA products: I take my HealthPak™ every day. I make a Nutrimeal™ shake with oatmeal. Vitamin D.
Health power rankings: Nutrition, stretching, and sleep. You have to get your rest to rebuild your body. Makes it easier to bounce back after a hard skate.
Most extreme location he's ever skated: Baikal Lake. Check out his video.
Plans post skating career: I'd like to coach and focus on woodworking.
Some behind-the-scene Olympic facts: They feed us like champions. American athletes have a great cafeteria with steaks and other goodies from home.
How to follow Joey on social media: Follow me on Instagram @joeymantia.
---
*These statements have not been evaluated by the Food and Drug Administration. These products are not intended to diagnose, treat, cure, or prevent any disease.
**Mentioned athletes are distributors or dedicated users who receive compensation for their partnership and/or complimentary @USANAinc products.
https://whatsupusana.com/wp-content/uploads/2020/01/Screen-Shot-2020-01-15-at-9.54.34-AM-e1579131006104.png
573
910
Ben Raskin
http://whatsupusana.com/wp-content/uploads/2019/11/USANA_Logo_Black.png
Ben Raskin
2020-01-12 10:43:46
2020-01-15 10:46:45
Joey Mantia: World Champion Speed Skater