Unleash Your Inner Power — Take Jen Groover's Best You Challenge
Remember the goal you made last New Year's Eve? You know the one. Maybe it was building your business or improving your fitness or refreshing your relationships. How long did you move toward it before it became a drag and you left it behind? Maybe you just didn't know how to get there or you didn't have the support you needed.
It's an experience most of us have faced at least once, and it can leave us feeling the opposite of empowered.
Transformational expert and new USANA spokeswoman Jen Groover knows where you're coming from. She also knows how to make the changes, or as she calls them, transformations, stick. That's why she's inviting you to unleash your inner power by taking part in The Best You Challenge.
The challenge will take you on a 60-day total transformation — mind, body, spirit. And it starts today.
Setting goals isn't the problem, Jen says, it's how people approach them that becomes the roadblock. "I see so often people trying to reach fitness and health goals or business goals and they think that by changing certain lifestyle habits, they're going to reach their goal," she said. "But often, it just becomes a test of willpower, which quickly fails."
If you don't change your mindset nor find your inner passion and happiness, your goals are going to be short-lived. The true way to transform, Jen says, is to make lifestyle changes that come from within — change your mindset, your perspective, your ability to think bigger and in a more positive way.
"The Best You Challenge is to get people to really start to think about how to reach their fullest potential," she said. "It's not just about setting goals but truly transforming ourselves and creating a lifestyle that makes achieving our goals easier."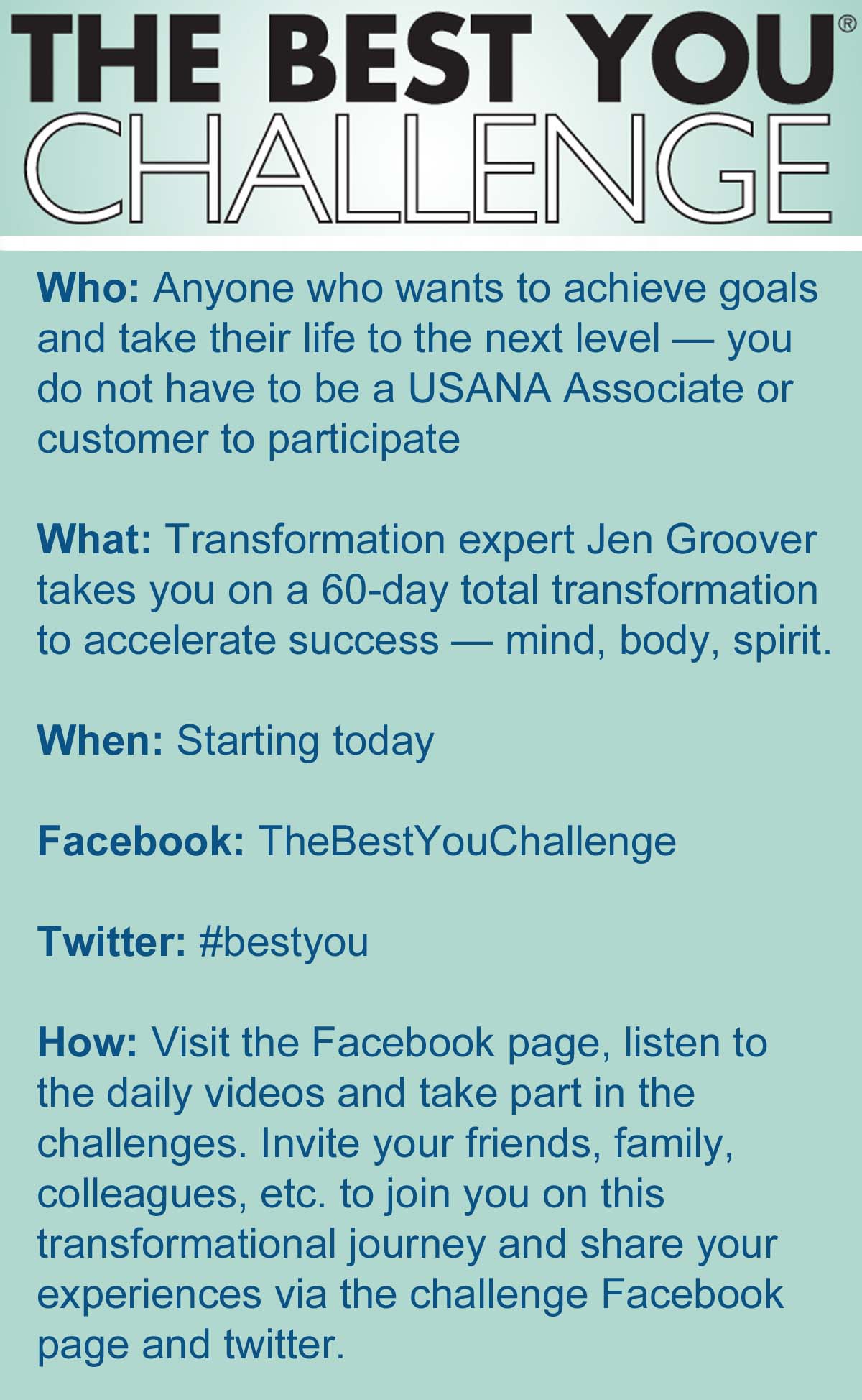 The challenge is designed to really educate and inspire you in a way that creates long-term success you can carry well past 60 days. Jen says the transformation will help eliminate negative behaviors and empower you for the rest of your life.
"What people are going to get out of the challenge is inspiration, tools, guidance and empowerment to guide them to become to reach their goals — their success goals, their business goals, their health and wellness goals, their relationship goals — in a way that will be long term and not a short-term fix," she said.
This all sounds good in theory, but many of you may be thinking, "Great. What does that mean for me? What do I have to do?" It's a lot less complicated to take part in this challenge than you might think.
Jen's created a The Best You Challenge Facebook page where she'll be posting videos with inspiration and daily challenges. Each post will go up every day for the next 60 days.
Jen's asking participants to truly commit to their transformation, and one of the best ways to do that is by having at least one accountability partner. Taking the challenge with someone else — friends, family, business colleagues or partners, spouses, friends, boyfriends or girlfriends — will help make you and the people around you be more successful, Jen says. "Anytime you start a challenge and involve people who support and care about you and who you want to grow and evolve with you, it's really an asset.
Participants are encouraged to discuss the challenge with anyone and everyone, particularly on The Best You Challenge Facebook page. Tag the page in your personal profile posts and post your own daily journal videos. Also make sure to use the #bestyou hashtag on twitter. "By sharing in other people's transformations, we all become each other's cheerleaders," Jen said, "and that lends to greater success. Oh, and one last thing, Setting goals for yourself in the beginning and journaling throughout the challenge will be beneficial observing your transformational results.



We're proud to bring you the freshest content on the web! Follow USANA on Twitter, like our USANA Facebook page and enjoy the latest videos on the official USANA YouTube channel.

Learn what USANA is doing to make the world a better place.
https://whatsupusana.com/wp-content/uploads/2012/06/BestYouSlider.png
360
640
Jessica Whiting
http://whatsupusana.com/wp-content/uploads/2019/11/USANA_Logo_Black.png
Jessica Whiting
2012-06-15 05:45:19
2017-02-23 06:47:05
Unleash Your Inner Power — Take Jen Groover's Best You Challenge